Paneer is an unsalted Indian Cottage cheese, which is used to make a range of Indian spicy as well as sweet dishes. Though we can buy it from market, but I prefer to make it at home, because the freshness and softness of homemade paneer increases the taste of any dish. If you are preparing to make some dishes like Rasgulla, Chum Chum, Malai Ladoo, Rasmalai, Rajbhog, Paneer Kofta Curry, Chanar Dalna etc. you just drain the excess water from the paneer by hanging it for 30 minutes, but if you are making some dishes like Palak Paneer, Paneer no Butter Masala, Mix vegetable Paneer, Aloo Matar Paneer or Paneer Makhani, squeeze all the water from paneer and place a weight over the drained paneer for 40-45 minutes so that it fully sets and then you can easily cut them into any shape you like.
Image : Paneer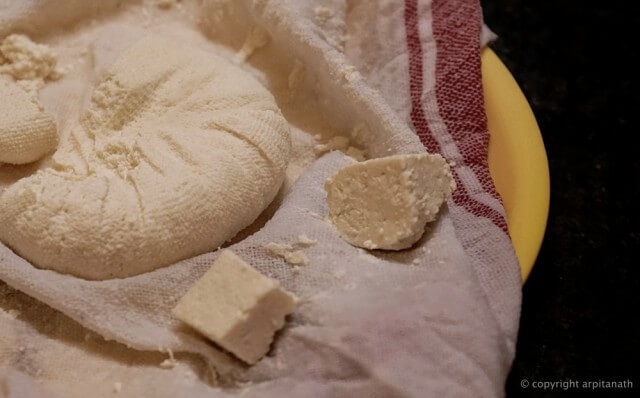 Important :
Preparation Time : 5 minutes
Cooking Time : 10 minutes
Inactive : 45 minutes
Total Time : 1 hr
Makes : 200 gm Paneer
Ingredients :
Fresh Cow Milk (1 ltr)
Lemon Juice or Vinegar (2 tbsp)
---
Direction : 
Heat 1 ltr milk in a saucepan and bring it to boil.
When it starts to boil, simmer the flame and boil for another 4-5 minutes and switch off the flame.
Add lemon juice and stir it very well.
Keep on stirring and you will see the milk getting curdled in a few seconds.
Let it rest for 2 minutes until the water clearly separates from the milk and you will see the greenish whey. After 2 minutes stir the mixture again.
Now, take a metal strainer, cover it with a thin cotton or muslin cloth. Put the curdled milk into the strainer.
Wash it very well with cold water. It helps to remove the sourness of lemon.
Now collect the edges of the cloth and squeeze out all the excess water from the curdled milk.
Place the cloth with the curdled milk on a plate and place a heavy weight on the top of it.
After 40-45 minutes, your Paneer will be ready. Open the cloth and cut them into any shape you like.
---
Images :
Boil milk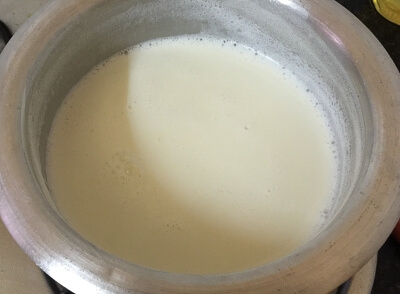 Wait for a boil and switch off the flame
Add lemon juice
Stir well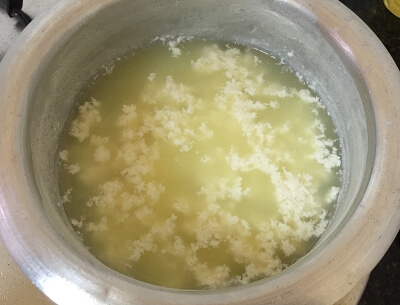 Let it rest for 2 minutes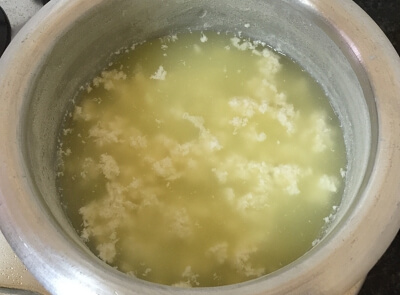 Put it on a cotton cloth and wash it off with cold water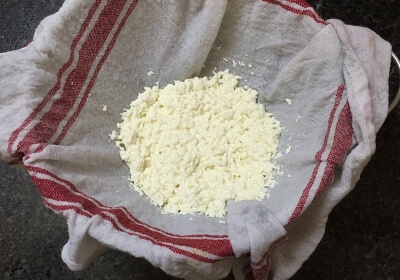 Squeeze out all the excess water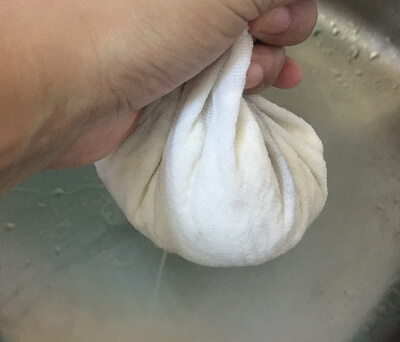 Place a heavy weight on top for 40 minutes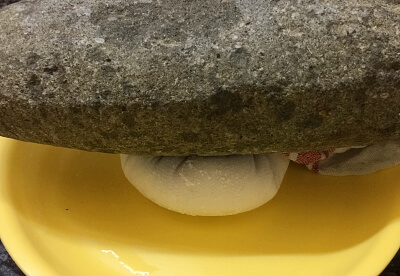 Paneer is ready
Tips :
Keep some extra lemon juice ready with you, in case the milk does not curdle. But do not add too much.
To get more recipes via Email , Subscribe to our Newsletter . Also follow us on Youtube .