Malai Chum Chum is a very popular Bengali Sweet made with Paneer or homemade Cottage Cheese. It is a delicious Indian dessert which you can not resist yourself to take a bite. This chum chums are soaked in sugar syrup and coated with rich and creamy malai. This recipe is quite similar to Rasgulla, Rajbhog and Rasmalai, but the taste is totally individual and they are one of my personal favourites. So I have decided to post this recipe on the eve of the 1st anniversary of my blog. Enjoy this Bengali melt in mouth delicacy and do share your experience in the comment section bellow.
Image : Malai Chum Chum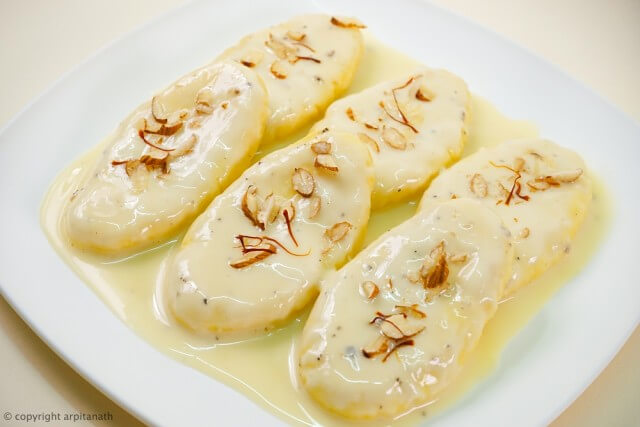 Important :
Preparation Time : 10 minutes
Cooking Time : 50 minutes
Total Time :  1 hr
Makes : 6 chum chum
Ingredients : 
To make Chum Chum –
Paneer or Chenna or Indian Cottage Cheese (150 gm) [ Read how to make Chenna Here]
Yellow Food Colour (few drops)
To make Sugar Syrup –
Water (4 cups)
Sugar (1 1/2 cups)
To make Malai –
Milk (1 cup)
Fresh Cream (1/2 cup) /whisked
Sugar (2 tbsp)
Cardamom Powder (1/4 tsp)
Images : 
Take chenna or paneer on a plate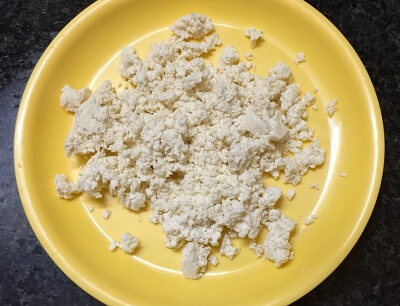 Knead for 3-4 minutes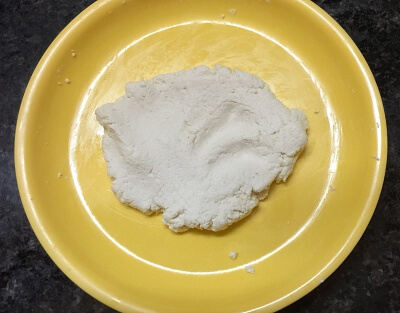 Add yellow food colour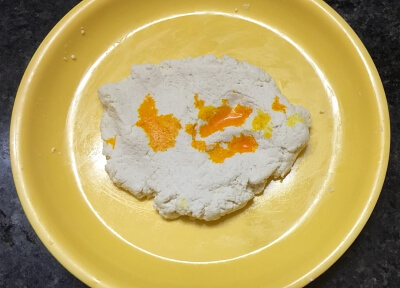 Knead again for 3-4 minutes and make a soft dough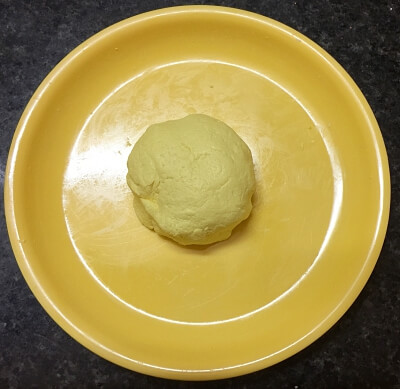 Divide into six equal portions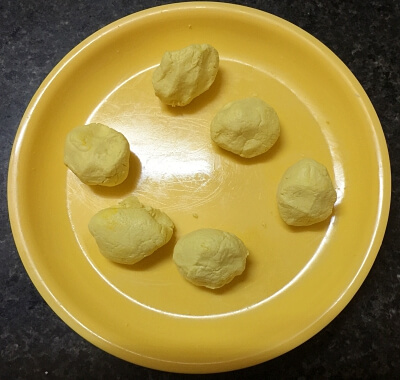 Shape them like chum chum
To make syrup, add sugar to water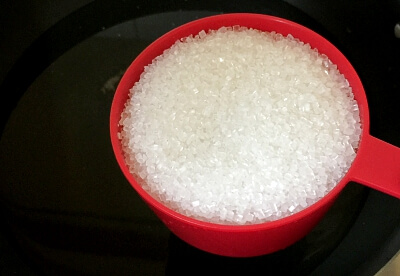 Boil until sugar dissolves completely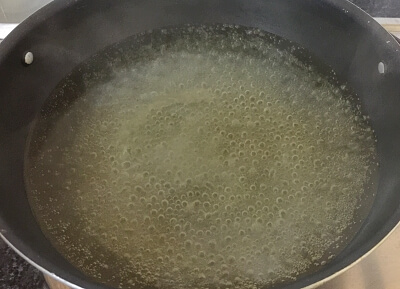 Add chum chums into boiling syrup and cover the pan for 10 minutes on high flame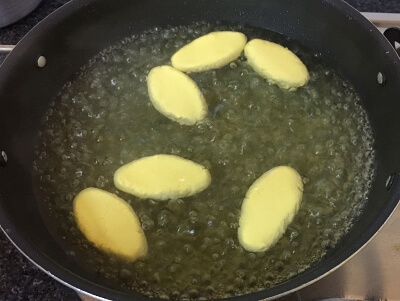 After 10 minutes, flip them and again cover the pan for 15 minutes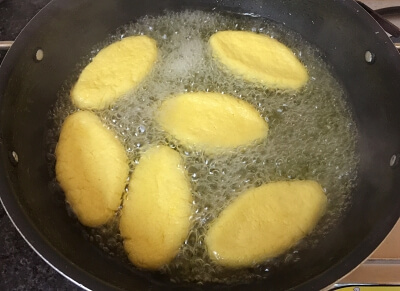 After cooked, switch off the flame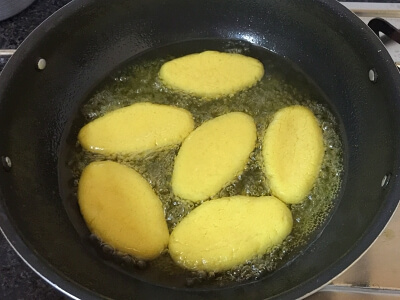 Let them cool down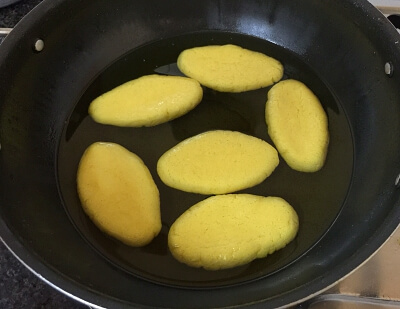 To make malai, take milk and boil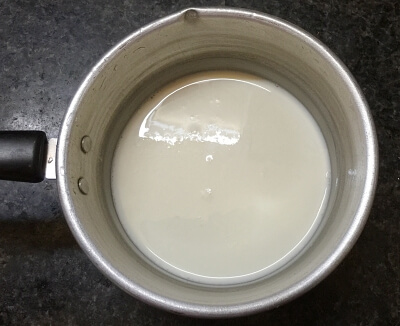 Add whisked thick cream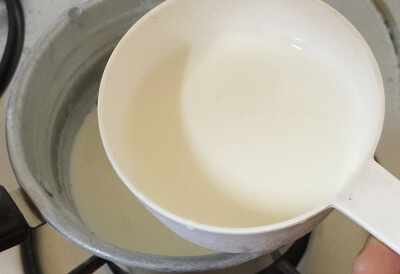 Boil until reduced to half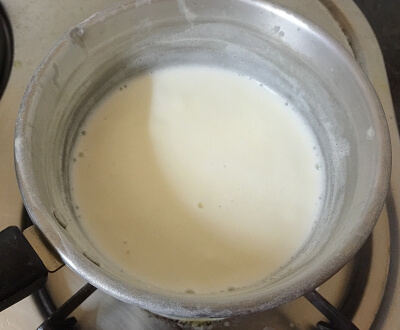 Add sugar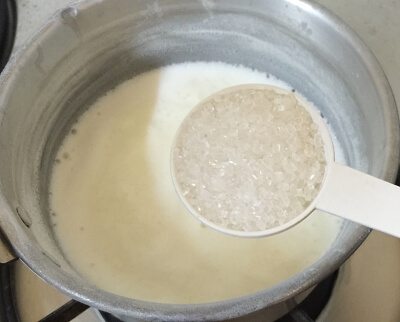 Add cardamom powder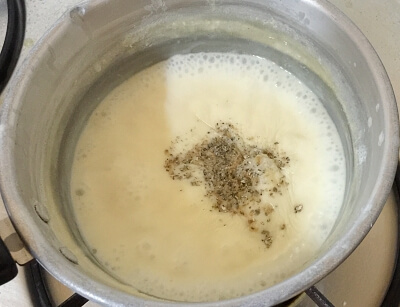 Switch off the flame and let it cool down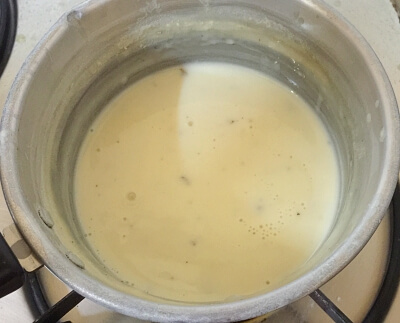 When the chum chums are cool, place them on a plate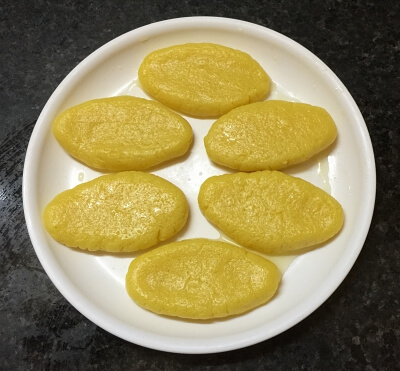 Drizzle malai over the chum chums and serve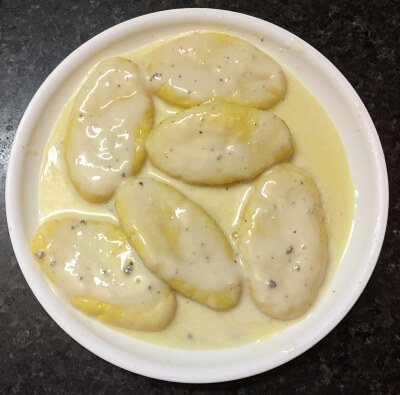 Tips :
Kneading the chenna is very important to make perfect chum chum.
You can serve them warm or in room temperature.
You can also avoid using food colour, in that case, your chum chum will look white instead of yellow.
To get more recipes via Email , Subscribe to our Newsletter . Also follow us on Facebook .