Chaler Payesh or Bengali Rice Pudding is a dessert, that has a perspective of its own for Bengalis. Be it your birthday, your baby shower, your house-warming or be it Poush Parbon, Chaler Payesh has a definite role to play. This sweet dessert has such an influence on Bengal's that it cannot be overlooked. It defines our Bengali culture and love for sweets. For more Indian Dessert recipes, search here .
Image : Bengali Chaler Payesh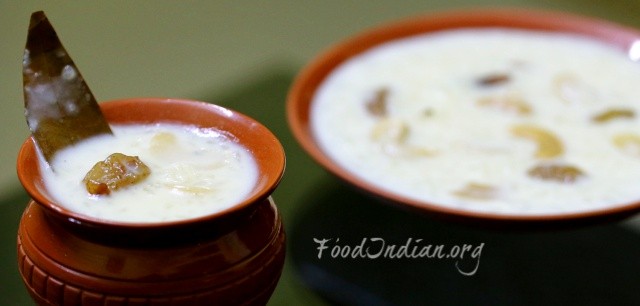 Important : 
Preparation Time : 5 minutes
Cooking Time : 40 minutes
Total Time : 45 minutes
Serve For : 4
Ingredients : 
Gobindobhog Chal (1/3 cup)
Milk (800 ml)
Bay Leaf (1)
Cardamom (1/8 tsp) /crushed
Sugar (6-8 tbsp)
Cashew Nuts (1 tbsp)
Raisins (1 tbsp)
---
Direction :
Wash and soak the rice for 1-2 hours.
Soak cashew and raisins for an hour.
Add milk in a heavy bottom pan and bring it to boil. While boiling, add bay leaf into the milk.
When the milk starts to boil, add the rice slowly to it. Remember to keep stirring the milk continuously.
Allow it to boil in low to medium flame till rice gets cooked well but it should be firm and soft without losing its shape.Generally rice takes longer time to cook. So keep mixing every now and then and make sure it is not burnt in the bottom.
After about 20 to 25 minutes, when the milk has thickened and the rice grains have become soft, add sugar, cashew nuts and raisins and cook for another 5 minutes.
By this time, milk gets evaporated add little hot water or more milk whenever necessary.
Lastly add crushed cardamom, stir well and switch off the flame.
Cool the payesh for an hour and serve cold.
---
Images :
Soak rice and dry fruits for an hour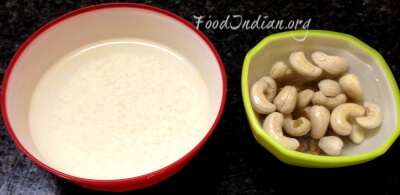 Boil milk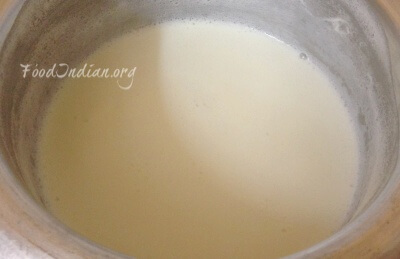 Add bay leaf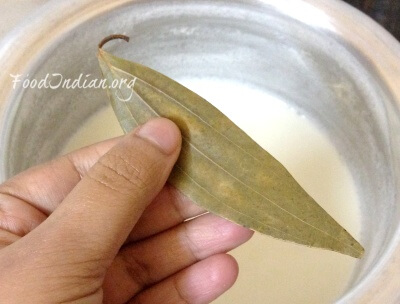 Add soaked rice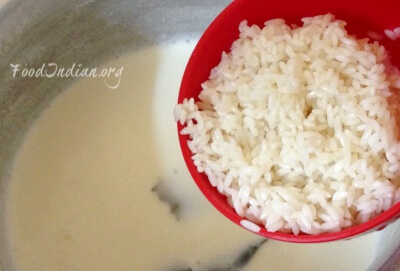 Stir well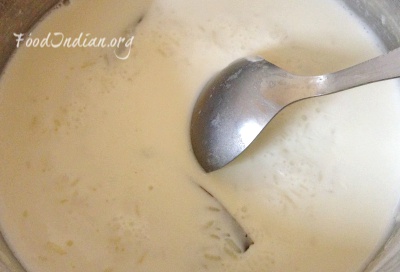 Add dry fruits
Add sugar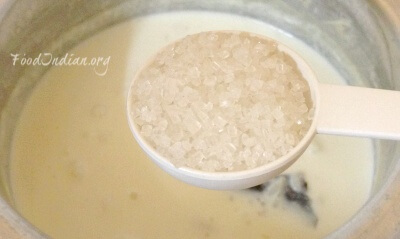 Add crushed cardamom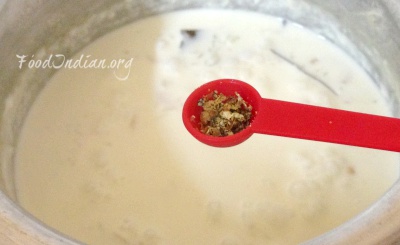 Your payesh is ready to serve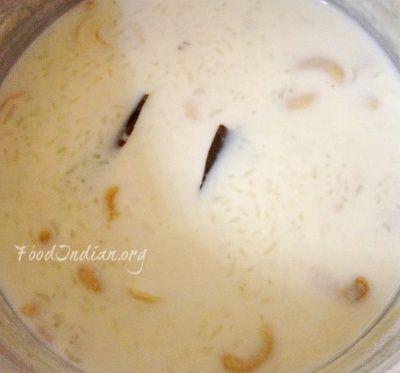 Tips :
Always add the sugar in the end.
Allow it to cool, refrigerate and serve chilled.
This kheer would thicken as it cools down.
Keep stirring the kheer in between to prevent it from burning and sticking to the bottom of the pan.
You can also use basmati rice or jeera rice instead of gobindobhog.
To get more recipes via Email , Subscribe to our Newsletter . Also follow us on Youtube .