Chicken Kasha is a typical Bengali recipe. It is very popular and almost prepare in every Bengali household. In this recipe, Chicken pieces are cooked in onion, ginger-garlic and masala based gravy and the dish is semi dry. This is a rich preparation of chicken, which goes really well with steamed rice, pulao or roti. You can also search for more delicious Bengali or Chicken recipes like Chicken Dak Bangalow, Chicken Bharta, Chicken Do Pyaza, Chicken Curry, Green Papaya Chicken, Palak Chicken, Spicy Red Chicken, Achari Chicken and many more.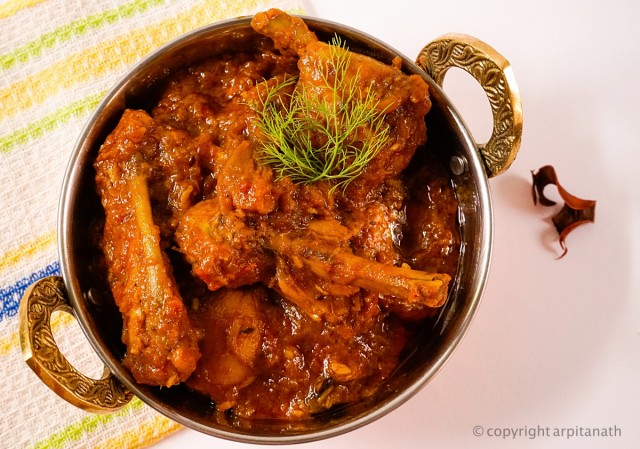 Important: 
Preparation Time : 15 minutes
Cooking Time : 55 minutes
Total Time : 1 hr 10 minutes
Serve For : 2-3
Ingredients:
Chicken (500 gm)
Mustard Oil (4 tbsp+1 tsp)
Onion (4 medium size) /sliced
Whole Garam Masala (Cardamom 3, Cinnamon 3 inch piece, Cloves 3)
Cumin Seeds (1/8 tsp)
Grated Ginger (1 tsp)
Grated Garlic (1 tbsp)
Tomato (1 medium size)
Cumin Powder (1 tsp)
Kashmiri Red Chilli Powder (1 tbsp)
Turmeric Powder (1 1/2 tsp)
Salt (to taste)
Sugar (1/2 tsp)
Garam Masala Powder (1/2 tsp)
Ghee or Clarified Butter (1/2 tsp)
Water (1/2 cup)
---
Direction:
Clean and wash the chicken pieces with fresh water and marinate them with salt and turmeric powder for 30 minutes.
Heat oil in a pan. Add whole garam masala and cumin seeds, wait for them to splutter.
Now add all the sliced onion into the pan and fry them until become caramelised.
Then add grated garlic and ginger. Fry them until the raw smell of garlic has gone.
Add chopped tomatoes and cook them till become soft and tender.
Then add all the dry spices like cumin powder, turmeric powder, red chilli powder and salt. Add 1 tbsp of water so that the dry spices does not get burnt. Braise(kosano) all the masala until the gravy starts leaving oil from the sides.
Now add the marinated chicken pieces into the pan and mix well with the gravy.
Cook for 5 minutes on medium to low flame by stirring it constantly.
Then add 1/2 cup of water, mix it well and cover the pan with a heavy lid. Cook for 10-15 minutes or until the chicken pieces become soft and tender. Cook on low flame.
After that, open the lid and stir the curry well. This time, if you feel the curry becomes dry, then add some more warm water.
Cook for another 5 minutes on medium heat.
Lastly, when our curry is ready and the chicken becomes soft, add sugar, garam masala powder and ghee. The consistency of the gravy should thick and not too much runny. Mix everything well and switch off the flame.
---
Images:
Marinate the chicken with salt and turmeric powder
Add whole garam masala and cumin seeds into oil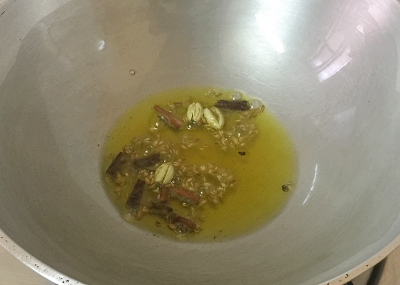 Add sliced onion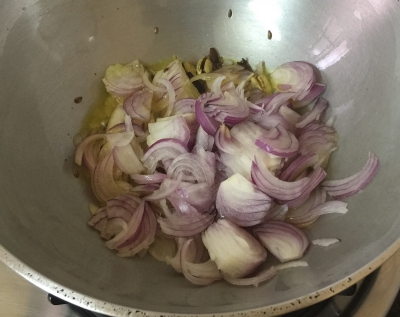 Add grated ginger and garlic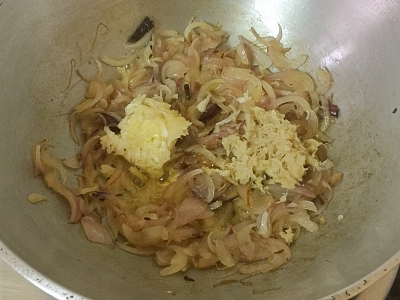 Add chopped tomatoes and cook until become tender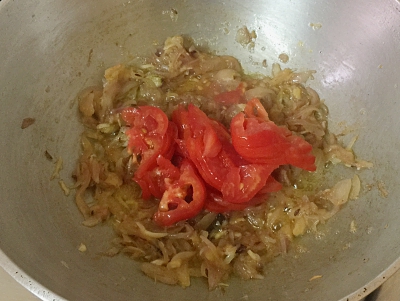 Add all the dry spices and salt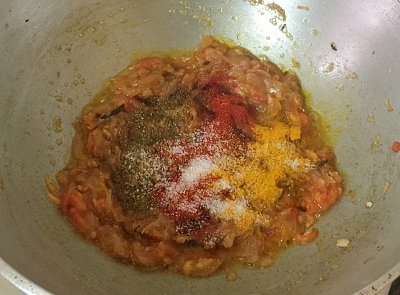 Braise until oil oozing out from the sides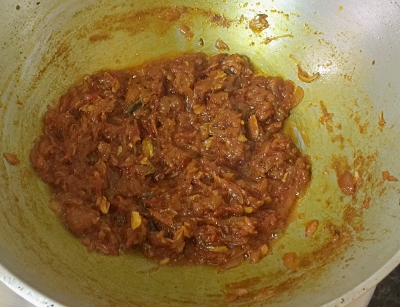 Add marinated chicken pieces
Mix well with the gravy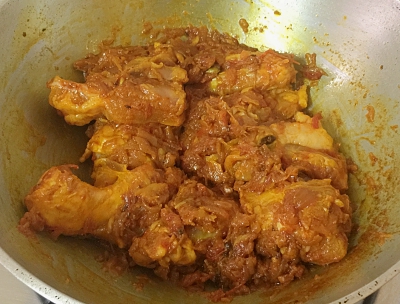 Cook for 5 minutes on medium to high flame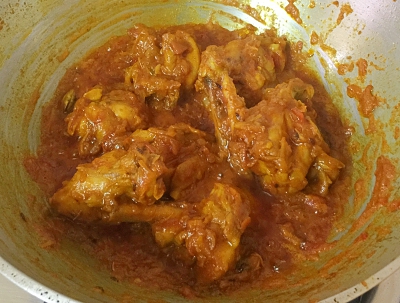 Cover the pan and cook until the chicken become soft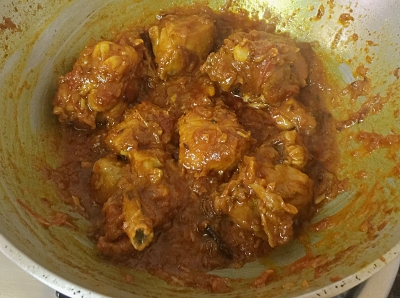 Add some water and cook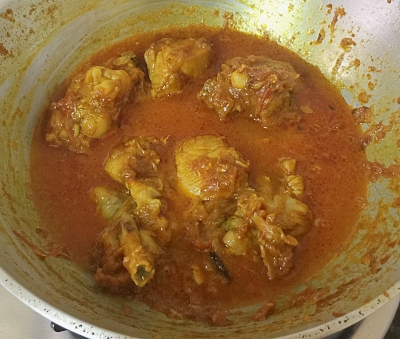 When done, add garam masala powder, ghee and sugar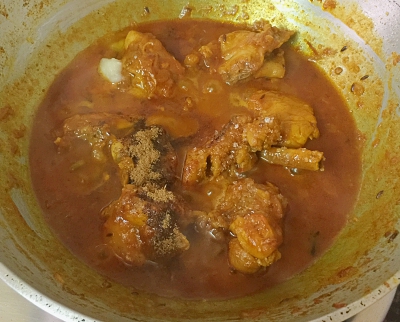 Mix well and switch off the flame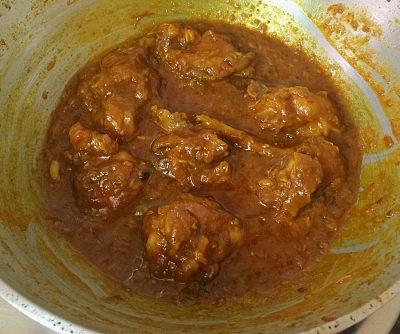 Tips:
Serve with steamed rice or roti.
To get more recipes follow us on Youtube .