Chanar Dalna or Cottage Cheese Ball Curry is an authentic Bengali recipe. I remember, when I was a child, my grandma used to make chanar dalna almost every Saturday, and I simply cannot forget the taste of that curry. The main two ingredients of this dish are cottage cheese and potato. It's a very simple recipe without onion and garlic. Try this simple vegetarian dish with steamed rice.
Image : Chanar Dalna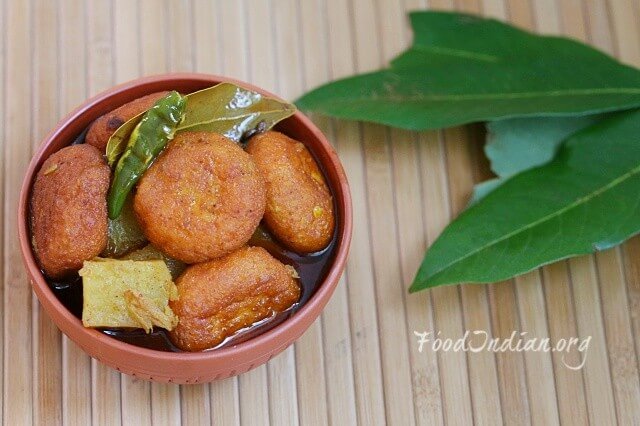 Important :
Preparation Time : 20 minutes
Inactive : 30 minutes
Cooking Time : 20 minutes
Total Time : 1 hr 10 minutes
Serve For : 4
Ingredients :
To Make Chena Balls –
Chena or Cottage Cheese (200 gms)
All Purpose Flour or Maida (1 tbsp)
Turmeric Powder (few pinch)
Salt (few pinch)
To Make the Curry –
Cumin Seeds (1/4 tsp)
Vegetable Oil (2-3 tbsp)
Bay Leaves (2)
Potato (2 medium size) /cut into cubes
Red Chilli Powder (1 tsp)
Cumin Powder (1 tsp)
Turmeric Powder (1/2 tsp)
Salt (to taste)
Whole Green Chilli (2)
Grated Ginger (1/2 tsp)
Sugar (1/2 tsp)
Garam Masala Powder (1/2 tsp)
Clarified Butter or Ghee (1/2 tsp)
Water (2 cups)
---
Direction : 
To make Chena –
Heat the milk, when it start to boil, simmer the flame and add the lime juice. Stir well.
Heat until the water clearly separates from the milk.
Now switch off the flame and let it cool for 2 minutes.
Take a metal strainer, cover it with a thin cotton or muslin cloth. Put the curdled milk in the strainer.
Wash the chena well with cold water. It helps to remove the sourness of lime.
Now collect the cloth and hang for 30 minutes to drip out water.
After 30 minutes, squeeze the excess water and place the chena on a plate.
To Make the Curry –
For making the chena balls, knead the chena with 1 tbsp of maida, turmeric powder and salt.
Knead the chena and make a soft dough. Now by taking small portions from the dough make 10-12 equal size round balls.
Press the chena balls lightly with your palm and give them a flat round shape.
Heat oil in a pan or kadai.
Put the chena balls carefully into hot oil and fry them until become golden brown.
Drain oil and keep them aside.
Now in the same oil, add cumin seeds and bay leaves. Wait for them to crackle.
Add cubed potatoes and fry them for about 3-4 minutes.
Then add cumin powder, turmeric powder, salt, red chilli powder and whole green chilli into the pan.
Add grated ginger. Stir and saute the potatoes and spices until the oil separates from the sides.
When the gravy starts leaving oil from sides, add water and sugar.
Simmer for 10 minutes or till the curry thickens slightly.
When the curry is done, add clarified butter or ghee and garam masala powder. Give them a good stir.
Lastly add the fried chena balls into the gravy and mix them very gently.
Cook for 2-3 minutes and switch off the flame.
---
Images : 
Boil milk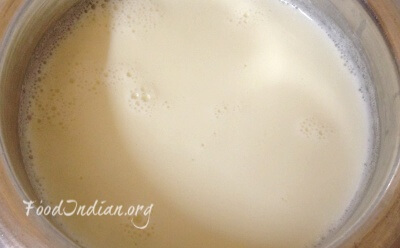 Add 1 lime juice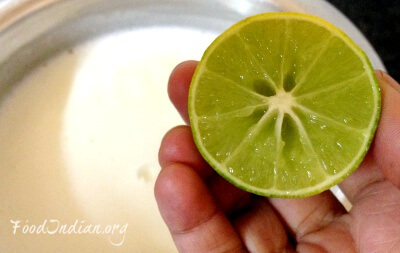 Stir well
The water separates from the milk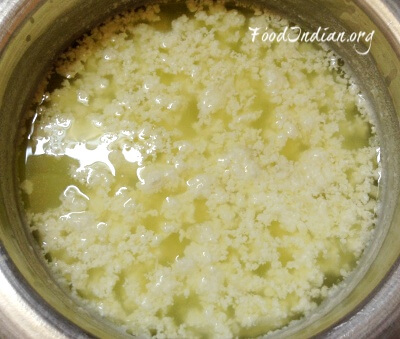 Place on a cotton cloth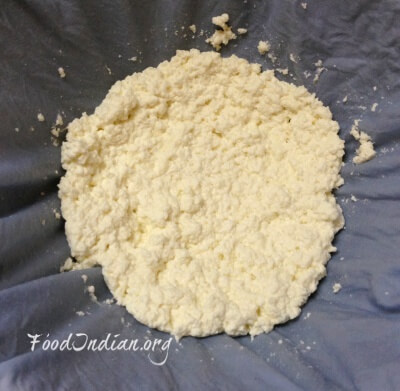 Chena is ready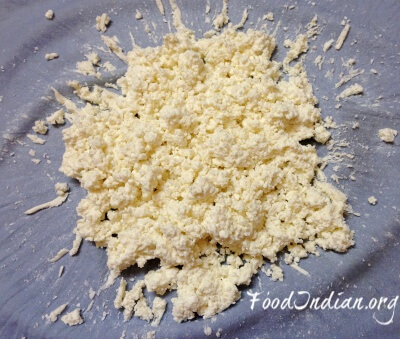 Place it on a plate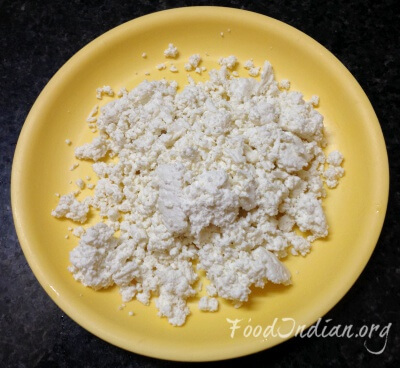 Add maida, turmeric powder and salt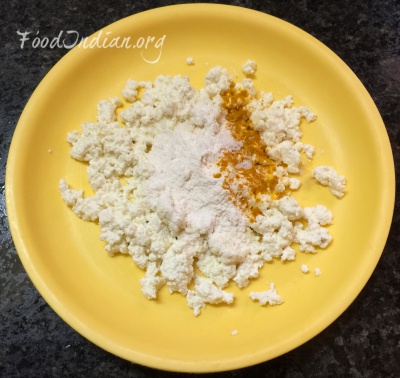 Khead and make a dough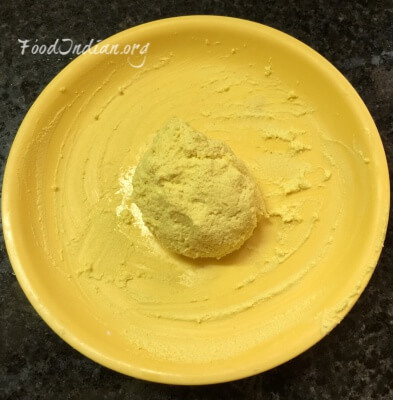 Make small flat balls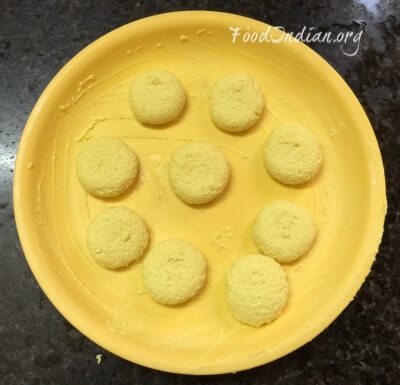 Fry them until golden brown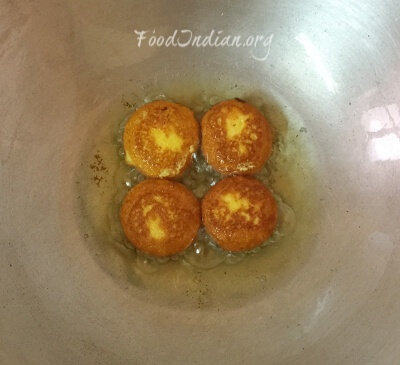 Keep them aside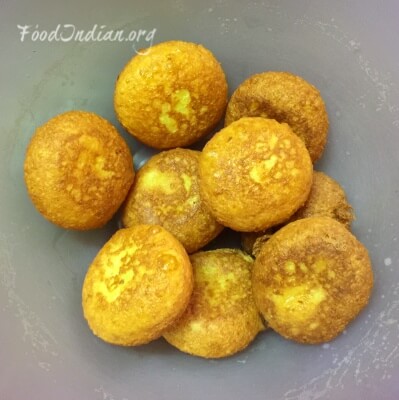 Add cumin seeds and bay leaves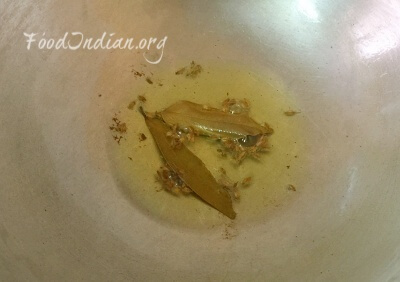 Add potato cubes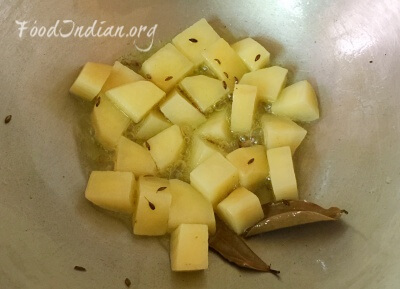 Add dry spices and salt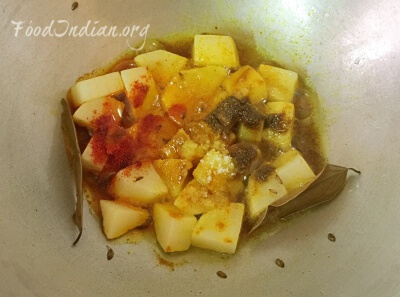 Add green chilli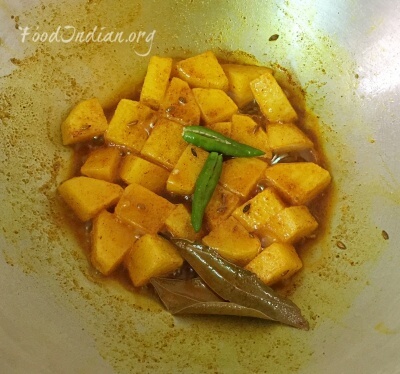 Add grated ginger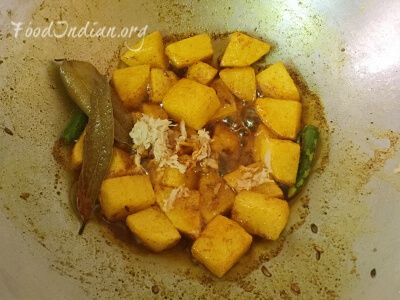 Add water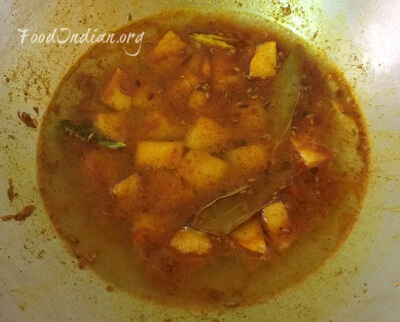 Add sugar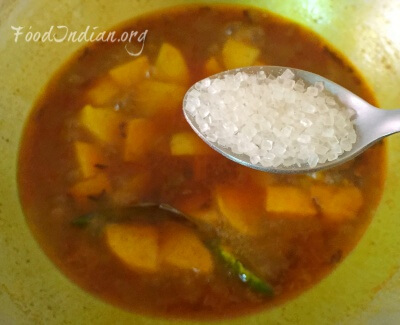 Add garam masala powder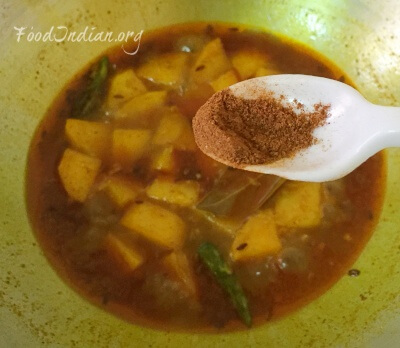 Add ghee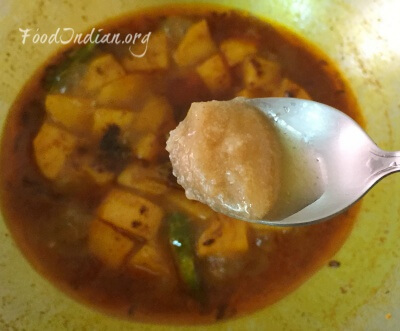 Put the balls into the gravy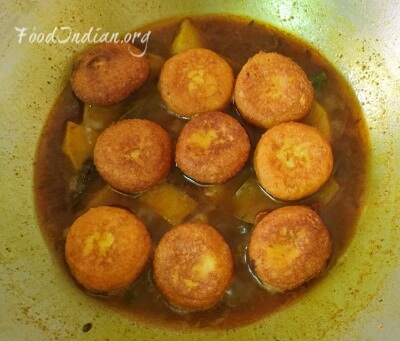 Stir and cook for 2-3 minutes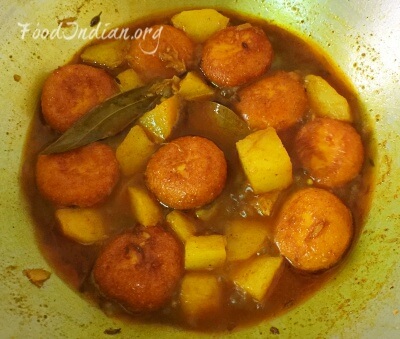 Tips : 
Do not cook the chena balls for a long-span of time or they will break very easily.
Make sure you have enough curry to soak the balls, because the chena balls will soak some of the curry or jhol.
Serve with steamed rice or roti.
You can also check other Paneer Recipes like Paneer NO Butter Masala, Palak Paneer, Paneer with Mixed Vegetables, Paneer Kofta Curry, Aloo Matar Paneer, Paneer Makhani .
To get more recipes via Email , Subscribe to our Newsletter . Also follow us on Youtube .