Aloo Posto is the traditional Bengali dish originally from West Bengal but equally appreciated by Bengalis from the eastern part as well. In this dish potatoes are fried in a thick coating of poppy seeds or posto and tastes really great. Posto also helps in getting a good sleep and to relax your body. So this authentic Bengali dish is not only good for your health but for your taste buds also. It is a delicious dish to eat but simple and easy enough to cook.
Image : Aloo Posto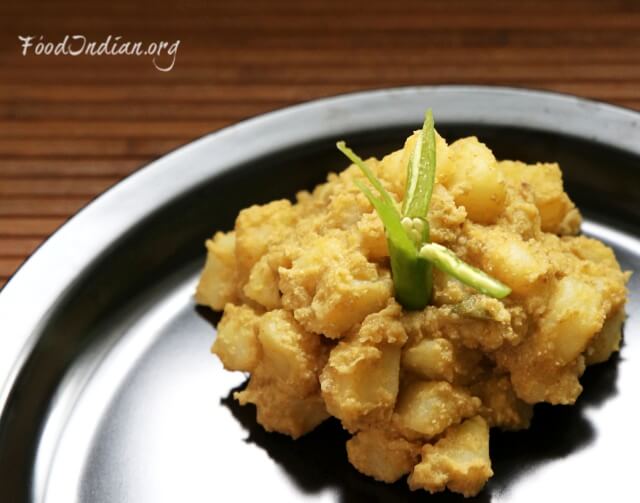 Important :
Preparation Time : 10 minutes
Cooking Time : 25-30 minutes
Total Time : 40 minutes
Serve For : 3-4
Ingredients :
Potato (3 medium size) /cut into cubes
Poppy seeds or Posto Paste (3 tbsp)
Hing or Asafoetida (1/8 tsp or a pinch) /for tempering
Green Chilli (1) /chopped
Salt (to taste)
Red Chilli Powder (1/2 tsp)
Sugar (1/2 tsp)
Water (1/2 cup)
Mustard Oil (3 tbsp)
---
Direction :
For making the posto paste, soak poppy seeds or posto overnight and grind them in a mixer with 1/4 cup water and a pinch of salt,  till  the poppy seeds are soft. It should be a thick consistency and can take up to 10 minutes. Or if you have Shil Noda in your kitchen, it would be the best for making posto paste, and for that you don't have to soak the poppy seeds over night.
Peal and cut the potatoes into cubes and wash with fresh water.
Add oil into a pan. When the oil is heated, add asafoetida or hing into the oil. After few seconds it will release a beautiful aroma. Then add the potato cubes into the oil.
Stir the potatoes and fry them for 3-5 minutes on medium to high flame.
Meanwhile add salt and chopped green chillies and stir well.
Now add red chilli powder and fry for 5 minutes.
When the potatoes are half fried, add the posto paste and mix with the potatoes very well.
After 2-3  minutes add 1/4 cup of water. Stir and cover the pan with a lead and cook on low flame.
Check after 5 minutes. Add remaining water and again cover with the lead.
Once the aloo is soft and fully cooked, add sugar and let the water dry up. Stir the aloo without mashing them or breaking them.
Put off the flame and serve hot.
---
Images :
Add a pinch of asafoetida into oil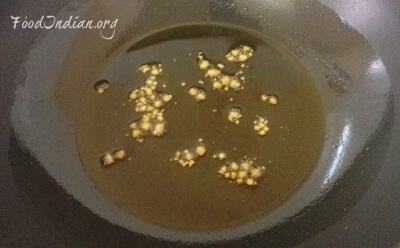 Add potato cubes and fry them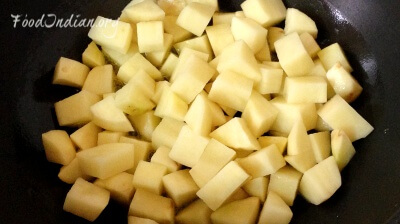 Meanwhile add chopped green chilli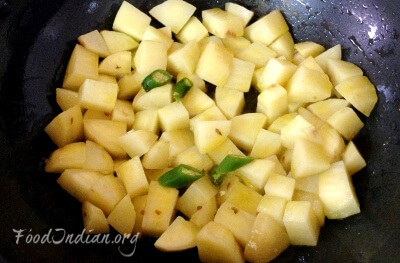 Add salt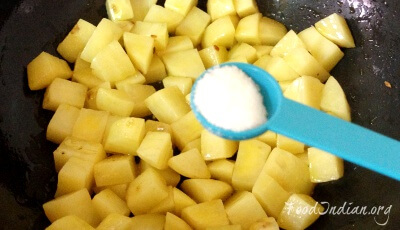 Add red chilli powder and fry well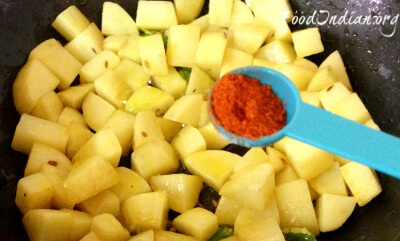 Now add posto paste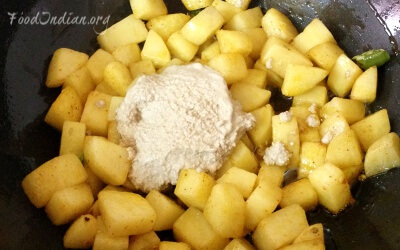 Add water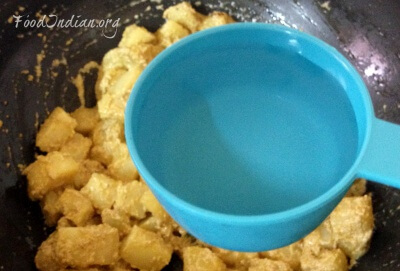 Add sugar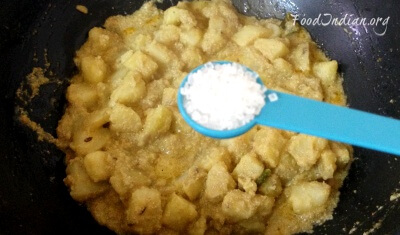 Tips :
Do not add turmeric powder. Traditional aloo posto is always cook without turmeric powder and cumin seeds.
It tastes best with steamed rice and plain daal.
To get more recipes via Email , Subscribe to our Newsletter . Also follow us on Youtube .