For the food and vegetable lovers, winter season is all about fresh and colorful vegetables, and I love to make Mixed Veg Curry with these yummy looking veggies in this season. Vegetables are also very healthy for us, and if you cook them in a healthy way, also with a colorful look, you don't have to convince your kids to eat this delicious Mixed Vegetable Curry. You can also check my other recipes with vegetables here .
Image : Mixed Vegetable Curry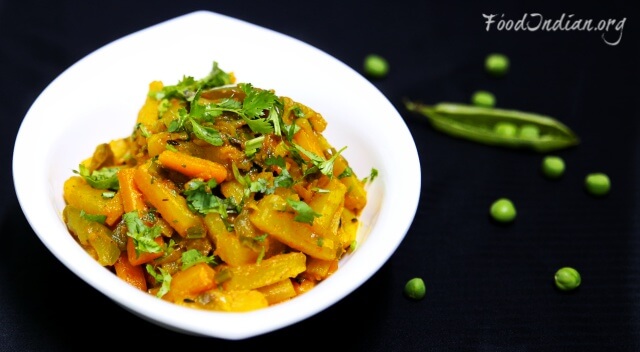 Important :
Preparation Time : 15 minutes
Cooking Time : 45 minutes
Total Time : 1 hr
Serve For : 4
Ingredients :
Potato (1 big size)
Carrot (1 medium size)
Radish (1 medium size)
Onion (1 big size) /sliced
Capsicum (1 medium size)
Spring Onion (2 tbsp) /chopped
Cumin Seeds (1/4 tsp) /for tempering
Cumin Powder (1 tsp)
Red Chilli Powder (1/2 tsp)
Salt (to taste)
Turmeric Powder (1/2 tsp)
Water (1/2 cup)
Coriander (2 tbsp) /chopped
Sugar (1/2 tsp)
Vegetable oil (4 tbsp)
---
Direction :
First, cut and clean all the vegetables with fresh water and dry them.
In a pan, heat oil. When the oil is heated, add cumin seeds and wait for them to splutter.
Then add potato slices into the oil and stir them for a while.
When the potatoes are become light brown, add carrot and radish slices into the pan and fry them for 4-5 minutes on medium heat.
Now add turmeric powder and salt, stir well.
After 5-7 minutes add rest of the vegetables, i.e. capsicum and onion slices. Mix them with other ones well.
It's time to add the spices, add cumin powder and  red chilli powder, mix and fry everything for 10 minutes on low heat.
When the vegetables are cooked partially, add 1/2 cup of water and stir. Sprinkle chopped spring onion and cover the pan with a lead for 15 minutes on low heat.
After 15 minutes, put the lead off and stir the vegetables gently.
Meanwhile, add sugar and cook for another 5 minutes.
Lastly, add chopped coriander and switch off the flame.
---
Images :
Add cumin seeds into hot oil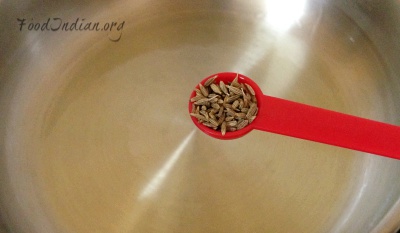 Add potato sliced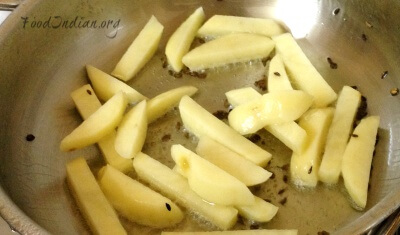 Add carrot and radish slices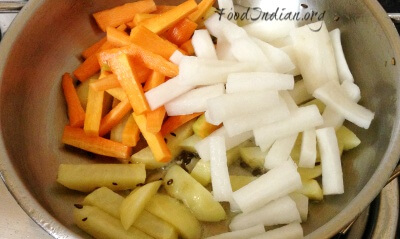 Add turmeric powder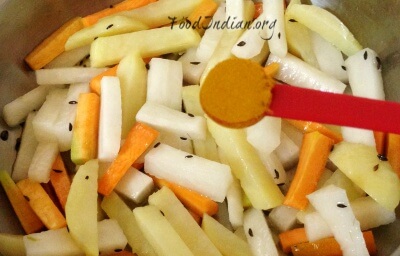 Add salt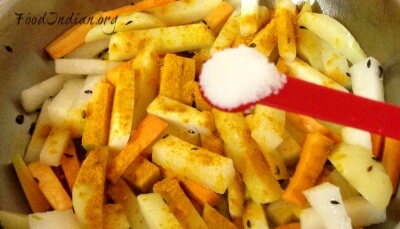 Add sliced onion and capsicum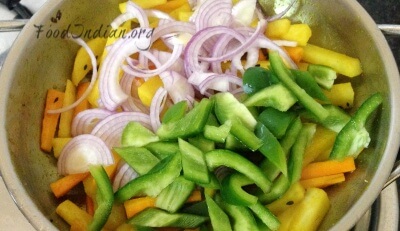 Add cumin powder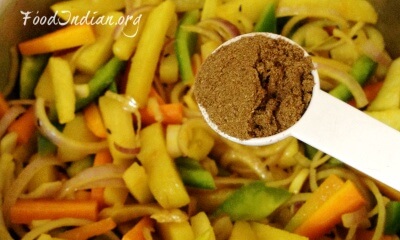 Add red chilli powder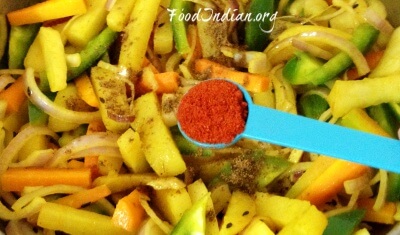 Sprinkle spring onion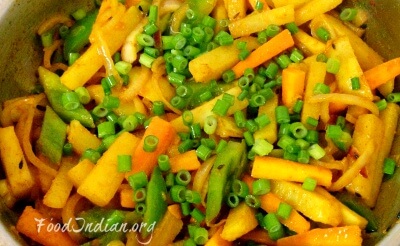 Add water and cover the pan with a lead for 15 minutes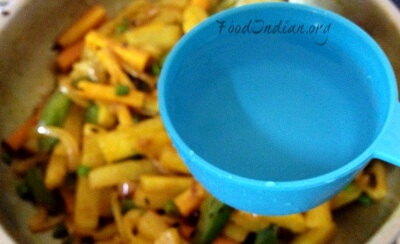 Lastly add sugar
Add chopped coriander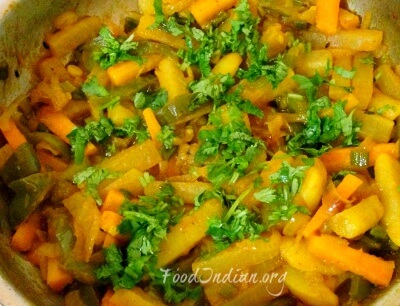 Tips:
Do not over cook the vegetables, or the curry becomes mushy.
Serve with roti or paratha.
To get more recipes via Email , Subscribe to our Newsletter . Also follow us on Youtube .