Cooking different types of curry with fresh colourful vegetables in this winter season is very common thing, and if we pair up this veggies with the delicious paneer, it boosts up the taste and flavour of the dish. I have already posted another version of Mixed Vegetable Curry  , but this Paneer with Mixed Vegetables tastes totally different from the precious one. It's a fried and dry curry which you can have with roti or paratha. It's a healthy yet tasty recipe for your kids also.
Image : Paneer with Mixed Vegetables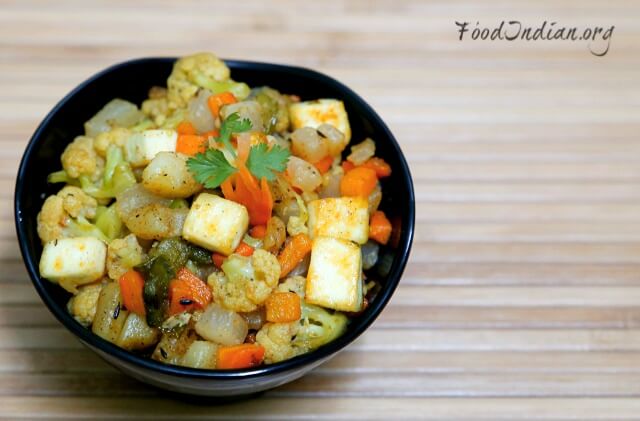 Important :
Preparation Time : 15 minutes
Cooking Time : 25 minutes
Total Time : 40 minutes
Serve For : 2-3
Ingredients :
Paneer or Cottage Cheese (100 g) /cubed
Potato (1 medium size) /cut into small cubes
Radish (1 small or medium size) /cut into small cubes
Carrot (1 medium size) /cut into small cubes
Cauliflower (1 cup) /cut into small pieces
Capsicum (2 tbsp) /small cubes
Green Chilli (1-2) /chopped
Red Chilli Powder (1/2 tsp)
Salt (to taste)
Butter (1/2 tsp)
Sugar (1/2 tsp)
Black Pepper (1/8 tsp)
Vegetable Oil (2-3 tbsp)
---
Direction :
Cut and wash all the vegetables with fresh water and dry them.
In a pan, add oil. When the oil is heated add the paneer cubes into the pan and saute them for a while or until they become light brown in color. When done, take them out from the pan and set aside.
In the same oil, add cubed potatoes, carrots and radish and fry them by stirring on high flame.
After few minutes, add the cauliflower pieces and mix with other vegetables.
Meanwhile, add salt and cook the veggies for 10 minutes on medium heat.
Now add the capsicum pieces into the pan and mix well. Then sprinkle some water over the veggies and stir.
By the time, add red chilli powder and fry until the vegetables cooked properly. You can also cover the pan with a lead, it will help the vegetables to cook faster, and keep sprinkling water occasionally.
When all the vegetables become tender, add the fried paneer pieces and combine well with the veggies.
Add some sugar and butter into the mixture and cook for another 5 minutes.
Lastly sprinkle some pepper powder, stir, and your dish is ready to serve.
---
Images :
Saute the paneer cubes and keep them aside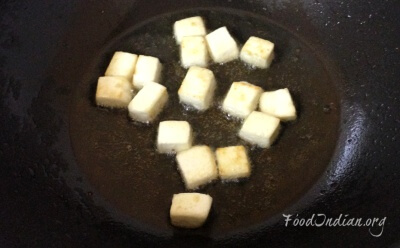 In the same oil add potatoes, radish and carrot cubes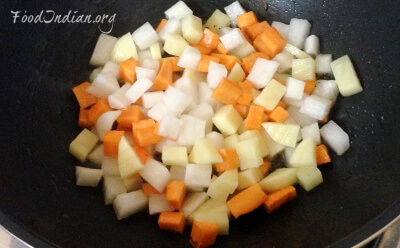 Add cauliflower pieces and fry them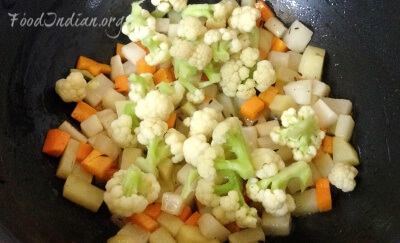 Add salt and fry for 10 minutes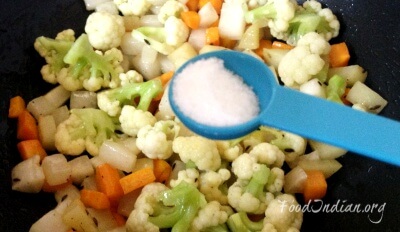 Add capsicum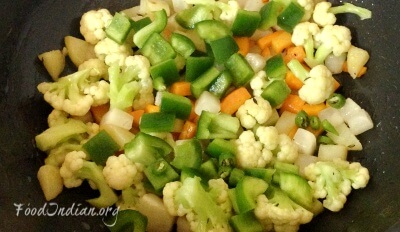 Add red chilli powder and cook the veggies until become tender and soft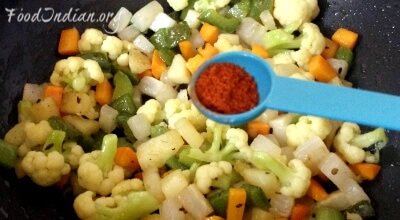 Add the sauted paneer cubes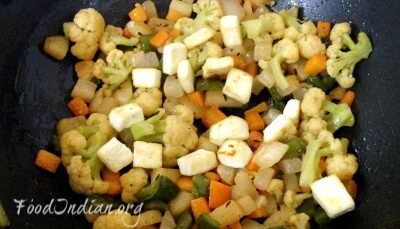 Add sugar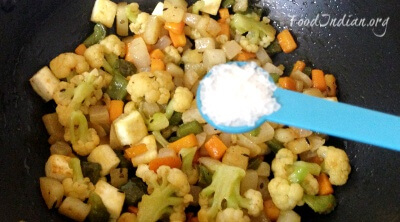 Add butter
Add pepper powder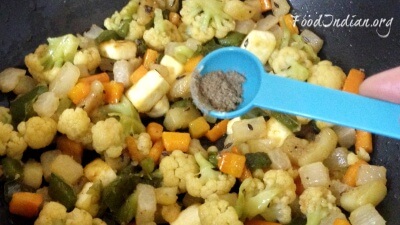 Tips :
Don't over cook the vegetables or they will look mushy.
Serve with roti or paratha.
To get more recipes via Email , Subscribe to our Newsletter . Also follow us on Youtube .