Cauliflower Rezala or Phulkopir Rezala is a Bengali curry adapted from the Nawabs, when they ruled Bengal and its popularity expanded slowly among people. Rezala is immensely popular for its meat version, but in modern days chefs have experimented with vegetable dishes like Cauliflower or Paneer, and the outcome is equally good. In this recipe big cauliflower florets are cooked in rich curd and cashew nut based gravy. This curry has a very subtle flavour and tastes simply awesome. You can also search for more Bengali or Vegetarian recipes like Tel Begun, Chanar Dalna, Doi Fulkopi, Doi Potol, Aloor Dum, Kashmiri Dum Aloo and many more.
Image : Cauliflower Rezala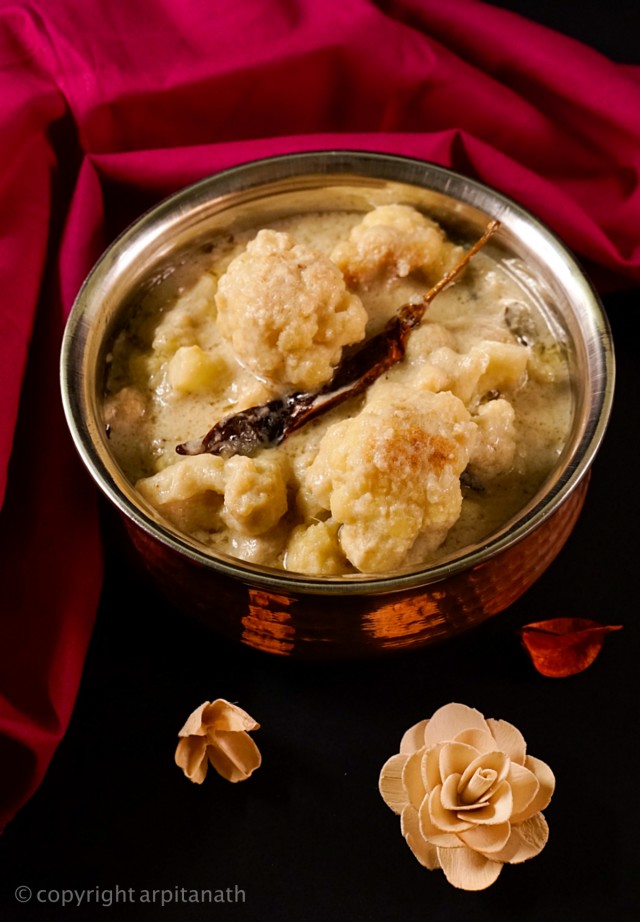 Important :
Preparation Time : 15 minutes
Cooking Time : 50 minutes
Total Time : 1 hr 5 minutes
Serve For : 3-4
Ingredients :
Cauliflower (1 medium size) /cut into big florets
Oil (3 tbsp)
Ghee or Clarified Butter (1 tsp)
Dried Red Chilli (1)
Whole Garam Masala (3 Cardamom, 4 Cloves, 2 inches Cinnamon stick)
Bay Leaf (1)
Black Pepper Corn (5-6)
Onion (2 big size)
Ginger Garlic Paste (1 tbsp)
Cashew Paste (1/2 cup) /paste of 15 cashews
Water (1 cup)
Yogurt or Curd (2 tbsp)
Salt (to taste)
Sugar (1/2 tsp)
Kewra Water (1/4 tsp)
---
Direction :
Cut the cauliflower into big florets and soak them into salted water for 15 minutes. After that, drain water and let them dry.
Meanwhile, cut the onions into halves and put them into a blender. Make a smooth puree and keep it aside.
Likewise, make a smooth puree of cashew nuts and keep it aside.
Now, heat oil in a pan and saute the cauliflowers for a while, make sure they do not change the colour into brown. Drain oil and keep them aside.
In the same oil, add 1 tsp of ghee. Put the dried red chilli into oil and saute for a while. Drain oil and keep it aside.
Add whole garam masala, black pepper corn and bay leaf into the pan and saute them until it releases beautiful aroma.
Then add the onion puree into the pan and start braising on medium flame.
After 5 minutes, add ginger garlic paste and cook the mixture until it leaving oil from the sides and do not sticking to the bottom of the pan. It will take around 10 minutes to cook the mixture.
Now add the cashew paste and cook until it oozing out oil from the sides. Cook on medium to high flame for 10-15 minutes.
Now add the sautéed cauliflower florets into the pan and mix with the gravy.
Add 1 cup of water and give a stir.
Cover the pan with a lid and cook for 15-20 minutes on low flame or until the cauliflowers become soft and cooked well. But do not over cook them, or the curry will become mushy.
When the curry is cooked well, add salt, sugar and whisked yogurt. Cook for another 5 minutes.
Lastly add kewra water and sautéed red chilli, mix it well with the curry and switch off the flame.
---
Images : 
Soak and dry the cauliflower florets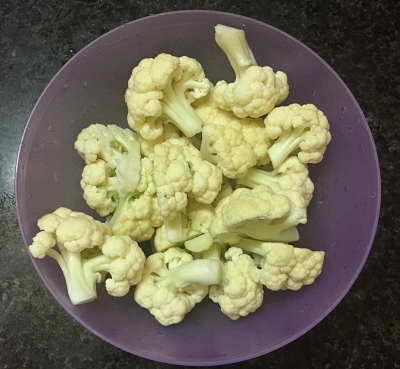 Saute them for a while
Drain oil and keep them aside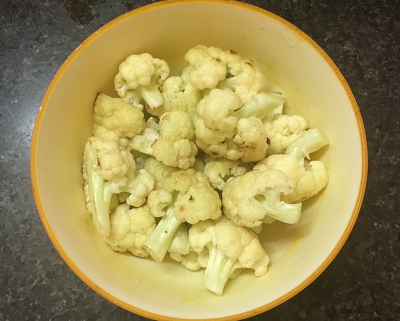 In the same oil add ghee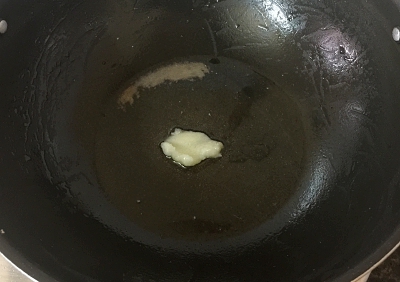 Saute the dried red chilli, drain oil and keep it aside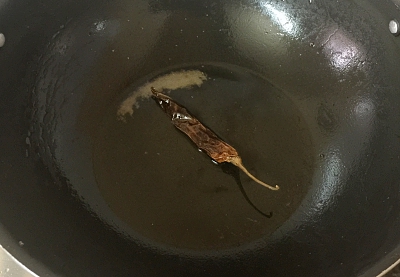 Add whole garam masala, bay leaf and black pepper corn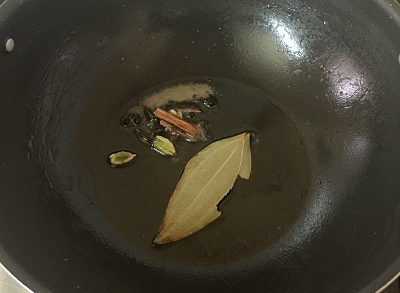 Add onion puree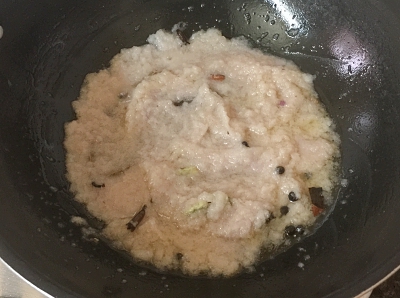 Add ginger garlic paste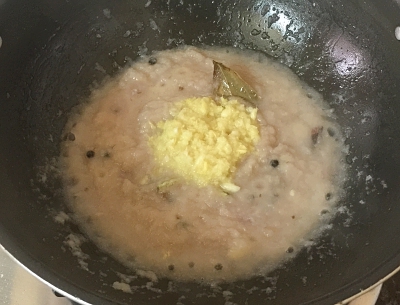 Cook until the mixture releases oil from sides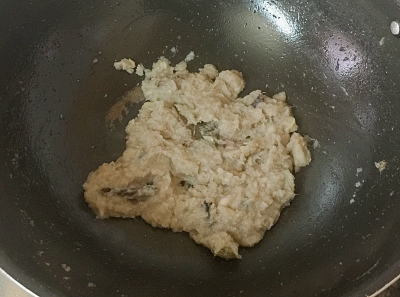 Add cashew paste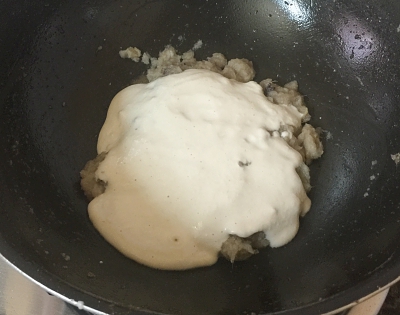 Cook until it ooze out oil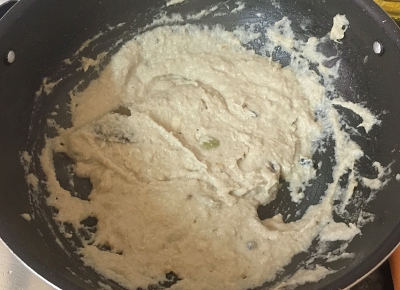 Add sautéed cauliflowers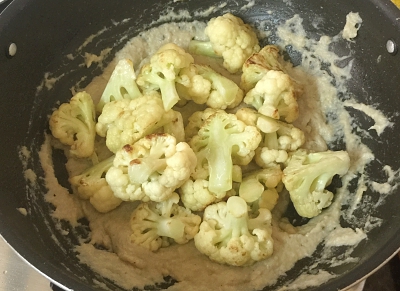 Add water, mix well and cover the pan for 15 minutes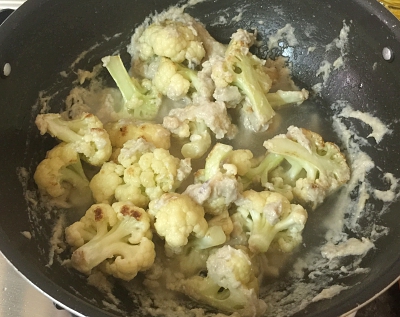 After the curry cooked well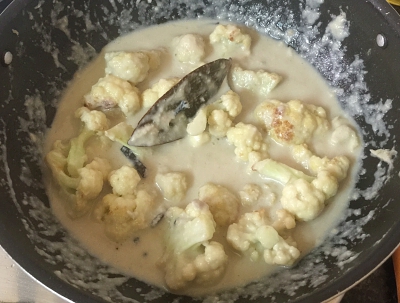 Add salt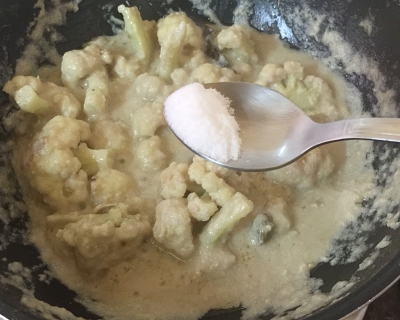 Add whisked yogurt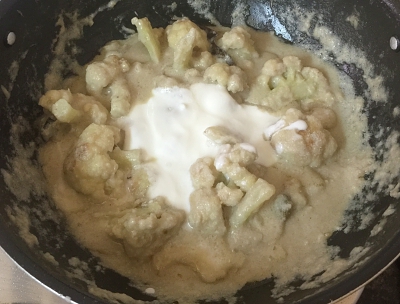 Mix well and cook for another 5 minutes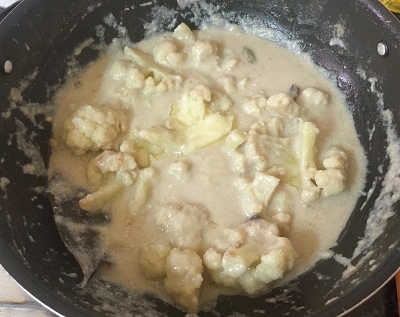 Add sautéed red chilli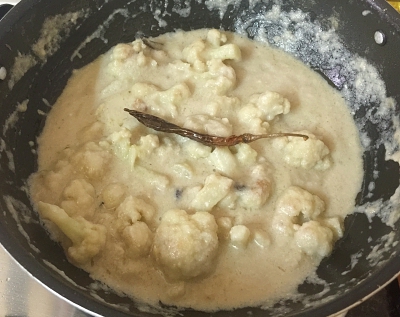 Add kewra water and sugar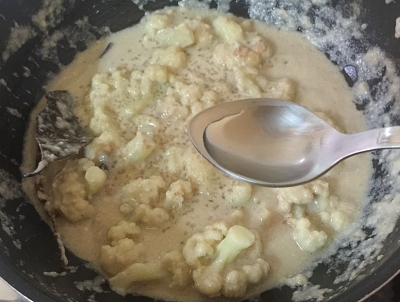 Mix well and switch off the flame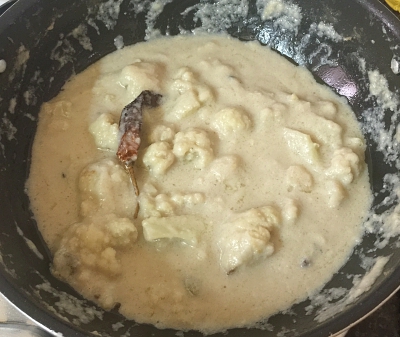 Tips :
When you are cooking cashew paste, do not add salt in the beginning, or the gravy will curdled easily.
Serve with roti, naan or paratha.
To get more recipes via Email , Subscribe to our Newsletter . Also follow us on Youtube .