Aloo Gobi ki Sabzi is a simple Indian homestyle curry which goes really well with roti, puri or paratha. Personally I am a big fan of Gobi or Cauliflower, so that I have experimented a lot of dishes with this winter vegetable. I have also added another Aloo Gobi Matar Dry Curry recipe in my blog. You can cook this recipe within a few minutes and it tastes delicious. This dish is very light and healthy. So this winter do try out this easy aloo gobi sabzi and enjoy winters.
Image : Aloo Gobi
Important : 
Preparation Time : 10 minutes
Cooking Time : 30 minutes
Total Time : 40 minutes
Serve For : 2-3
Ingredients :
Cauliflower or Gobi (1 small) /cut into medium size florets
Potato (1 big size) /cubed
Oil (4 tbsp)
Cumin Seeds (1/4 tsp)
Turmeric Powder (1 tsp)
Salt (to taste)
Cumin Powder (1/2 tsp)
Green Peas (2 tbsp)
Green Chilli (1-2)
Sugar (1/2 tsp)
Chopped Coriander leaves (1 tbsp)
---
Direction :
At first, cut the cauliflower into medium size florets and soak them into salted water for at least 15 minutes.
Now, drain water, wash them well and coat them with 1/2 tsp of turmeric powder and salt.
Heat oil in a pan. Saute the cauliflower pieces until light brown. Drain oil and keep them aside.
In the same oil, add cumin seeds and wait for them to splutter. Then add potato cubes and fry them for 4-5 minutes on medium flame.
When the potatoes are half-cooked, add sautéed cauliflower pieces into the pan and mix them well.
Add 1/2 tsp of turmeric powder, cumin powder and salt to taste. Mix well and cook for 3-4 minutes.
Now add green peas and continue frying on medium flame.
After the veggies are fried well, add 3/4 th cup of water into the pan, cover with a lead and cook for another 10 minutes on medium to low heat.
Then open the lead, add whole green chilli and sugar. Cook for 5 minutes more and switch off the flame.
Sprinkle some chopped coriander leaves and serve hot.
---
Images : 
Coat the cauliflower pieces with some salt and turmeric powder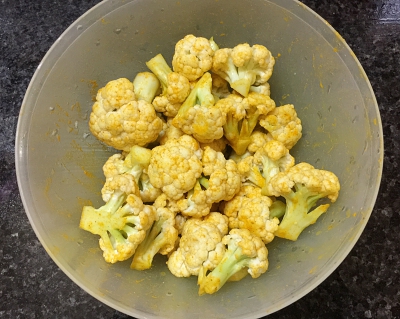 Saute them until become light brown in colour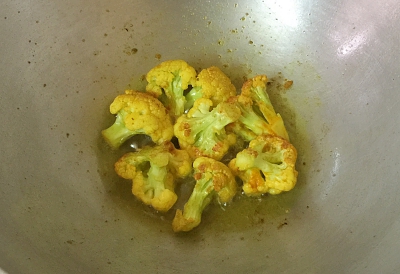 Drain oil and keep them aside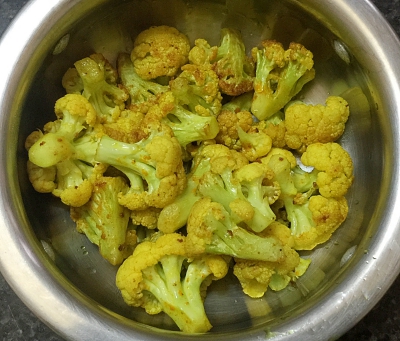 In the same oil add cumin seeds and potato, fry them for 5 minutes
Add sautéed cauliflower pieces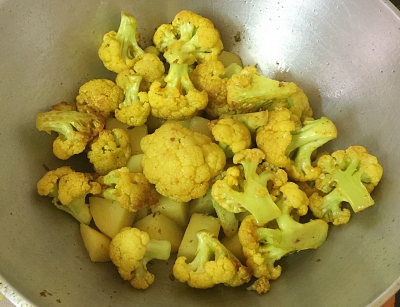 Add turmeric powder, cumin powder and salt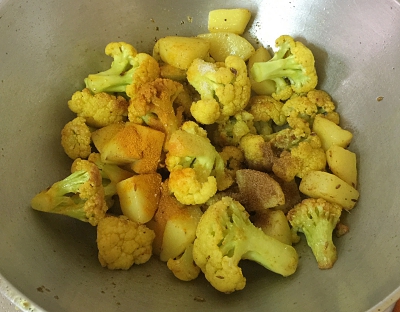 Add green peas and cook for another 5 minutes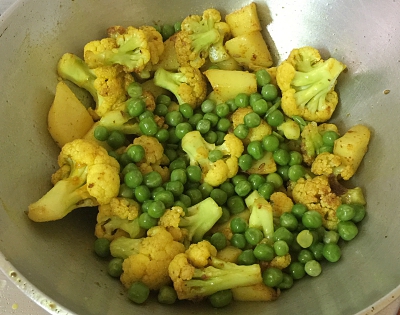 Add water, cover the pan and cook for 10 minutes more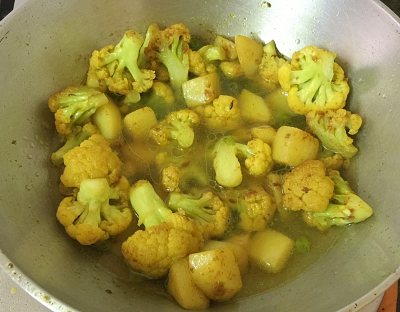 After cooking, add green chilli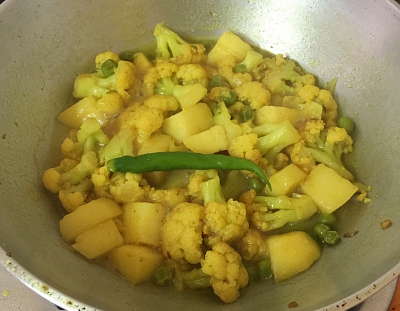 Add sugar, cook for 5 minutes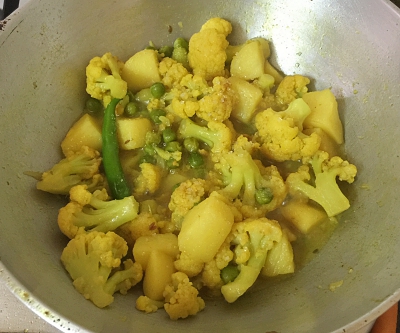 Switch off the flame, sprinkle some coriander leaves and serve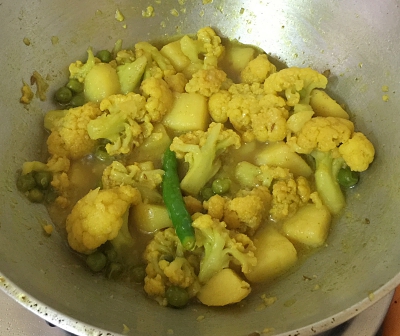 Tips :
Here I am using frozen green peas, if you are using the fresh one, then add them after adding the potatoes.
If you want more spicy curry, you can add the green chilli before covering the pan.
You can also search for more Vegetarian Curry recipes like Aloor Dum, Lauki Kofta Curry, Tel Begun, Doi Fulkopi and many more.
To get more recipes via Email , Subscribe to our Newsletter . Also follow us on Youtube .