Dal Palak or Spinach Dal is a very simple and delicious recipe, and also a good source of protein and fibre. This recipe contains rich dal and healthy palak or spinach. You can also make this dish with assorted dal or lentils. Serve this healthy wholesome meal with roti or rice. You can also search for many more Dal Recipes or Vegetarian Recipes.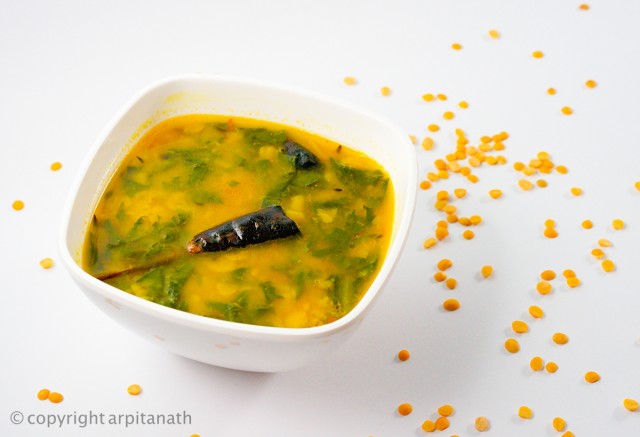 Important :
Preparation Time : 10 minutes
Cooking Time : 30 minutes
Total Time : 40 minutes
Serve For : 2-3
Ingredients :
Tuval Dal or Pigeon Pea (1/2 cup)
Spinach or Palak (1 cup) /roughly chopped
Water (2-3 cups)
Salt (to taste)
Turmeric Powder (1/2 tsp + 1/4 tsp)
Ghee or Clarified Butter (1 tbsp + 1/2 tsp)
Dried Red Chilli (1)
Cumin Seeds (1/4 tsp)
Asafoetida or Hing (1 pinch)
Tomato (1 medium size) /finely chopped
Ginger (1/2 tsp) /grated
Garam Masala Powder (1/4 tsp)
Sugar (1/2 tsp)
---
Direction :
Wash and soak 1/2 cup of tuvar dal for at least 20 minutes.
Add the soaked dal in a pressure cooker with enough amount of water. Cook on medium heat for 2 whistles or until the dal become soft to touch.
When the dal is cooked well, add 1/2 tsp of turmeric powder and mix well. No need to mash the dal. Keep it aside.
Now heat 1 tbsp of ghee in a pan. Add cumin seeds, hing and dried red chilli. Saute for a while.
Add chopped tomato and grated ginger into the pan. Cook until tomato become slightly soft.
Then add 1/2 tsp of coriander powder, 1/4 tsp turmeric powder and salt to it. Fry until all the spices and tomatoes are cooked well.
Add chopped palak into the pan. Fry till the spinach become soft and well cooked.
When the tadka or masala is ready, add the boiled dal into the pan and mix very well.
At this time, you can add some more water as per your preferred consistency.
Add 1/2 tsp of ghee, 1/2 tsp of sugar and 1/4 tsp garam masala powder. Stir and cook for 5-6 minutes on medium to high flame.
When done, switch off the flame.
---
Tips :
Serve with roti or steamed rice.
To get more recipes via Email , Subscribe to our Newsletter . Also follow us on Youtube .