Pumpkin Flower Fritters or Kumdo Phooler Bora is a very famous Bengali snack item. The basic ingredient of this dish is blooming pumpkin flower. It is popular for its different but delicious taste, and very easy to make. For more snacks recipes, search here .
Image : Pumpkin Flower Fritters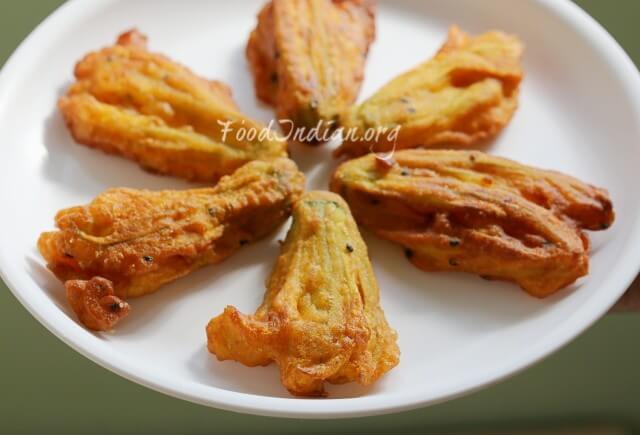 Important : 
Preparation Time : 10 minutes
Cooking Time : 5 minutes
Total Time : 15 minutes
Makes : 10 fritters
Ingredients : 
Pumpkin Flower or Kumdo Phool (10)
All Purpose Flour or Maida (4 tbsp)
Gram Flour or Besan (2 tbsp)
Rice Flour or Chaler Guro (1 tbsp)
Red Chilli Powder (1/2 tsp)
Turmeric Powder (a pinch)
Nigella Seeds or Kala Jeera (1/4 tsp)
Salt (to taste)
Olive Oil or Vegetable Oil (for deep-frying)
Water
---
Direction : 
Cut the stems of the flowers and take the stamen out. Wash and clean them. Try to keep the flower whole.
Make a thick and smooth batter by using maida, besan, rice flour, chilli powder, turmeric powder, nigella seeds, salt and water.
Dip one flower into the batter and coat evenly.
Heat sufficient oil for deep-frying.
When the oil is heated, put the batter coated flower into the oil. Fry on low flame.
After one side is done, flip and cook the other side well.
Drain oil and place on absorbent paper.
---
Images : 
Wash and clean the flowers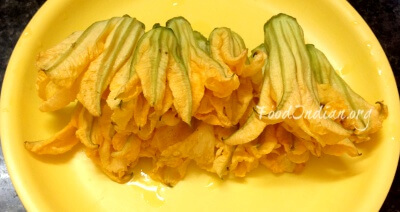 Take all the ingredients for batter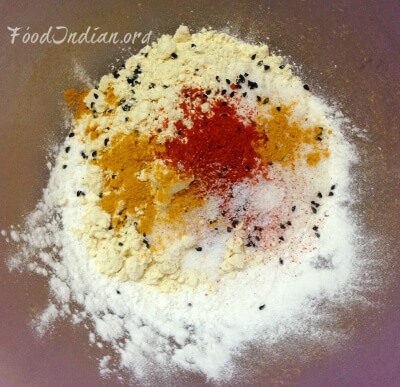 Make thick and smooth batter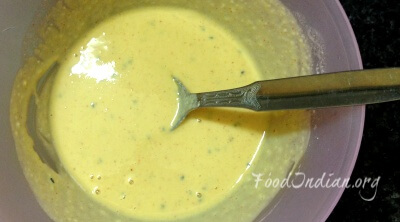 Dip the flower into the batter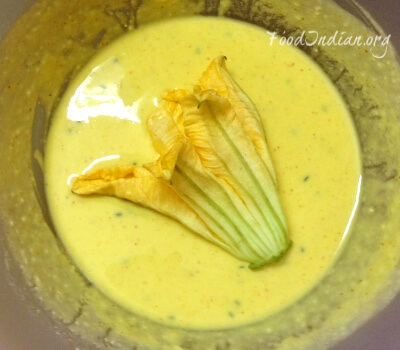 Coat them well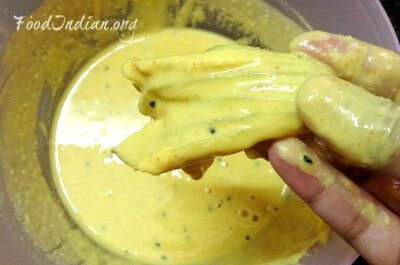 Deep fry them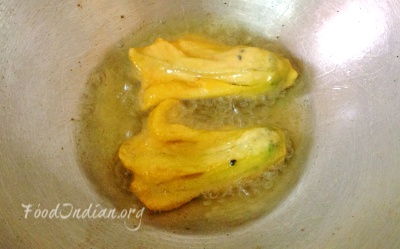 When one side done, flip them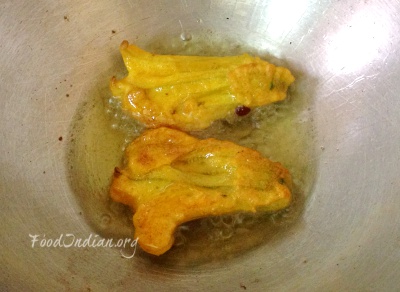 Drain oil and place on absorbent paper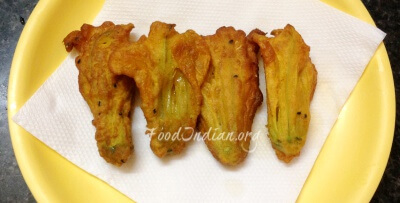 Tips : 
Serve hot with ketchup as snacks. Or you can also serve this pakoras with daal and rice.
To get more recipes via Email , Subscribe to our Newsletter . Also follow us on Youtube .