Beguni is a very famous and mouth-watering snack from Bengal. I have made this very popular snack in a little different way, and its called Eggplant Fingers. It's basically a dish made from eggplant, dipped into batter and deep-fried in hot oil. This snack is best for rainy days and goes very well with puffed rice or tea or coffee with few pinch of chaat masala or black salt sprinkled over it. You can also search for more Bengali Recipes or Snack Recipes in my blog.
Image : Eggplant Fingers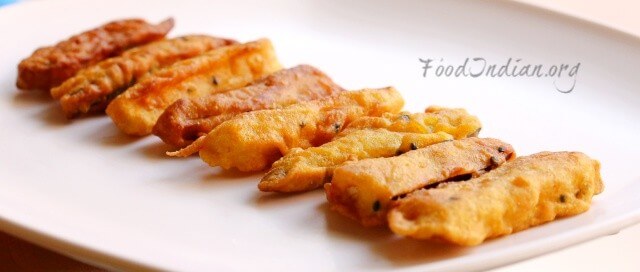 Important : 
Preparation Time : 5 minutes
Cooking Time : 10 minutes
Total Time : 15 minutes
Makes : 15-20 fingers
Ingredients :
Purple Eggplant or Begun (1 medium size)
Vegetable Oil (for deep-frying)
For the Batter –
All purpose flour or Maida (4 tbsp)
Gram Flour or Besan (2 tbsp)
Rice Flour or Chaler Guro (1 tbsp)
Red Chilli Powder (1/2 tsp)
Turmeric Powder (1/4 tsp)
Salt (to taste)
Nigella Seeds or Kalo Jeera (1/2 tsp)
Water
---
Direction :
Cut the eggplant into long and thing finger like pieces. Wash them well and pat dry.
To make the batter, add all the flours, chilli powder, salt, turmeric powder, Nigella seeds and water in a bowl. Mix them very well with a spatula and make a smooth and thick batter.
Heat sufficient oil in a frying pan for deep-frying.
Put few pieces of eggplants into the batter. Coat them very well.
When the oil is heated, put the batter coated eggplant fingers into the oil and deep fry them on medium to low heat until they become golden brown.
Drain oil and place them on absorbent paper.
Sprinkle some chaat masala or black salt, serve hot.
---
Images : 
Add all the ingredients mentioned to make the batter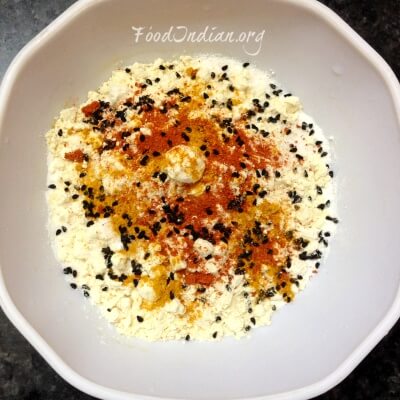 Add water and make a thick smooth paste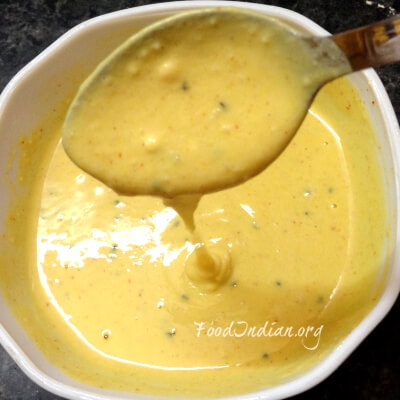 Cut the eggplant into thin finger like pieces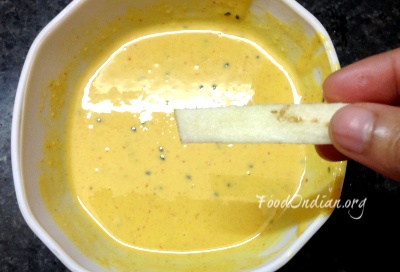 Dip the pieces into the batter and coat very well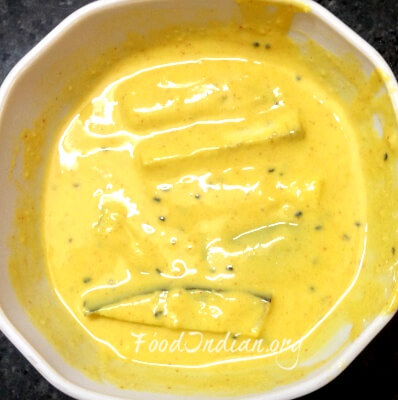 Deep fry them untill they become golden brown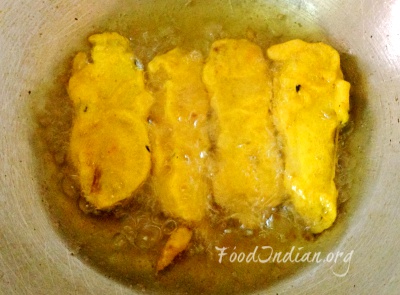 Place them on absorbent paper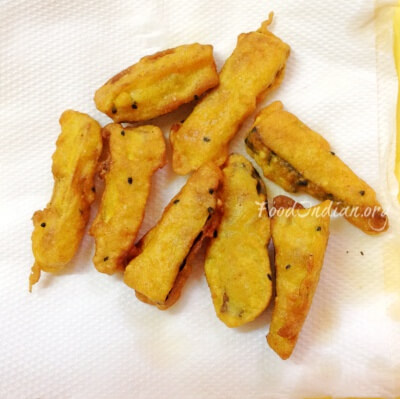 Tips : 
Make sure the batter is thick enough to coat the eggplant pieces.
Do not cut the slices too thick.
Serve hot with tea or coffee.
To get more recipes via Email , Subscribe to our Newsletter . Also follow us on Youtube .