Coriander Leaves Pakora or Dhone Patar Bora is a very famous snacks of Bengal. Through the winter season, Bengalis often make this yummy pakoras as a side dish for lunch or dinner or even for the brunch with a cup of tea or coffee. Generally coriander pakoras are made with chopped coriander leaves, but in this recipe, I make them without chopping the leaves, and it turns out very crunchy and flavourful. For more snacks ideas, search here .
Image : Coriander Pakora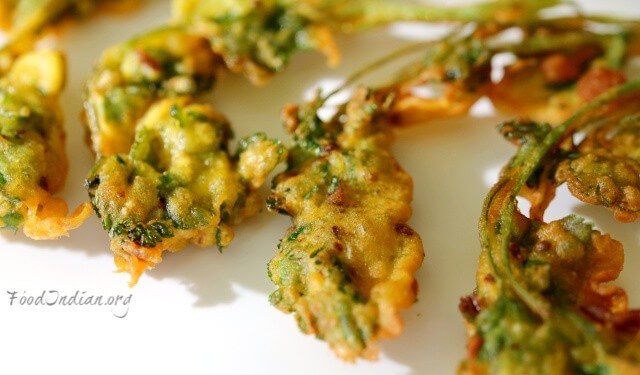 Important :
Preparation Time : 10 minutes
Cooking Time : 15 minutes
Total Time : 25 minutes
Makes : 10 pakoras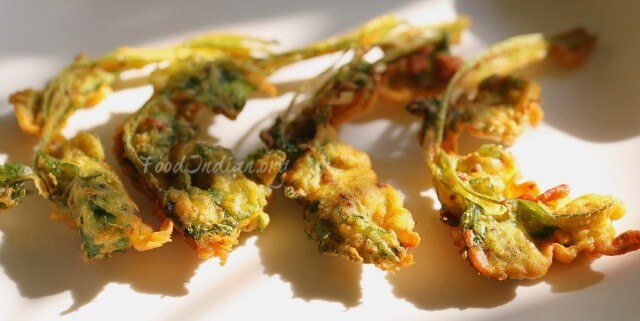 Ingredients :
For Batter –
Plain Flour or Maida (4 tbsp)
Gram Flour or Besan (2 tbsp)
Rice Flour (1 tbsp)
Salt (to taste)
Turmeric Powder (1/2 tsp)
Chilli Flacks (1 tsp)
Carom Seeds or Ajwain (1/4 tsp)
Water (1/2 cup)
For Pakora –
Coriander Leaves or Cilantro (30 sticks) /with stem
Vegetable Oil /for deep-frying
---
Direction : 
To make the batter, add plain flour, rice flour, gram flour, chilli flacks, salt, turmeric powder, carom seeds and water in a bowl. Mix them very well and make thick smooth paste.
Wash the coriander leaves with fresh water.
Take 3 coriander sticks, combine them together and dip into the batter. Make sure that batter coats the leaves really well.
Heat oil in a pan. When the oil is steaming, put the coated leaves into oil and deep fry them until becomes golden brown. Do not over crowd the pan while frying.
Take them out from the pan and soak them on absorbent paper. Your Coriander Leaves Pakora is ready to serve.
---
Images : 
Take all the dry ingredients, spices in a bowl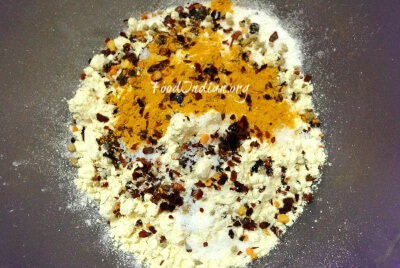 Add water and make a smooth paste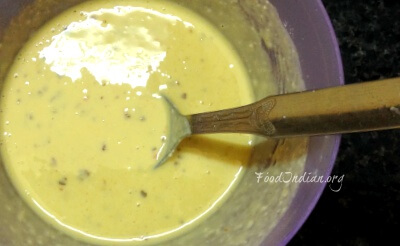 Combine 3 sticks together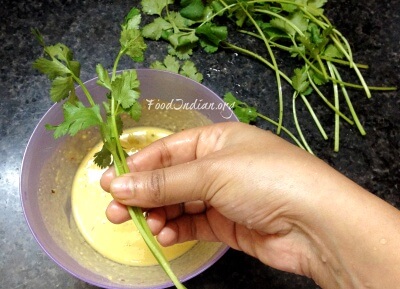 Dip them into batter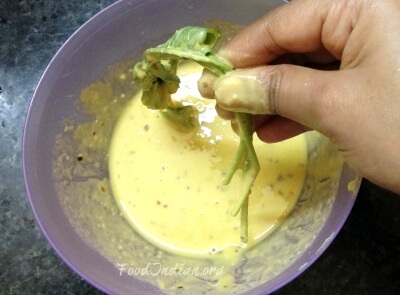 Deep fry them until becomes golden brown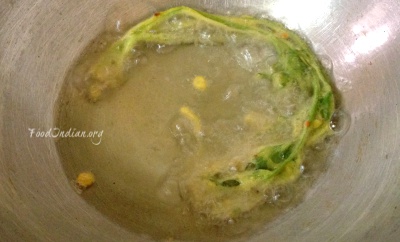 When done take them out from the pan and serve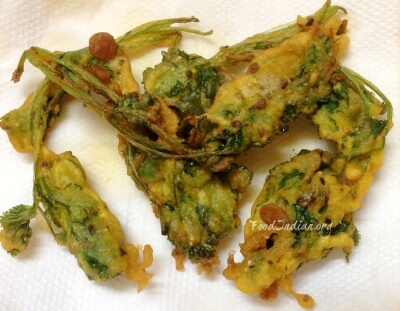 Tips : 
You can also add chopped green chilli or red chilli powder instead of chilli flacks.
Serve hot with plain daal and rice, or with ketchup.
To get more recipes via Email , Subscribe to our Newsletter . Also follow us on Youtube .