Brown Rice is whole grain rice. It has a mild, nutty flavor, and is chewier and more nutritious than white rice. Brown rice and white rice have similar amounts of calories and carbohydrates. The main differences between the two forms of rice lie in processing and nutritional content. We can have this as a healthy meal when its steamed but we can also make this in various delicious way. Today we will make Sweet Fried Brown Rice which you can have with Chilli Chicken, Chilli Fish or any type of spicy curry.
Image : Sweet Fried Brown Rice – Veg Brown Rice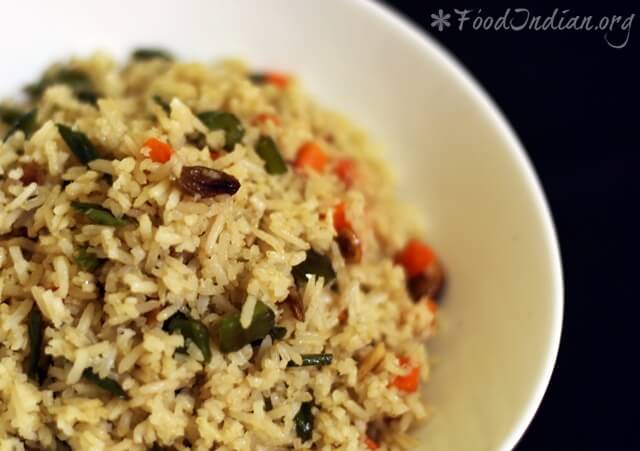 Important :
Preparation Time : 10 minutes
Cooking Time : 15 minutes
Total Time : 25 minutes
Serve for : 2
Ingredients :
Brown Rice (1 cup)
Water (4 cups)
Clarified Butter [ Ghee] (2 tbsp)
Carrots (1 small size) /cut into small cubed
Capsicum (1 small size) /cut into small cubes
Green Beans (1/2 cups) /cut into small pieces
Green Chilli (1) /chopped
Cashew Nuts (1 tbsp)
Raisin (1 tsp)
Salt (to taste)
Sugar (3 tbsp)
---
Direction :
At first boil the rice, then remove the starch and set them aside for cooling. You can read the entire process of Cooking Steamed Brown Rice in our previous article .
Now heat a pan and put Ghee. When the Ghee is heated add the chopped carrots, green beans, chopped green chilli and capsicums and stir them until they become soft.
Meanwhile also add some salt and stir because it will give more flavour to the vegetables and help them to cook faster.
When all the vegetables are almost cooked add Cashew and Raisins and fry them with the vegetables for another 5 minutes.
Now its time to add the boiled rice into the pan and mix them well with all the vegetables.
Again add some salt and give a good stir.
Add sugar and mix until the sugar got melted and mix evenly with the rice.
At last when its done add 1 tsp of Ghee and mix it very well with the rice.
Your Sweet Fried Brown Rice is ready to serve.
---
Images :
Boil the rice and put them aside.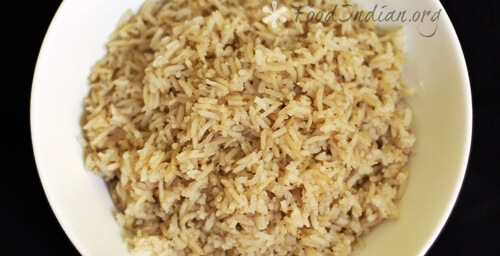 Add Ghee into the pan.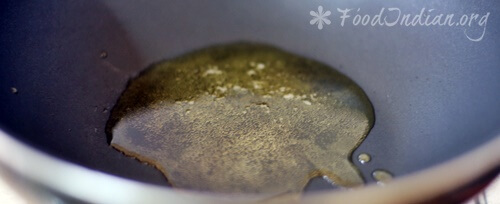 Add all the vegetables.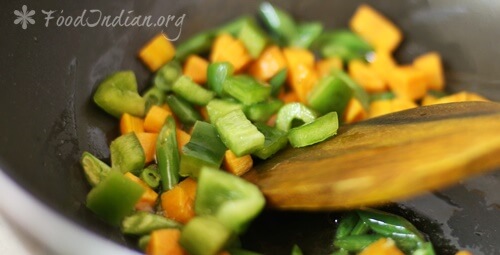 Add in Cashew and Raisins.

Add boiled Rice.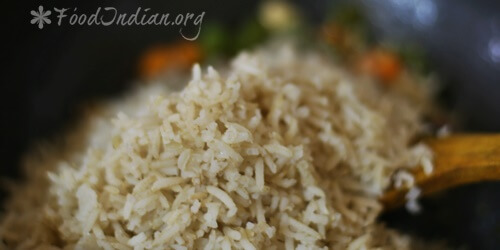 Add Sugar.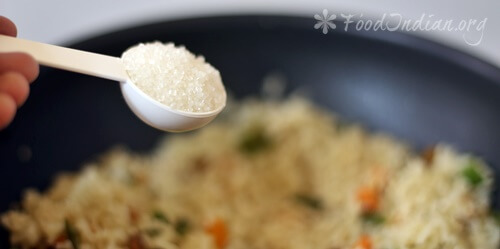 At last add Ghee.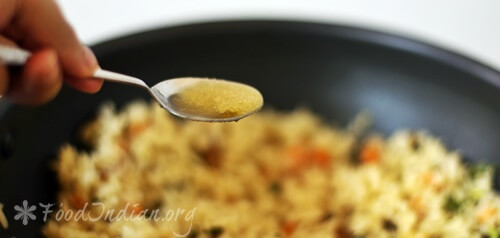 Tips :
Do not boil the rice more than 15 minutes or it will become mushy.
Do not cook for so long or stir frequently after adding the rice into the vegetables.
Serve this hot with any type of Chinese dish or spicy curry.