Sweet Saffron Rice is such a rice preparation that you can have as a main course or a dessert as well. This rice recipe is included in many cuisines of the world. But in India, it is usually made in special occasions and festivals. This rice has a beautiful kesari colour along with the sweetness of sugar and the crunch of dry fruits. You can impress your loved ones by serving this beautiful aromatic rice, instead if regular steamed basmati rice.
Image : Sweet Saffron Rice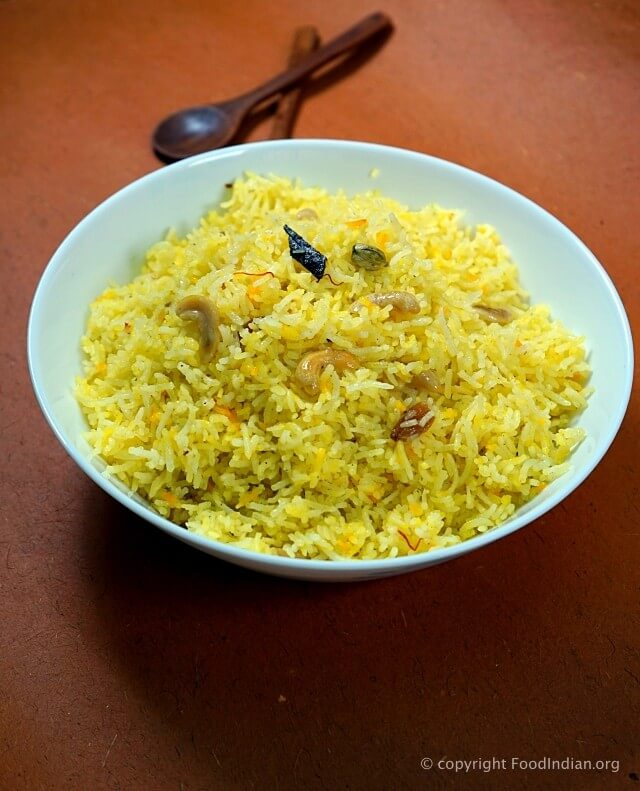 Important :
Preparation Time : 10 minutes
Cooking Time : 30 minutes
Total Time : 40 minutes
Serve For : 2
Ingredients :
Basmati Rice or Long Grain Rice (2 cups) /4 cups boiled
Ghee or Clarified Butter (2 tbsp)
Cashew Nuts (1 tbsp)
Raisins or Kismis (1 tbsp)
Saffron or Kesar (2 pinch)
Cinnamon Stick or Dalchini (2 inch)
Green Cardamom pr Eaichi (2)
Cloves or Launga(4)
Salt (1/2 tsp)
Sugar (4-5 tbsp)
Nutmeg Powder (1/4 tsp)
Yellow Food Colour (few drops)
Kewra Water (1/2 tsp)
---
Direction :
Rinse the rice for 3-4 times in running water.
Now in a big saucepan add 8 cups water and put it on a high flame. Make sure that the lead of the saucepan is heavy and tight.
When the water gets warm put the rice into the water. Cover the saucepan with a lead and cook on a high flame.
When the bubbles coming out from the saucepan, open the lead and cook it on simmer till the rice get cooked (it will take around 10-15 minutes).
Do not over cook the rice.
When its done, strain the starch of the rice with a strainer and keep aside.
Wash and soak the cashew nuts and raisins.
Soak the saffron strands in warm water.
Now heat a pan and add ghee.
Put the cinnamon stick, cardamom and cloves into the pan.
Add soaked dry fruits and season with some salt.
Saute them until the raisins become plump and cashew become golden in colour.
Then add one portion of boiled basmati rice (it should be completely cool) into the pan, add sugar and some salt, combine them well. Then add another portion of boiled rice.
Combine everything very well and wait until the sugar completely dissolves into the rice. Cook on low flame.
Now add saffron soaked water. Give a good Stir.
Sprinkle few drops of yellow food colour,nutmeg powder and kewra water.
Give a final stir and switch off the flame.
---
Images : 
Soak dry fruits and saffron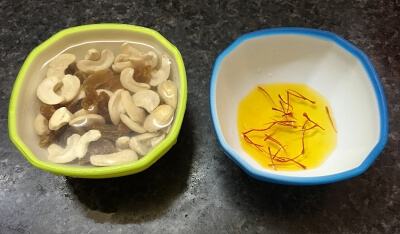 Boil rice (you can read the entire process how to boil rice here )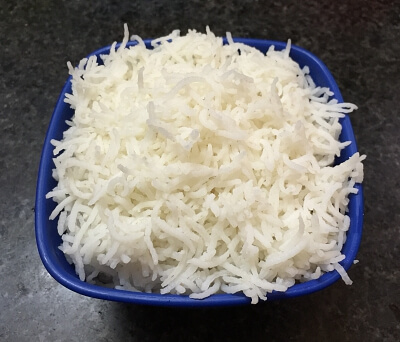 Add ghee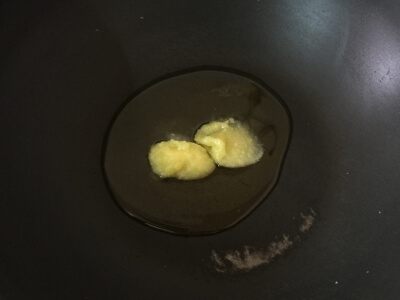 Add whole garam masala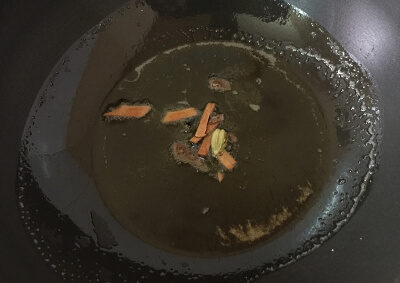 Add dry fruits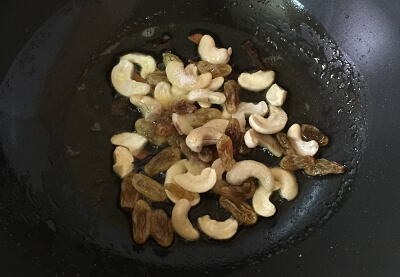 Saute them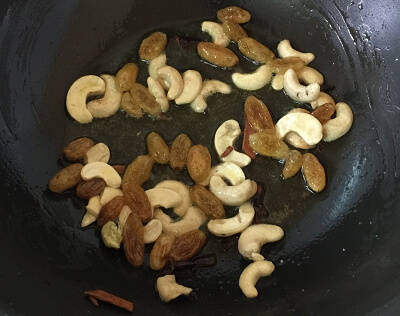 Add one portion of boiled rice
Add sugar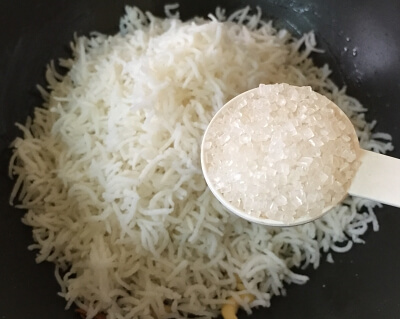 Combine well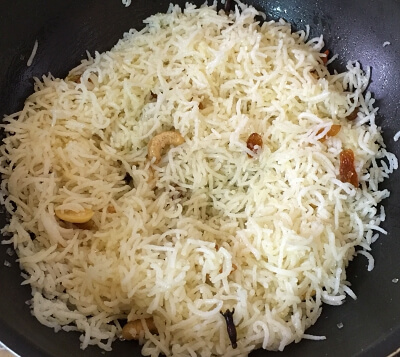 Add another portion of boiled rice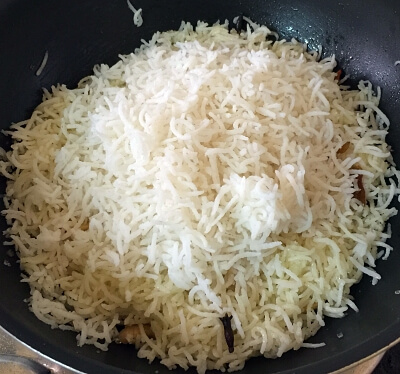 Add saffron soaked water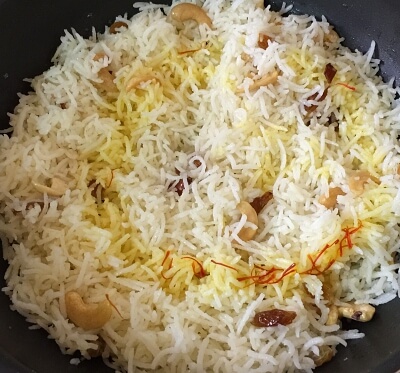 Add yellow food colour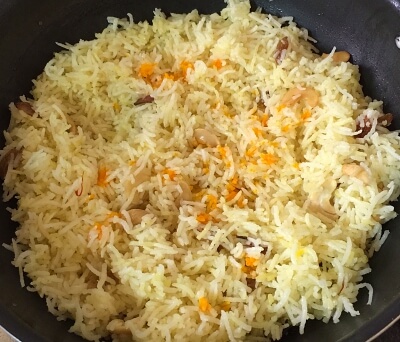 Add kewra water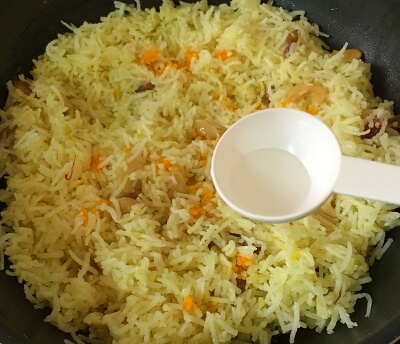 Sprinkle nutmeg powder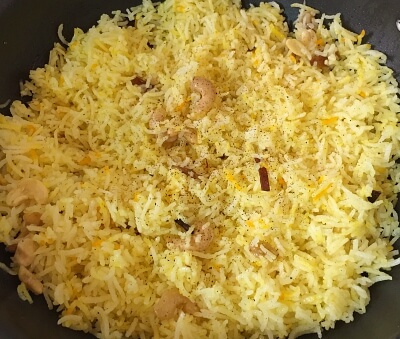 Combine well and switch off the flame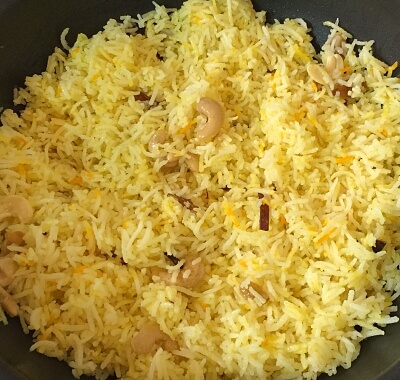 Tips : 
Do not over cook the rice while boiling or they will break and become mushy.
Serve with spicy curry or serve as a dessert.
You can also check other Rice Recipes like Steamed Brown Rice, Veg Fried Brown Rice.
To get more recipes via Email , Subscribe to our Newsletter . Also follow us on Youtube .