When I feel hungry at any time in a day, the first thing that came in my mind is to cook pasta. You can cook this yummy wheat flour thing with any type of sauce you want. Pasta is basically an Italian dish but we made this Indian by the touch of our Indian spices and flavours. It's also kids favourite one, and if you are cooking the yummy pastas with healthy spinach and corn, it will become very good for your kid's health and taste buds also.
Image : Pasta with Spinach Sauce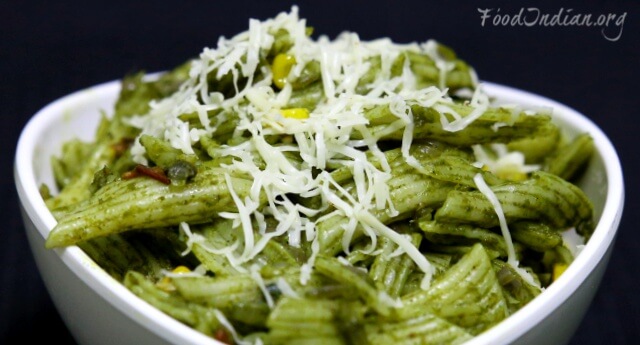 Important :
Preparation Time : 20 minutes
Cooking Time : 20 minutes
Total Time : 40 minutes
Serve For : 2
Ingredients :
Whole Wheat Pasta (2 cups) /boiled
Olive Oil (2 tbsp)
Spinach (1 cup) /boiled and paste
Garlic (4-5 cloves)
Ginger (2" piece)
Green Chilli (1)
Onion (1 medium size) /finely chopped
Tomato (1 medium Size) /finely chopped
Sweet Corn (1/4 cup)
Red Chilli Powder (1/4 tsp)
Salt (to taste)
Sugar (1/2 tsp)
Butter (1 tsp)
Black Pepper Powder (1/2 tsp)
Water (1/4 cup)
Grated Cheese (2 tbsp)
---
Direction :
Boil the pasta in salted water for 10-15 minutes, till its al dente. Drain the water and mix with 1 tsp of olive oil, keep aside.
Take 4 cups of water into a saucepan and add some salt to it. Boil the water. When it starts to boil add the spinach leaves and boil for 4-5 minutes. Then drain the water.
Put the boiled spinach leaves into a blender. Add 4-5 garlic cloves, ginger piece and whole green chill into the blender and blend to make a smooth puree.
Heat oil in a pan and add chopped onion into it. Fry them till they become brown in color.
When the onions are caramelized, add chopped tomato and fry the both until they cooked properly.
Meanwhile, add red chilli powder and salt.
When the onion is done, add the spinach paste into the pan and mix well.
Add the sweet corns and cook everything for 5-8 minutes on medium heat.
Now add sugar and butter into the mixture and give a good stir.
When the gravy is done, add the boiled pasta and combine with the gravy evenly.
Lastly add some pepper powder, give a stir and switch off the flame.
Place it on a plate, sprinkle some grated cheese and serve.
---
Images :
Boil the spinach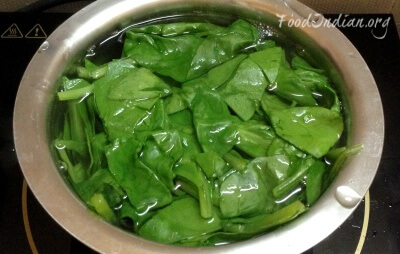 Put the boiled spinach, garlic, ginger and green chilli into blender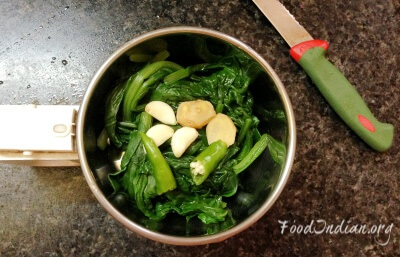 Make a smooth paste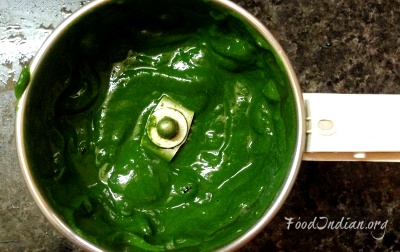 Boil the pasta, mix with some olive oil and keep aside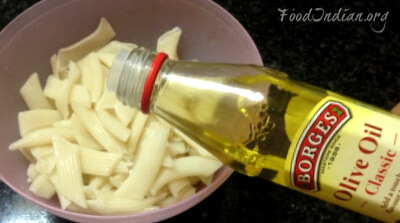 Add chopped onion into oil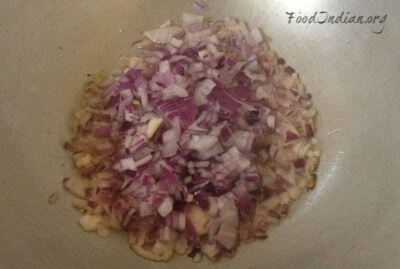 Add chopped tomatoes and fry well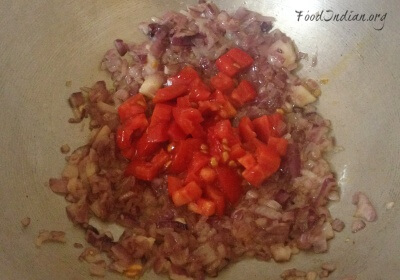 Add red chilli powder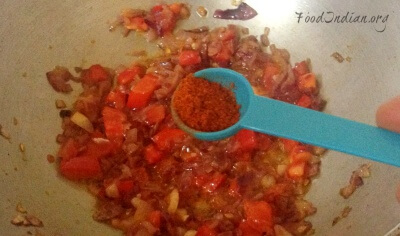 Add salt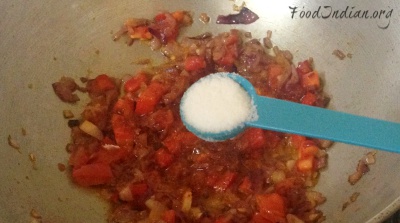 Add the spinach paste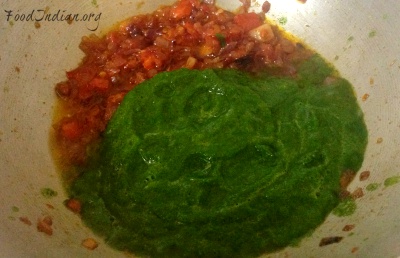 Add corn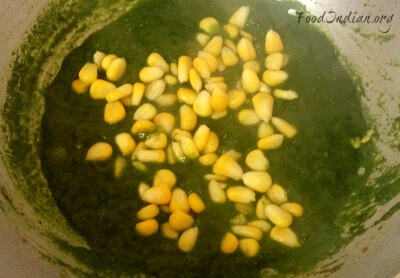 Add water
Add sugar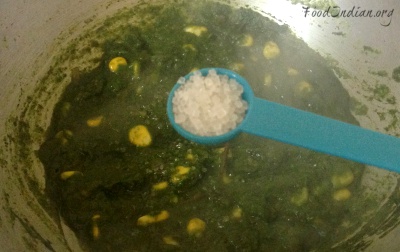 Add butter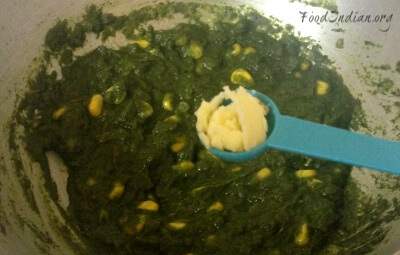 Add boiled pasta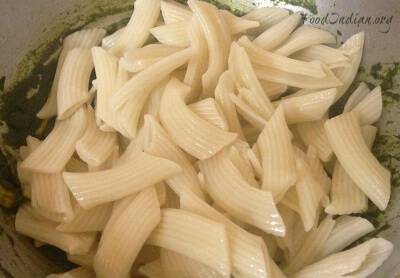 Add pepper powder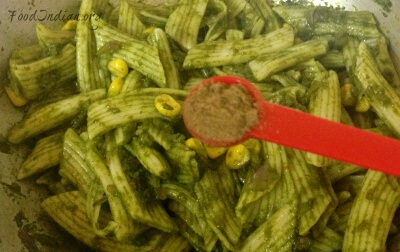 Tips :
You can also use vegetable oil instead of olive oil.
If you are making this for your kids, avoid using red chilli powder and whole green chilli.
To get more recipes via Email , Subscribe to our Newsletter . Also follow us on Youtube .