Kidney Beans, also known as Rajma, is a well-known pulse that is extensively used all over the world in the preparation of variety of dishes, particularly in rice, curries, salads and toppings. It not only tastes good, but very healthy also. Today I have made something which we can have with rice, roti or also put as tiffin in your children's lunchbox. But it tastes great with bread, and you can have this also as your breakfast or brunch. This recipe is almost cooked without any masala or spices, so it's quite healthy for your kids also.
Image : Rajma Tomato Curry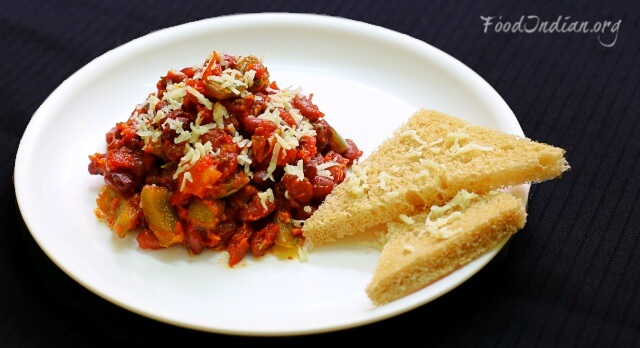 Important :
Preparation Time : 10 minutes /excluding boiling rajma
Cooking Time : 15 minutes
Total Time : 25 minutes
Serve for : 2
Ingredients :
Kidney Beans or Rajma (1 cup) /boiled
Tomato (1 medium size ) /chopped
Tomato Puree (1/2 cup)
Capsicum (2 tbsp) /chopped
Green Chilli (1 tsp) /chopped
Garlic (2 cloves ) /crushed
Fresh Coriander Leaves (1 tbsp) /chopped
Tomato ketchup (1 tbsp)
Grated Cheese ( 1 tsp) /for garnishing
Salt (to taste)
Sugar (1 tsp)
Vegetable oil (1 tbsp)
---
Direction : 
Boil the kidney beans till they become properly tender and soft.
Take a pan and add oil.
When heated, add chopped tomatoes and capsicum into the pan. Stir them for a while.
Now add crushed garlic and fry them on a medium heat until the raw smell of garlic has gone.
After that, add salt and chopped green chilli, and stir them for another few minutes.
When all the ingredients are become tender and half-cooked, add the tomato puree and cook for a couple of minutes on low to medium flame. At this point you can add a little water as your need.
The gravy will change its color gradually, then add the boiled kidney beans and cook with the gravy for 2-3 minutes.
Then put tomato ketchup and chopped coriander leaves , stir well.
At last , when it's almost done , add some sugar and mix everything together.
Put off the flame and serve in a plate, sprinkle some grated cheese and serve with bread.
---
Images :
Add chopped tomatoes and capsicum into oil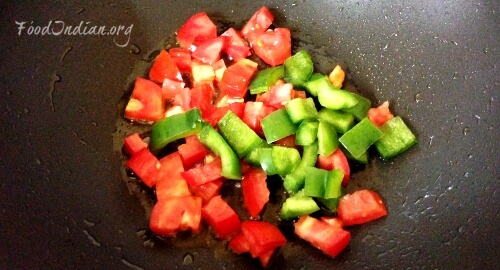 Add Garlic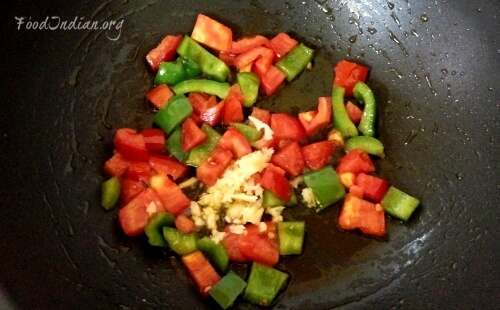 Add salt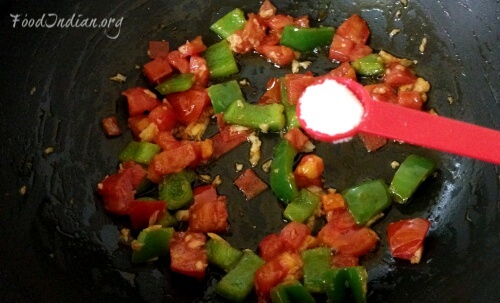 Add Green Chilli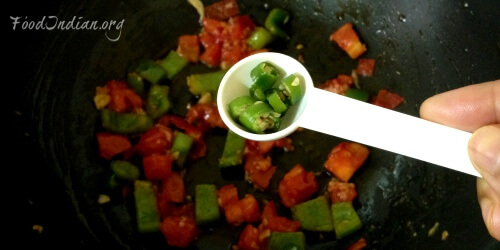 Add Tomato Puree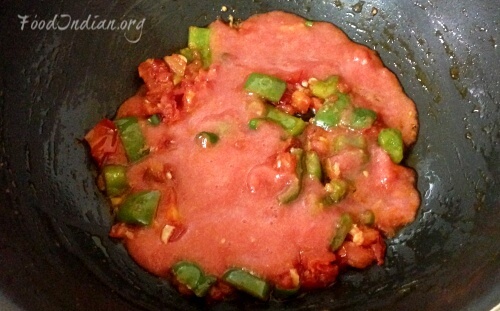 When the gravy is almost cooked, add the boiled rajma
Add Tomato Ketchup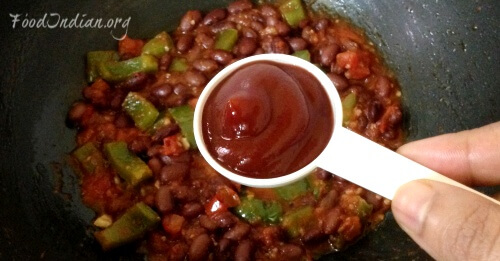 Add chopped Coriander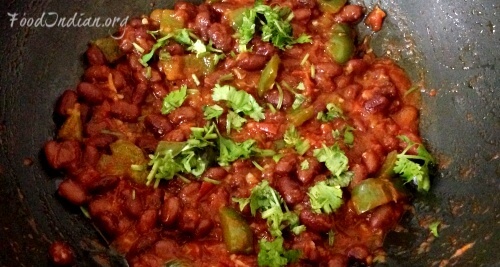 At last add sugar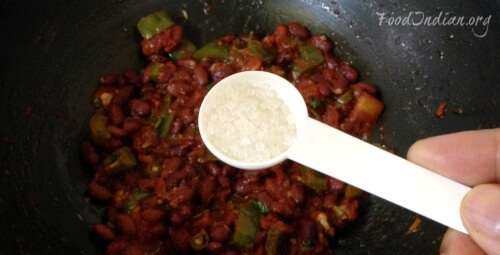 Tips :
For boiling the kidney beans, soak them in cold water for few hours or over night, then boil them in pressure cooker. It takes a quite long time to boil.
To get more recipes via Email , Subscribe to our Newsletter . Also follow us on Youtube .