Raw Banana Kofta Curry or Kanchkolar Borar Jhol is a very popular Bengali recipe. This dish is also very famous in the other parts of India. Raw banana koftas are also kids favourite. This raw banana fried balls can also be served as an appetizer. In this recipe fried koftas are simmered in a rich, flavourful gravy and can be served as a main course. You can also search for more Bengali recipes or Vegetarian Recipes like Malai Kofta, Luki Kofta Curry, Tel Begun, Kakrol Pur, Chanar Dalna and many more.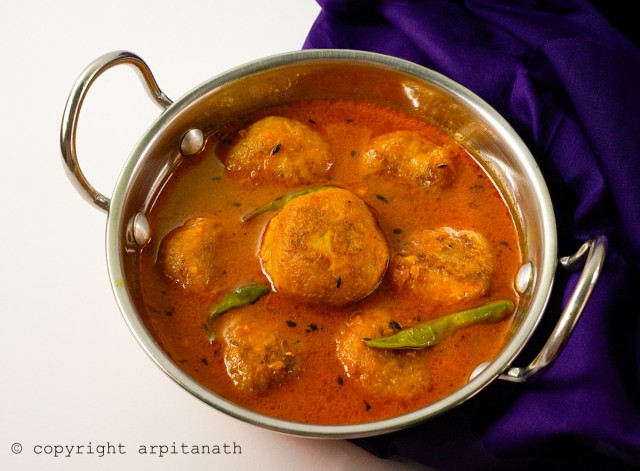 Important:
Preparation Time : 30 minutes
Cooking Time : 1 hr
Total Time : 1 hr 30 minutes
Serve For : 4
Ingredients:
Raw Banana or Kacha Kola (2 medium size)
Potato (2 medium size)
Cumin Powder (1/4 tsp)
Garam Masala Powder (1/4 tsp + 1/2 tsp)
Salt (to taste)
Ginger Paste (1/4 tsp + 1/2 tsp)
Oil (4 tbsp)
Cumin Seeds (1 pinch)
Hing or Asafoetida (1 pinch)
Tomato (2 medium size) /chopped
Sugar (1 tsp)
Green Chilli (4)
Water (2 cups)
Ghee or Clarified Butter (1 tsp)
To make the Spices Paste –
Cumin Powder (1/2 tsp)
Kashmiri Red Chilli Powder (1/2 tsp)
Tomato Ketchup (1 tsp)
Turmeric Powder (1 tsp)
Salt (to taste)
---
Direction:
At first, boil peeled raw banana and potatoes with a pinch of salt and turmeric powder.
Mash the boiled banana and potatoes. Add 1/4 tsp cumin powder, 1/4 tap garam masala powder, 1/2 tsp ginger paste and salt into the dough. Mix very well.
Now divide the dough into equal size kofta balls. Keep them aside.
Heat oil in a pan.
Add the banana koftas into the oil and fry until become golden brown. Fry them in batches.
Drain oil and keep them aside.
In the same oil, add cumin seeds and hing, wait for them to splutter.
Then add chopped tomatoes into the pan and fry for a while on high flame.
After 3-4 minutes, add salt and ginger paste. Cook until the tomatoes are cooked well and become tender.
When the tomatoes are done, add the spices mixture into the pan. Add sugar and cook until all the spices are braised well.
Meanwhile, add green chilli. Cook on medium flame for 5-7 minutes until the gravy starts leaving oil from the sides.
When the gravy is done, add 2 cups of water into the pan. Stir well.
Boil for 4-5 minutes on high flame.
Then add the fried kofta balls into the gravy.
Add ghee and garam masala powder.
Give a stir and switch off the flame.
Raw Banana Kofta Curry is ready to serve.
---
Tips:
Do not boil the gravy for longer after adding the kofta balls.
Serve with steamed rice.
To get more recipes follow us on Youtube .