Biryani is a Mughlai dish and very popular in India. And when it comes to the Chicken Biryani, it is everyone's favourite. Each city has their own recipe of making biryani, and this recipe follows the Kolkata Style Chicken Biryani. People thinks that making a good Chicken Biryani at home is a very time consuming and difficult process. But by following this step by step recipe, you can easily make this delicious wholesome meal at home. Do not forget to use all the mentioned ingredients to make the best and perfect chicken biryani. You can also search for more recipes like Pulao, Fried Brown Rice, Sweet Saffron Rice, Onion Rice and many more.
Image : Chicken Biryani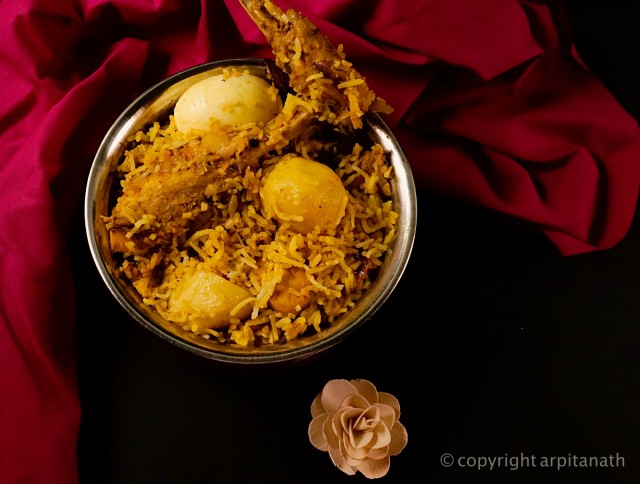 Important :
Preparation Time : 30 minutes
Inactive : overnight
Cooking Time : 1 hr 15 minutes
Serve For : 4
Ingredients :
Main Ingredients –
Fine Basmati Rice or Biryani Rice (2 cups)
Chicken (1 kg) /cut into big pieces
Potato (4 medium size)
Egg (4) /hard-boiled
To marinate the chicken –
Ginger Paste (1 tsp)
Garlic Paste (1 tsp)
Cumin Powder (1 tsp)
Coriander Powder (1 tsp)
Garam Masala Powder (1/2 tsp)
Shahi Biriyani Masala (2 tsp)
Kashmiri Red Chilli Powder (1 tbsp)
Coriander Leaves (2 tbsp) /finely chopped
Ghee or Clarified Butter (2 tsp)
Turmeric Powder (1/2 tsp)
Lemon Juice (of 1 lemon)
Salt (1 tsp)
Curd or Yogurt (1/2 cup)
To boil the Rice –
Bay Leaves (2)
Salt (2 tsp)
Shahi Jeera or Black Cumin Seeds (1/2 tsp)
Cardamom (4)
Cinnamon Stick (4 inches)
Cloves (4)
Oil (1 tsp)
To prepare the Chicken –
Oil (2 tbsp)
Ghee or Clarified Butter (2 tsp)
Bay Leaf (1)
Whole Garam Masala (Cardamom 2, Cinnamon 2 inches, Cloves 3)
Onion Paste (3 tbsp or 1 big size onion)
Ginger Garlic Paste (1 tbsp)
Turmeric Powder (1 tsp)
Salt (to taste)
Fried Brown Onion (2 tbsp)
Sugar (1 tsp)
To layer Biryani –
Rice Starch (2 tbsp) /excess water from boiled rice
Fried Brown Onion (4 tbsp)
Milk (4 tbsp)
Saffron or Kesar (2 big pinch)
Saffron Food Colour (few drops) /optional
Melted Ghee or Clarified Butter (3 tbsp)
Shahi Biryani Masala (1 tsp)
Kewra Water (1 tsp)
Mitha Attar (3-4 drops)
Atta Dough (for tightening the Lid)
Images : 
Marinate the chicken with the ingredients mentioned above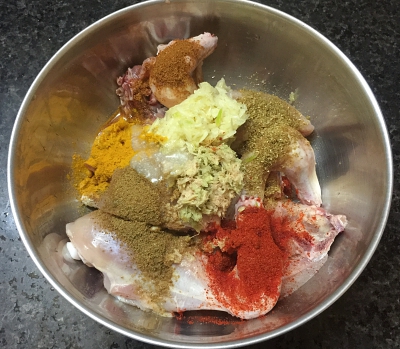 Add biryani masala, coriander leaves and curd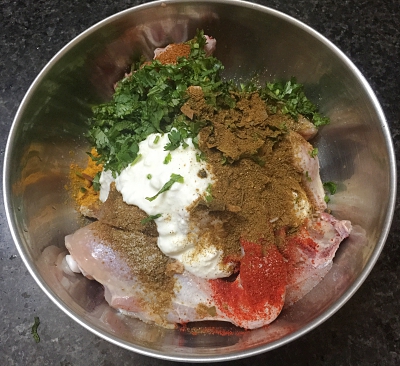 Mix and coat the chicken pieces well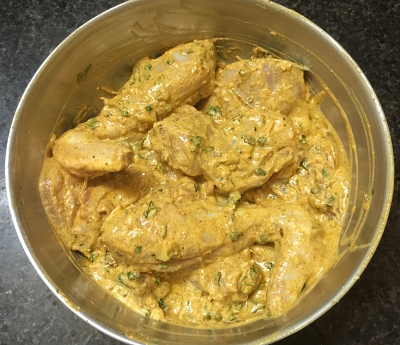 Cover with a plastic wrap and refrigerate for overnight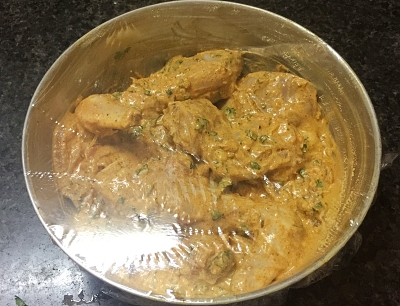 After marination this is how it looks like
Fry potatoes until golden brown and keep them aside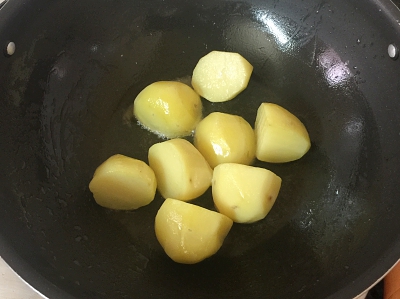 In the same oil, add ghee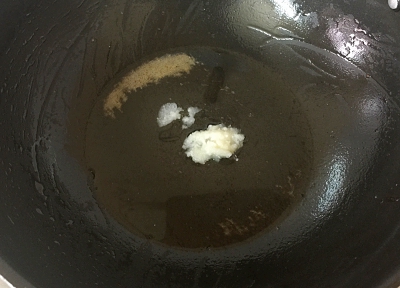 Add whole garam masala and bay leaf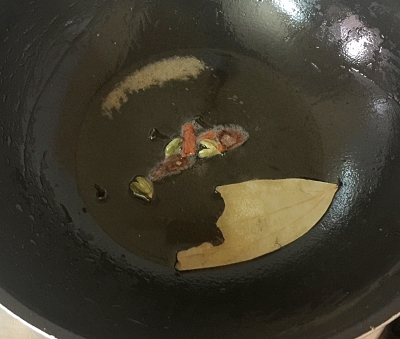 Add onion paste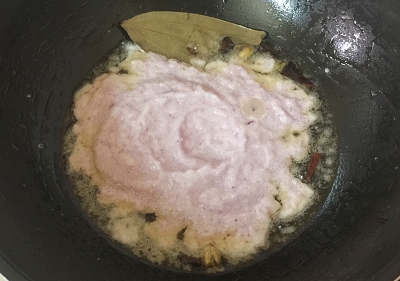 Add ginger garlic paste, turmeric powder and salt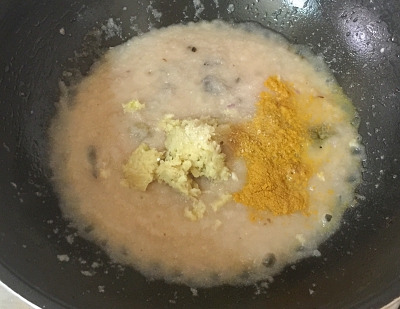 Cook for 5 minutes on high flame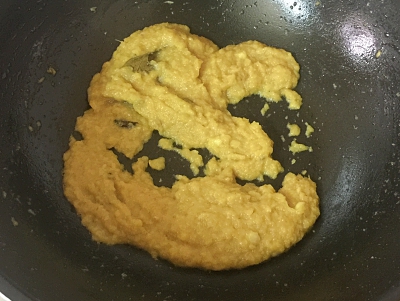 Add marinated chicken pieces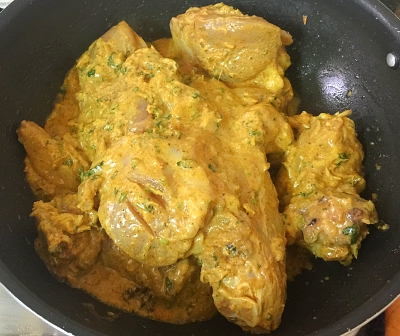 Cover the pan and cook for 5 minutes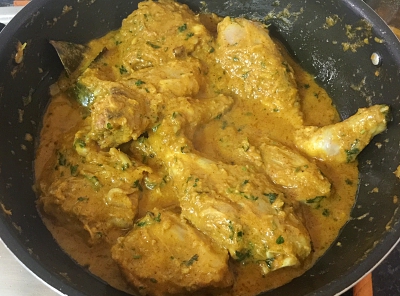 Open the lid, add fried onion and sugar, cook for another 10-15 minutes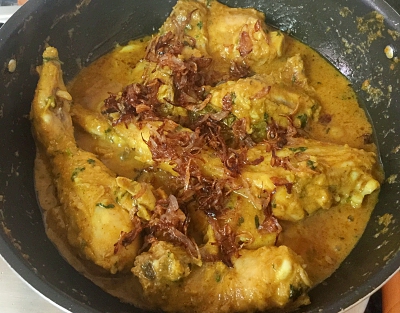 Open the lid, cook until chicken become tender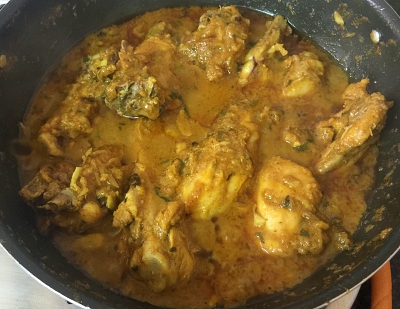 Ready, keep it aside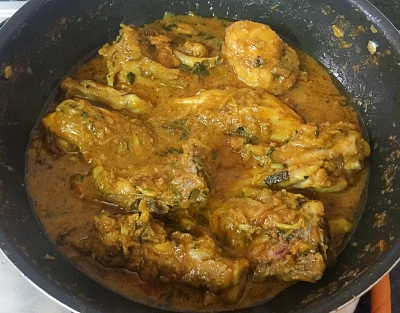 To boil the rice add all the ingredients mentioned above in water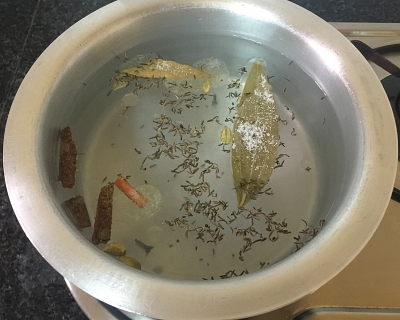 Add rice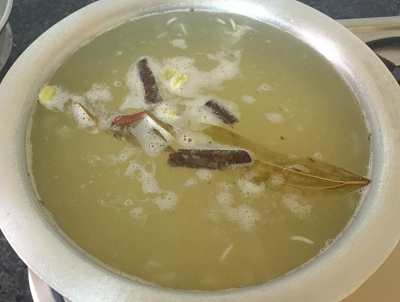 Cook for 5 minutes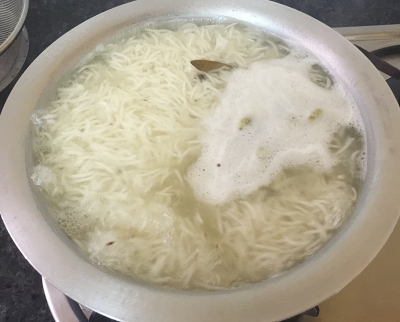 Drain water and keep it aside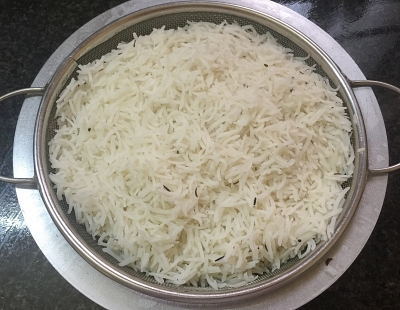 Grease a heavy bottomed pan with ghee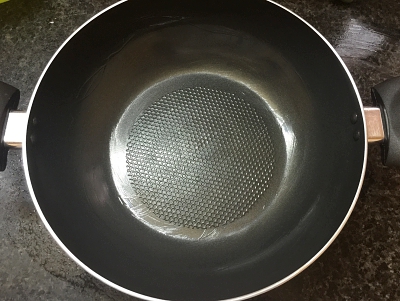 Layer with chicken curry and rice starch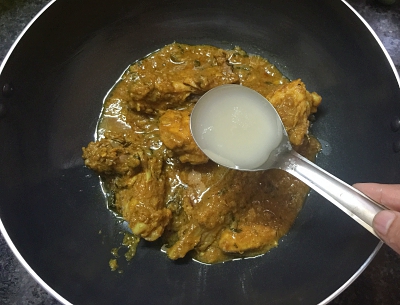 Spread half portion of rice evenly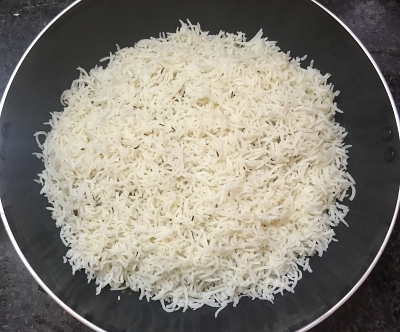 Put potatoes, fried onion, saffron soaked milk, ghee and biryani masala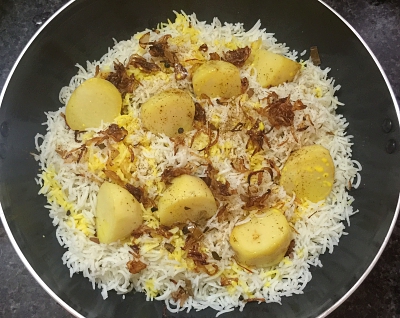 Put rest of the chicken and gravy, spread evenly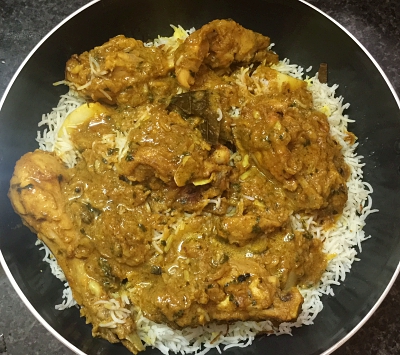 Lastly put rest of the rice, egg, fried onion, rest of the milk and ghee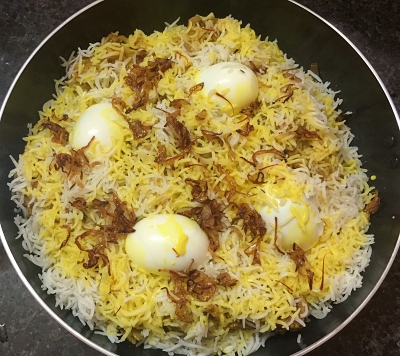 Add kewra water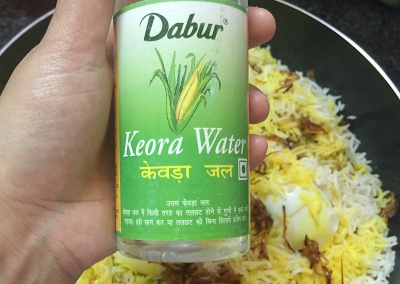 Add mitha attar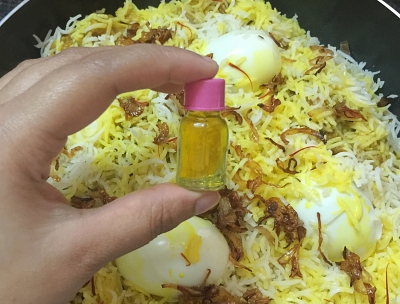 Seal the sides of the pan with atta dough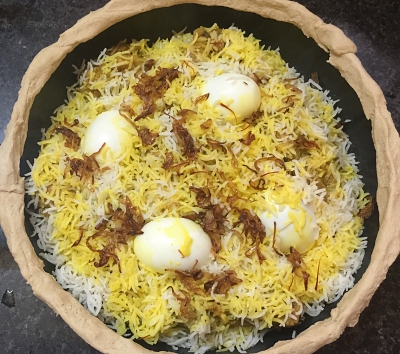 Cover with a heavy lid and place over very low flame for 30 minutes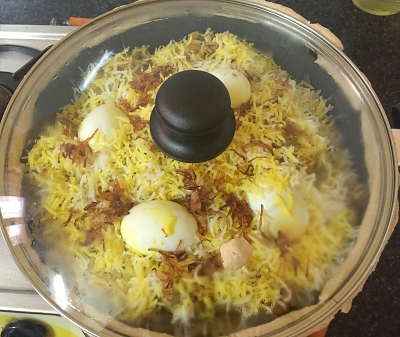 When done, carefully open the lid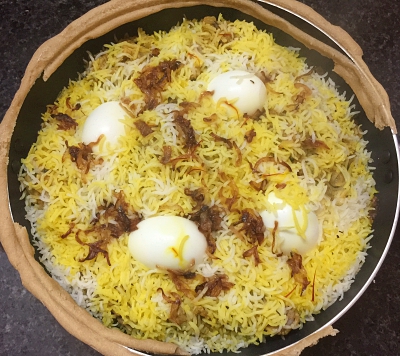 Fluff the rice gently and your biryani is ready to serve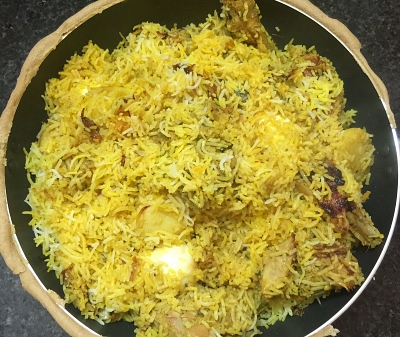 Tips :
If you do not like to use atta dough for sealing the pot, you can also use aluminium foil.
Do not add to much of kewra water or mitha attar, it will ruine the flavour of your biryani.
Serve hot with raita.
To get more recipes via Email , Subscribe to our Newsletter . Also follow us on Facebook .