Potato Egg Sandwich is a tasty wholesome idea of breakfast or quick snack. It has the goodness of egg and the deliciousness of potato. For all the potato lovers like me, it will be a great start of your day with this tasty potato egg sandwich.
Image : Potato Egg Sandwich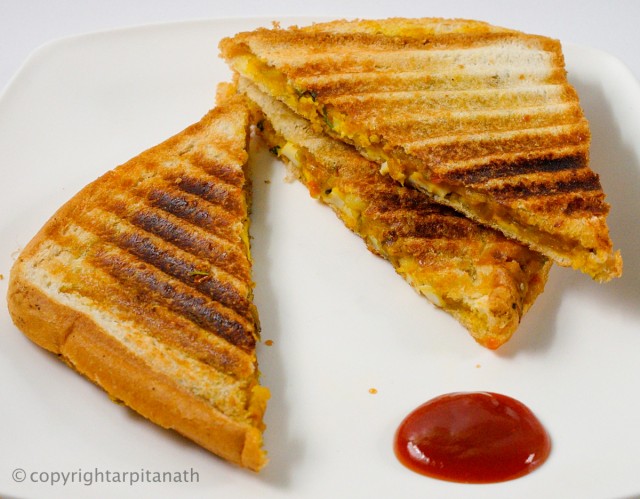 Important :
Preparation Time : 20 minutes
Cooking Time : 30 minutes
Total Time : 50 minutes
Serve For : 2
Ingredients : 
Potato (2 medium size)
Egg (2) /hard-boiled
Bread Slices (4)
Olive Oil or Vegetable Oil (2 tbsp)
Butter (2-3 tbsp)
Cumin Seeds (2 pinch) /for tempering
Onion (1 medium size) /chopped
Tomato (1 small size) /chopped
Grated Ginger (1/2 tsp)
Cumin Powder (1/2 tsp)
Red Chilli Powder (1 tsp)
Turmeric Powder (1/2 tsp)
Salt (to taste)
Chopped Coriander Leaves (2 tbsp)
---
Direction :
At first, boil the potatoes and mash them by adding some salt to it.
Boil 2 eggs and chop them roughly. Keep it aside.
Now, heat 2 tbsp of oil in a pan. Temper with some cumin seeds.
Add chopped onions into the pan and saute them until it becomes caramelized.
Then add chopped tomatoes and grated ginger into the pan. Saute for 5-7 minutes on medium to high flame.
Meanwhile, add cumin powder, red chilli powder, turmeric powder and salt to it. Fry until all the spices are cooked well.
Then add the mashed potatoes into the pan and mix well with the onion masala.
When it mixes well, lastly add chopped coriander leaves and give it a good stir to mix everything together. Our potato filling is ready.
Now take the bread slices and evenly spread butter on them.
Then spread the potato filling on one side of the bread.
Spread another layer of chopped boiled eggs over the bread.
When your stuffing is ready cover the bread slice with the other one.
Now grease your sandwich griller with a little bit of butter and put the sandwiches on it and close tightly.
When your grilled sandwiches are ready take them out from the griller and cut them into halves.
Your Potato Egg Sandwich is ready to serve.
---
Tips : 
If you don't have sandwich griller, then you can also make them on tawa.
Serve these crispy sandwiches hot with tomato ketchup or green chutney.