Durga Puja is just a few days away, and the festival is incomplete without offering the Bhoger Khichuri to the Goddess Durga. It is a khichuri, made with bhaja muger dal (yellow moong dal) and gobindo bhog chal. It has a distinct flavour, and the taste get increased when serve with Labra(curry made with lots of vegetables), Begun Bhaja, Aloor Dum, Beguni, Payesh, Tomato Chutney and Rasgulla. Appart from the khichuri, Luchi (Puri), and Pulao can also be given as a bhog too.
Image : Bhoger Khichuri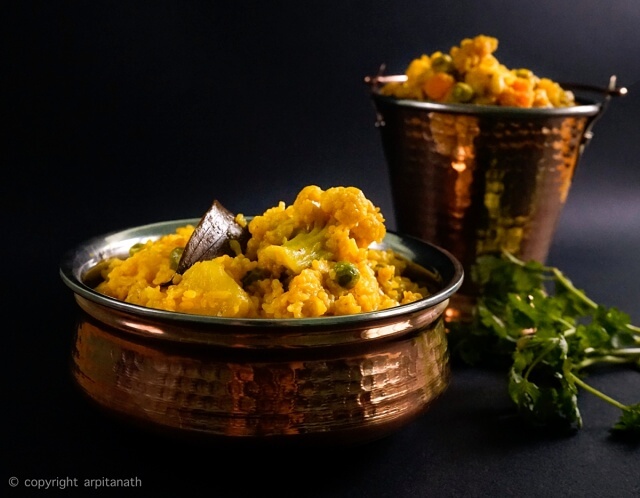 Important :
Preparation Time : 10 minutes
Cooking Time : 1 hr
Total Time : 1 hr 10 minutes
Serve For : 3-4
Ingredients :
Gobindo Bhog Rice (1 cup)
Yellow Moong Dal (2/3 cup)
Water (5 cups)
Potato (2 medium size) /cut into big cubes
Cauliflower (6-7 big florets)
Green Peas (1/2 cup)
Green Chilli (1)
Mustard Oil (2 tbsp)
Ghee or Clarified Butter (2 tsp)
Bay Leaves (2)
Cinnamon Stick (2 inch)
Cardamom (2-3)
Cloves (3)
Grated Ginger (1 tsp)
Cumin Powder (1/2 tsp)
Red Chilli Powder (1 tsp)
Turmeric Powder (1 1/2 tsp)
Salt (to taste)
Sugar (1 1/2 tbsp)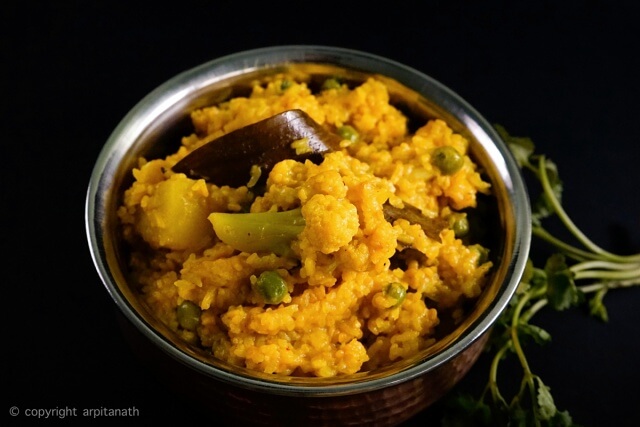 ---
Direction :
Wash and soak the gobindo bhog rice for 1 hr.
Dry roast moong dall until become golden brown, you will get a beautiful aroma when the dal is roasted well.
Now wash the dal well and keep it aside.
Heat 2 tbsp of mustard oil in a kadai. Fry the cauliflower pieces with a pinch of salt and turmeric powder for 3-4 minutes. Now fry the potatoes and keep them aside.
In the same pan, heat 1 tsp of ghee. Add bay leaves, cardamom, cloves and cinnamon stick, saute them for a while.
Then add grated ginger into the pan and saute for few seconds.
Add the roasted moong dal into the pan and fry for 3-4 minutes. Moong da takes longer to cook than the rice.
Now add cumin powder and red chilli powder, mix well and saute for another 2-3 minutes.
After that, add 2 cups of water and stir well. Cover the pan and cook for 5 minutes on low to medium heat.
After 5 minutes, add sautéed potatoes and cauliflower florets into the pan, again cover the pan and cook for 5 more minutes.
Its time to add the soaked gobindo bhog rice into the pan, mix it well.
At this time, add green peas and 3 cups of water, stir well.
Add salt and combine everything very well.
Now simmer and cook for 10-15 minutes by covering the pan.
After 15 minutes, when the rice and dal is cooked well and become tender, add turmeric powder, green chilli and sugar. Mix it well and cook for another 10 minutes on low flame.
Lastly drizzle some ghee over the khichuri and give a stir.
Switch off the flame and the Bhog er Khichuri is ready to serve.
---
Images :
Dry roast moong dal, wash and keep aside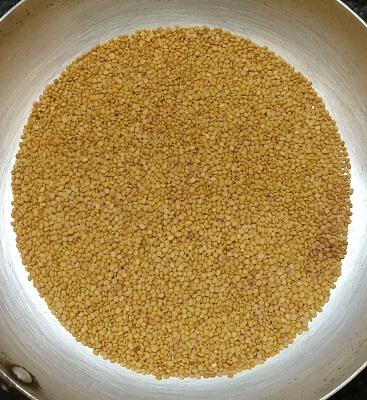 Saute cauliflowers with a pinch of turmeric powder and salt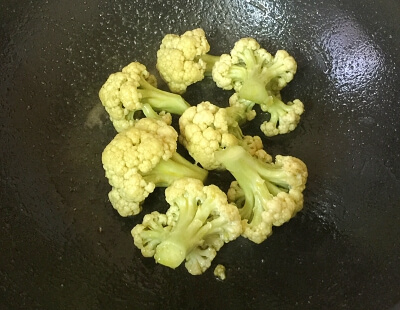 Fry the potato cubes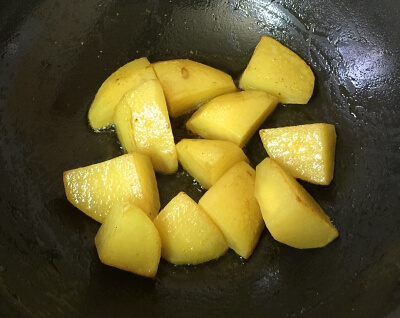 Keep them aside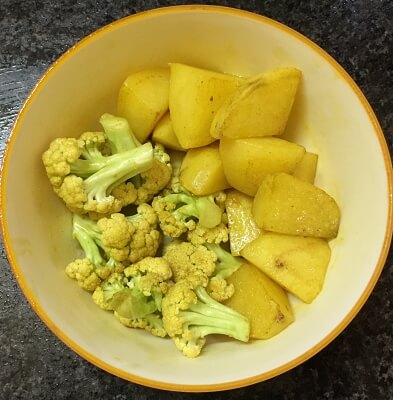 In the same pan add ghee
Add bay leaves and whole garam masala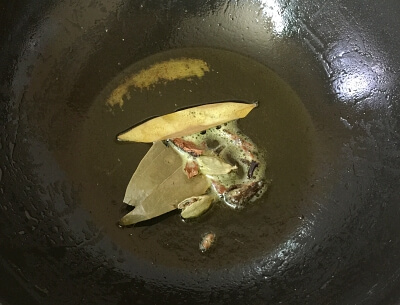 Add grated ginger and saute for a  while
Add roasted moong dal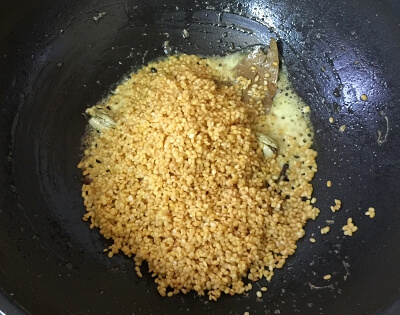 Add cumin powder and red chilli powder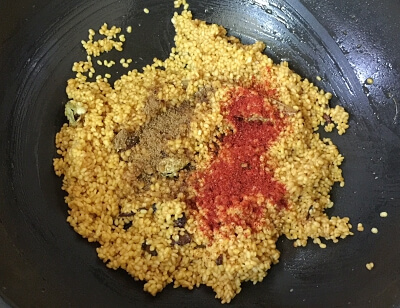 Fry for 3-4 minutes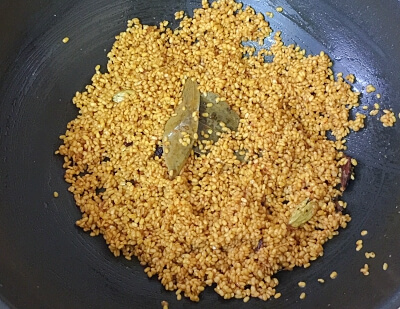 Add 2 cups of water, cover the pan and cook for 5 minutes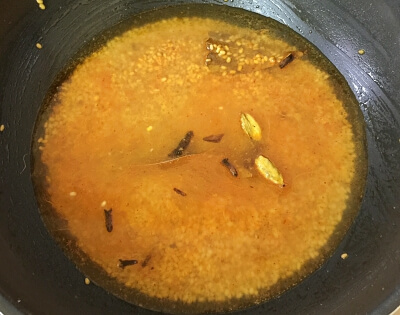 Add the fried vegetables, cover the pan and cook for another 5 minutes
Now add the soaked rice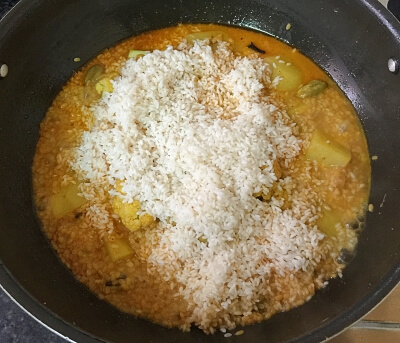 Add green peas
Add 3 cups of water and slat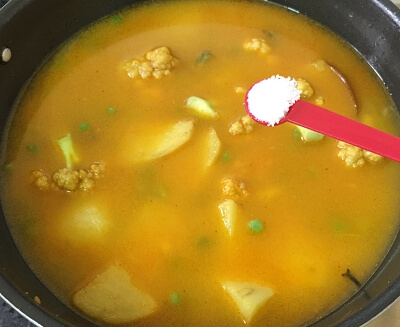 Mix well, cover the pan and cook for 15 minutes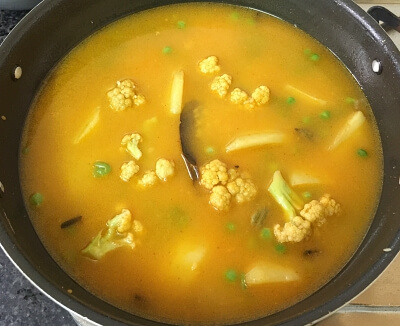 Open the lead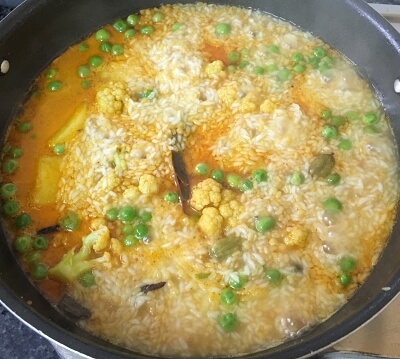 Add turmeric powder and green chilli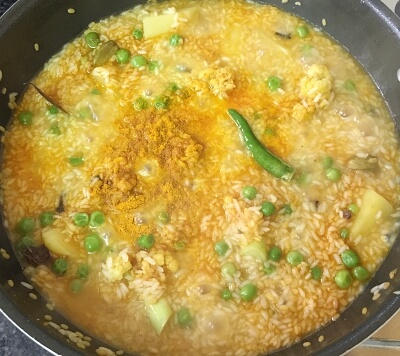 Mix well and cook for 10 minutes more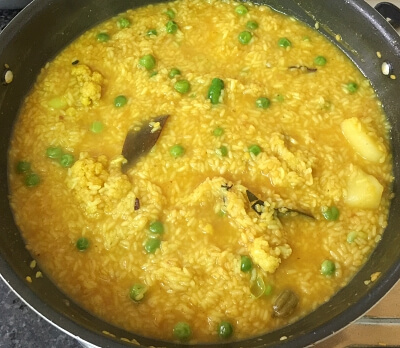 Lastly, add sugar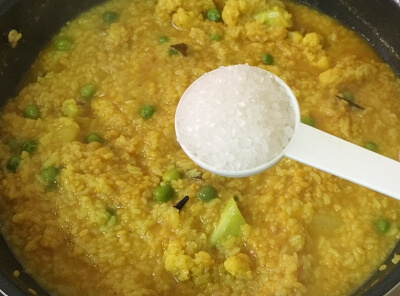 Add ghee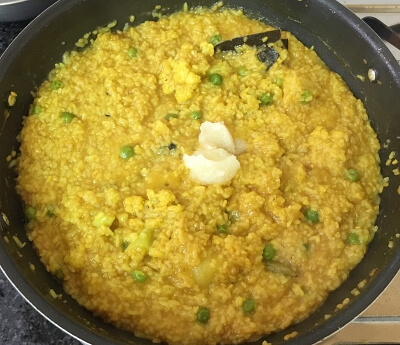 Mix well and switch off the flame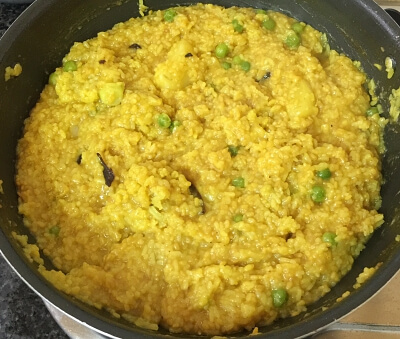 Tips :
Do not add turmeric powder and sugar in the beginning.
Do not use Basmati rice to make this Khichuri. It tastes best only with gobondo bhog rice.
You can also add some chopped tomatoes to increase the taste and flavour.
To get more recipes via Email , Subscribe to our Newsletter . Also follow us on Youtube .