Radish or Muli is one of my personal favorite . I have tried a lots of variety of dishes with muli and here is one of my unique family recipe for you . Usually we throw the wastage of the leaves of Radish, but here we are making the dish without wasting the left over parts of Radish with very few ingredients which are easily available in our kitchen . Its works as a very delicious side dish for your lunch menu.
 Image : Radish Potato Mustard Curry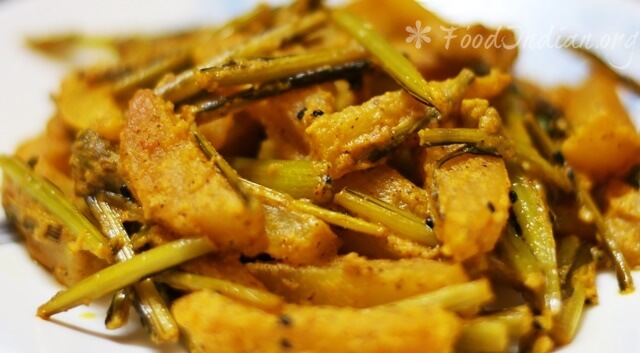 Important:
Serve for – 2
Preparation Time – 10 minutes
Cooking Time – 20 minutes
Total Time – 30 minutes
Ingredients:
Radish [Muli] (1 medium size) /cut into Sticks
Potato (1 medium size) /cut into sticks
Radish Leaves's Stick (1 cup) /cut into sticks
Mustard Paste (3 tbsp)
Green Chilli (1)
Nigella Seeds [kalonji] (1/2 tsp) /for tempering
Red Chilli Powder (1 tsp)
Turmeric (1/2 tsp)
Salt (to taste)
Sugar (1/2 tsp)
---
Direction:
At first cut the Sticks of Radish leaves and boil them with a pinch of salt for 3 – 5 minutes . Drain the water and put them aside to get dry .
Now put oil in a pan and add the Nigella seeds and green chilli in the oil. let them to splutter.
After they are spluttering add the potatoes in the pan. Stir them for a while on a medium heat.
Then put the radish and the leaf sticks together into the pan. Fry them for 5 minutes on a medium flame. make sure you are stirring them frequently, otherwise it will get burn.
Now its time to put the spices. Add red chilli powder, turmeric powder and salt to taste. Mix the spices with the vegetables very well.
Add half a tea-spoon of sugar and stir them well.
Meanwhile add a little bit of water in the vegetables and cover them with a lead. Let them be cooked for few minutes on a low flame.
Put off the lead. Give a god stir .
When you are sure that all the vegetables are cooked well then add the Mustard paste and mix it with the vegetables properly.
Your dish is ready to serve.
---
Images:
Add in Green chilli and Kalonji.

Add in Potatoes.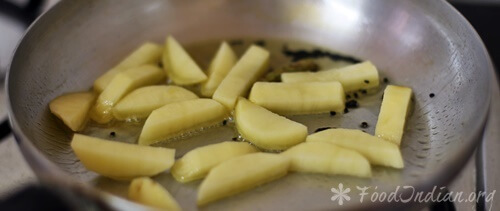 Add in Radish and Radish leaves Sticks.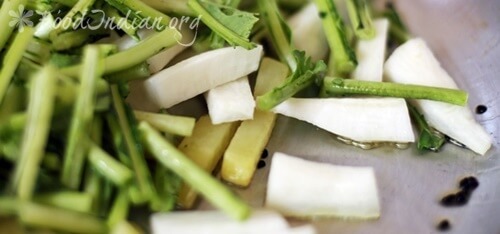 Add in Red chilli Powder, Salt and Turmeric.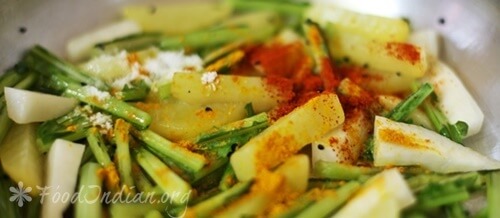 Stir them very well.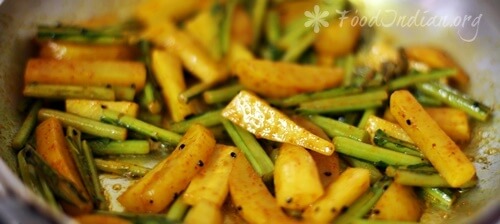 Add in Sugar. Mix them well and cover with a lead.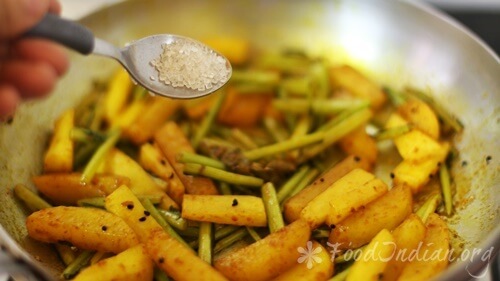 Open the lead.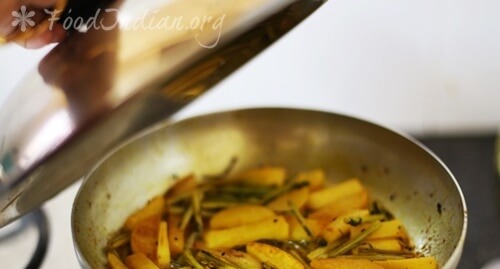 Add in Mustard paste and mix well.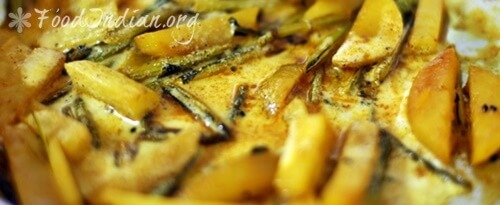 Your dish is ready to serve.
Tips:
Make sure that you have boiled the Radish leaves sticks, or it will taste bitter.
Do not cook the Mustard paste for too long. It will make your dish bitter.
Serve the dish with hot steamy Rice.
To get more recipes via Email , Subscribe to our Newsletter . Also follow us on Youtube .