Matar Ka Paratha is a shallow fried Indian flat bread. Its stuffed with soft and healthy boiled green peas and some Indian spices mixture. I have cook them with vegetable oil instead of butter or ghee, so that these parathas are much more healthier and tastier than other regular parathas. It has a unique taste of sweet green pea stuffing which you will definitely like. You can have them anytime as your breakfast, bunch or dinner .
Image : Matar ka Paratha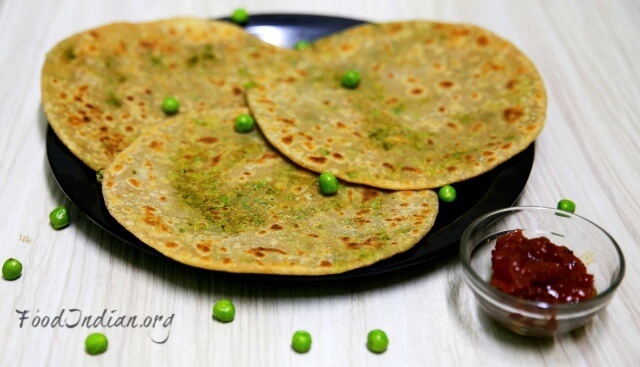 Important :
Preparation Time : 20 minute
Cooking Time : 10 minutes
Total Time : 30 minutes
Makes : 3-4 parathas
Ingredients :
To prepare the dough –
Wheat Flour (2 cups)
Vegetable Oil (1 tbsp)
Water (1/4 cup)
Salt (1/2 tsp)
To prepare the stuffing –
Green Peas or Matar (1 cup) /boiled
Salt (1 pinch)
Red Chilli Powder (1/4 tsp)
Cumin Powder (1/4 tsp)
Ginger (1 inch piece)
To fry the parathas – 
---
Direction : 
To prepare the dough –
 In a bowl, add wheat flour, salt and vegetable oil and start mixing them by your hands. Keep adding water in a little portion and knead the dough. Knead until the dough becomes soft.
To prepare the stuffing –
Wash the green peas with fresh water and boil them with a pinch of salt until they become soft and tender. It will take around 7-10 minutes.
When done, drain the water and let them to cool down.
Now put the boiled peas into grinder and add salt, red chilli powder, cumin powder and pealed ginger piece. Grind them to make a coarse paste.
To prepare the parathas –
Take a small portion from the dough and make a round ball. Then flatten it using your palms into approx 3-inch diameter bowl-shaped disc.
Now put some stuffings in the middle and wrap with all the sides . Pull all edges upwards and seal them where they meet in the center. It will result in a ball like shape.
Take some wheat flour in a flat plate for coating and dusting dough balls. Put stuffed ball in it and press a little, coat its upper surface with dry wheat flour and transfer it to rolling board.
Roll it out into a circle and give it a round shape.
Heat tawa on medium heat and add 1 tsp of oil . Put the paratha over the tawa and cook until small bubbles appear on top.
Flip and spread 1/2 teaspoon oil evenly around its circular edge and shallow fry both sides until light golden brown spots appear on them.
When done, transfer it on an absorbent paper and then serve in a serving plate.
---
Images :
Put boiled green peas, salt, ginger, cumin powder and red chilli powder into a grinder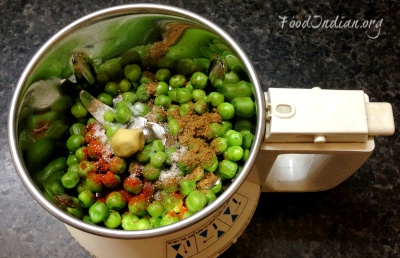 Grind and make a coarse paste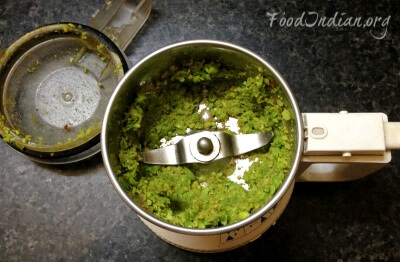 Take a portion from the dough and put some stuffings into the middle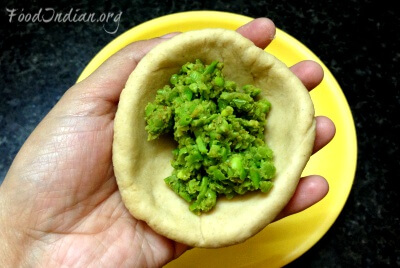 Wrap with all the sides and give a shape like ball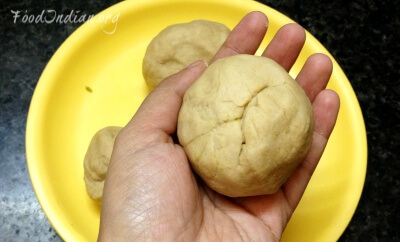 Likewise, prepare other balls and flatten them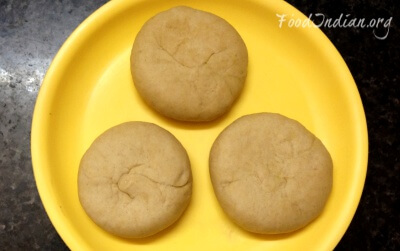 Roll it out into a circle and give it a round shape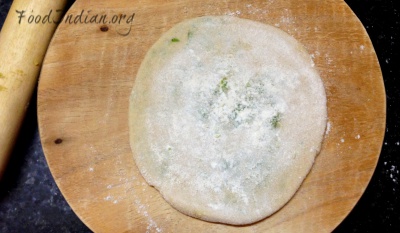 Roll all the parathas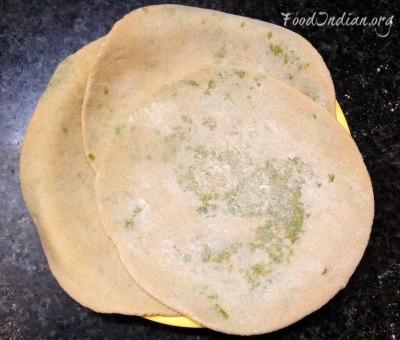 Put 1 tsp of oil over tawa and fry the paratha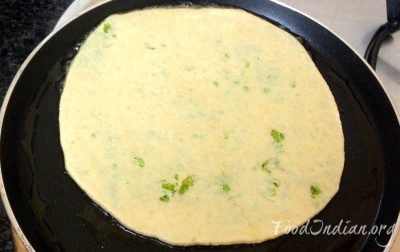 After one side is done, flip and cook the other side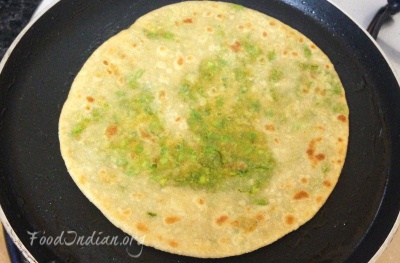 When done, transfer on absorbent paper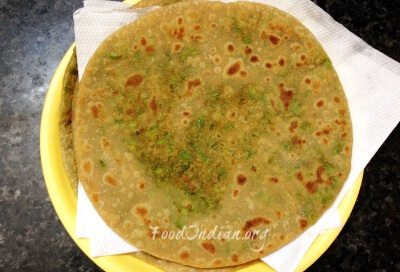 Tips :
If you want , you can use ghee or butter for frying instead of oil.
Serve hot with tomato ketchup, pickle, curd or dry curry .
To get more recipes via Email , Subscribe to our Newsletter . Also follow us on Youtube .