Raita is one of the most easiest as well as the most commonly made after-meal in India. It helps to digest heavy meals . We can to make different types of raita with variation of tastes almost everyday, so like my any other Raita recipe, I thought of make something new by combining this two ingredients, one is curd and the another one is my favourite fruit Pomegranate. This raita has the crunch of pomegranate, the sweetness of sugar and the sour taste of curd, and has the beautiful pink color which will definitely tempt your kids to have this delicacy . It's a very unique and delicious combination which you must try for once .
Image : Pomegranate Raita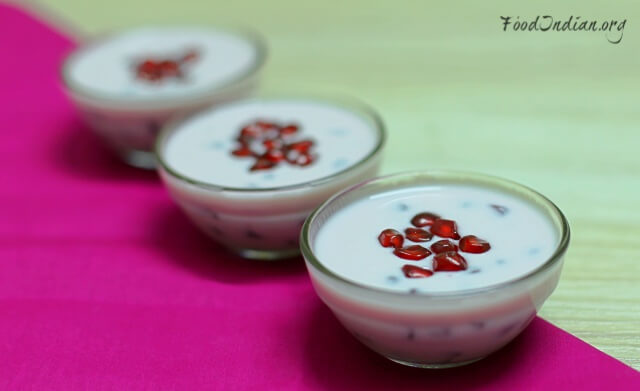 Important :
Preparation Time : 5 minutes
Cooking Time : 5 minutes
Total Time : 10 minutes
Serve for : 1
Ingredients :
Pomegranate ( 4 tbsp) /seeds
Pomegranate Juice (2 tbsp)
Curd (1/2 cup)
Sugar (2 tbsp)
Salt (1/8 tsp)
---
Direction: 
Take curd into a bowl and whisk until it becomes smooth.
Now add Pomegranate juice, whisk and mix the juice with the curd. The color of the curd will become light pink.
Then add Sugar and salt, beat all the ingredients until the sugar totally dissolves into the curd mixture.
When the curd becomes smooth, add the pomegranate seeds and mix with a spoon gently.
Your Pomegranate Raita is ready to serve.
---
Images :
Add curd into a bowl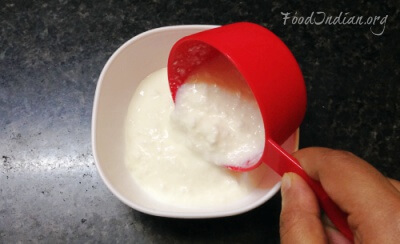 Whisk until becomes smooth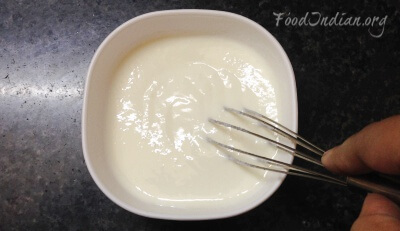 Add pomegranate juice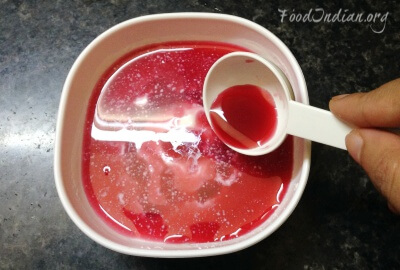 Beat well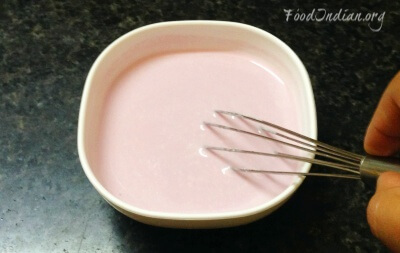 Add sugar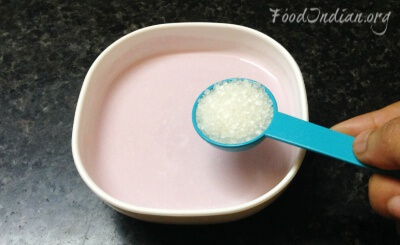 Add salt , mix until they dissolve into the mixture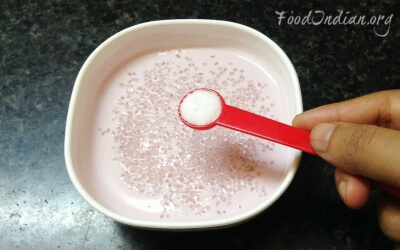 Add pomegranate seeds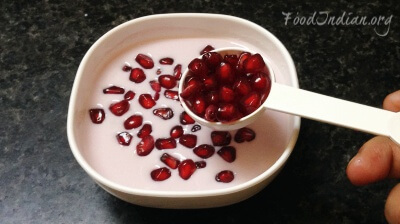 Mix gently with a spoon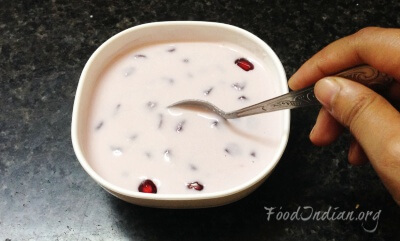 Tips :
Serve this raita with Biriyani, Pulao or after meal.
To get more recipes via Email , Subscribe to our Newsletter . Also follow us on Youtube .