Making Chill Soya with Corn is a very simple and easy recipe which you can make in just few minutes. Though it's a vegetarian dish , it can be a very good substitute of chilli chicken. It's a tasty yet healthy recipe made along with sweet corns. Its true that soybean has more protein content than chicken. This dish goes very well with fried rice.
Image : Chilli Soya Corn
Important :
Preparation Time : 10 minutes
Cooking Time : 15 minutes
Total Time : 25 minutes
Serve for : 2
Ingredients :
Mini Soyaban Nuggets (1/2 cup) /boiled
Sweet Corn (3 tbsp)
Onion (2 medium size) /paste
Ginger & Garlic Paste (1 tsp)
Red Chilli Powder (1/2 tsp)
Soya Sauce (1 tsp)
Chilli Sauce (1 tsp)
Red Pepper Sauce (1/2 tsp)
Turmeric Powder (1/2 tsp)
Salt (to taste)
Sugar (1 tsp)
Vegetable Oil ( 2 tbsp)
Water (1/8 cup)
---
Direction :
First, to boil the soya nuggets, take water into a saucepan and boil with 1/2 tsp of salt. When the water is boiling put the soybean nuggets into the boiling water and boil for 10 minutes. Drain and squeeze the excess water and put them aside.
Now in a pan, add oil .
When the oil is heated, add onion paste and fry for a while.
Then add ginger garlic paste and fry for 3-4 minutes on a medium heat.
When the gravy becomes brown, add salt and turmeric powder .
After frying them, add boiled soyabeans and mix them with the gravy.
Then add red chilli powder, soya sauce, chilli sauce and red pepper sauce one by one and mix them well.
Add sweet corns and give a good stir. Cook for a while.
Lastly add water and sugar and cook for another 5 minutes.
When the gravy coats the soybeans and corns evenly, your dish is ready to serve.
---
Images :
When the oil is heated, add onion paste and fry for a while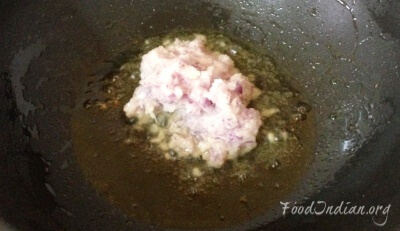 Add ginger garlic paste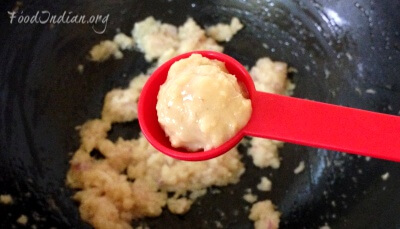 Add salt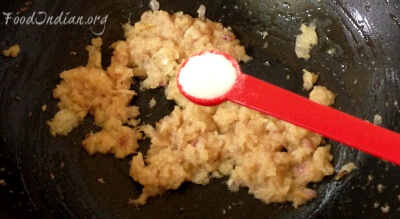 Add turmeric powder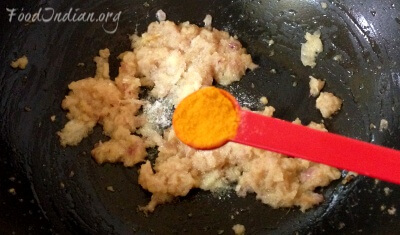 Add soyabean nuggets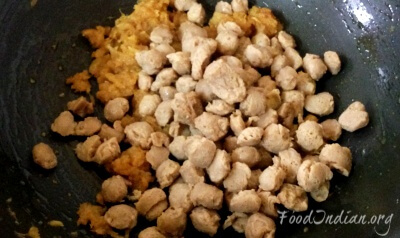 Add red chilli powder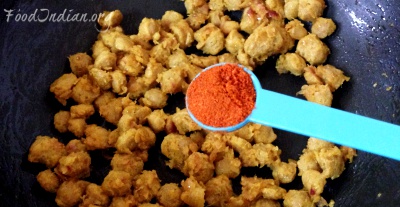 Add soya sauce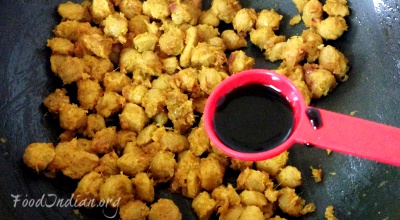 Add green chilli sauce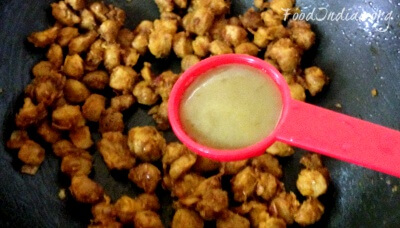 Add red pepper sauce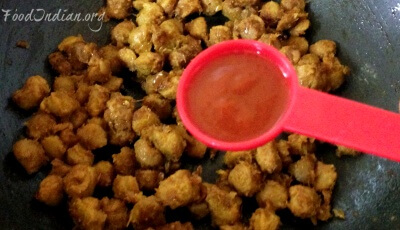 Add corns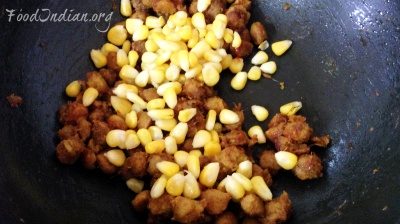 Add water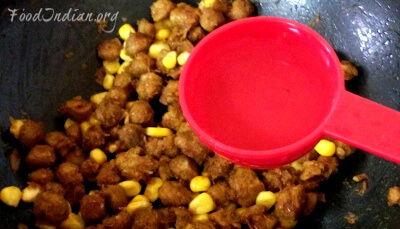 Add sugar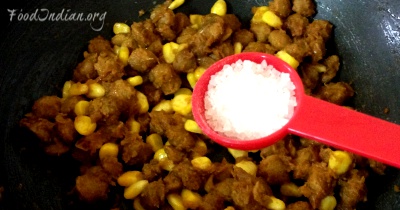 Tips :
Here I am using frozen corns, if you are using fresh sweet corns, add them along with soybean nuggets into the gravy, because fresh corns takes a little more time to cook.
Serve with fried rice .
To get more recipes via Email , Subscribe to our Newsletter . Also follow us on Youtube .