Here is another dish with cauliflower, Doi Fulkopi. This dish is a bit spicy and definitely gives a variety to your regular Bengali lunch or dinner menu. Cauliflower is a vegetable, that you can cook in different variations, and Cauliflower with curd is a kind of combination, which tastes great. I have another version of this recipe Curd Cauliflower Curry in my blog.
Image : Doi Fulkopi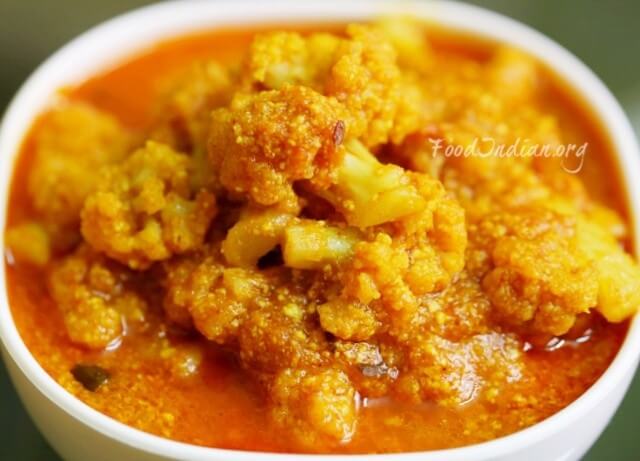 Important :
Preparation Time : 10 minutes
Cooking Time : 20 minutes
Total Time : 30 minutes
Serve For : 2
Ingredients :
Cauliflower (1 small size) /separated into small florets
Yogurt (1/2 cup)
Mustard Oil (2-3 tbsp)
Onion (1 big size)
Tomato (1 medium size)
Green Chilli (2) /chopped
Cumin Seeds (a pinch)
Dried Ginger Powder (1/4 tsp)
Coriander Powder (1/2 tsp)
Cumin Powder (1/2 tsp)
kashmiri Red Chilli Powder (1 tsp)
Turmeric Powder (1/2 tsp)
Salt (to taste)
Sugar (1 tsp)
Clarified Butter or Ghee (1/2 tsp)
Garam Masala Powder (1/8 tsp)
Water (1/2 cup)
---
 Direction :
Cut cauliflowers into small bite size florets. Boil them in salted water for 5 minutes and then soak them in the same water for 10 minutes. After that, drain water and dry them for a while.
Meanwhile, add tomato and onion together into a blender, make a smooth puree and keep aside.
Now heat oil in a pan. Saute the semi boiled cauliflowers slightly and keep them aside.
Add more oil into the pan. Add cumin seeds and chopped green chilli, wait for them to splutter.
Now put the onion and tomato puree into the pan and cook them for 2 minutes.
Then add dried ginger powder, cumin powder, coriander powder, kashmiri red chilli powder, turmeric powder and salt into the gravy and cook until the gravy becomes dry and leaving oil from the edges.
When the gravy is done, add water. Cook by stirring the gravy for a while.
Add the sauted cauliflower florets into the pan and cook for 5 minutes.
Now add whisked yogurt. Stir well. Cover the pan and cook for 5-7 minutes or until the cauliflowers become soft and tender.
When done, add clarified butter, sugar and garam masala powder. Stir well and cook for 2 minutes.
Switch off the flame and your dish is ready to serve.
---
Images : 
Make a smooth puree of onion and tomato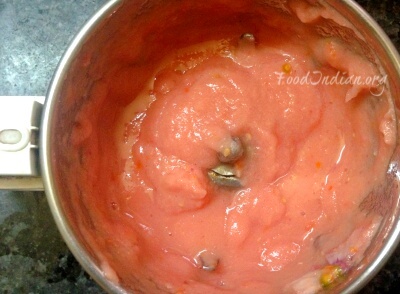 Saute the semi boiled cauliflowers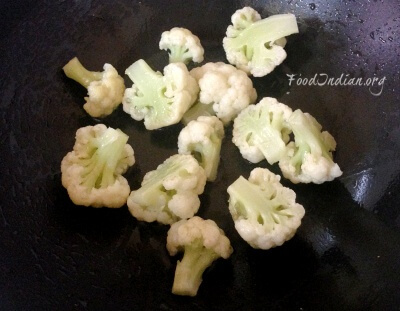 Keep them aside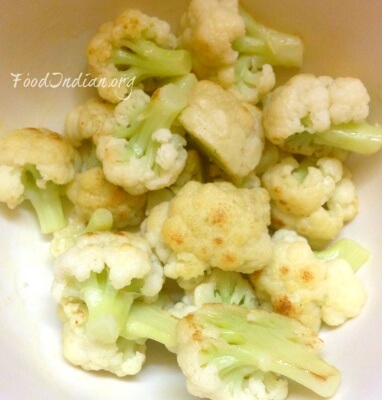 Add more oil in the pan and add cumin seeds and chopped green chilli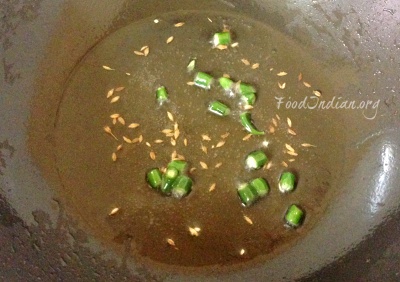 Add the puree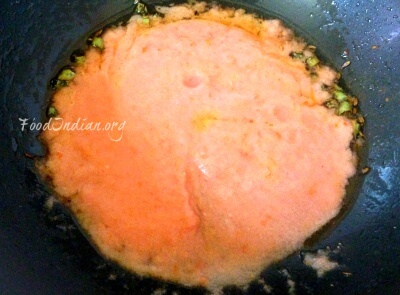 Add all the spices and salt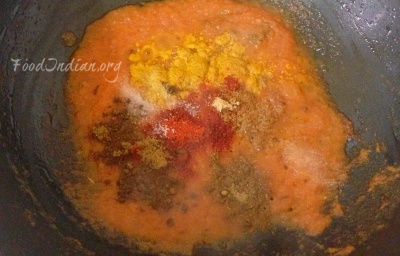 Cook until becomes dry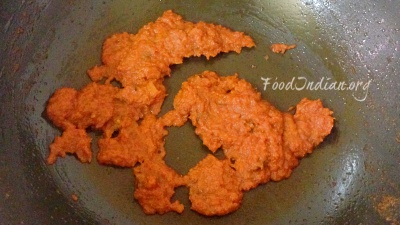 Add water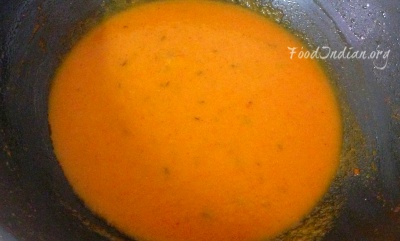 Add cauliflower florets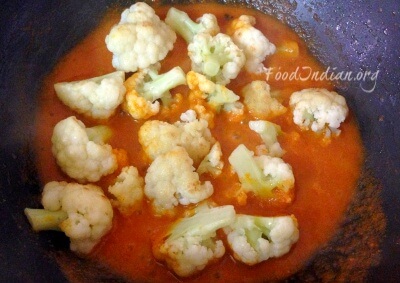 Mix them well
Add yogurt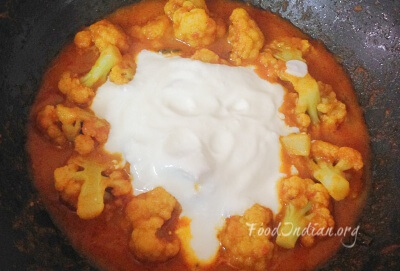 Stir and cook for 5-7 minutes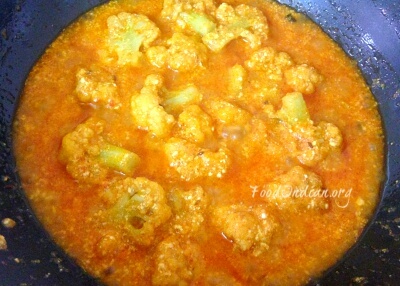 Add sugar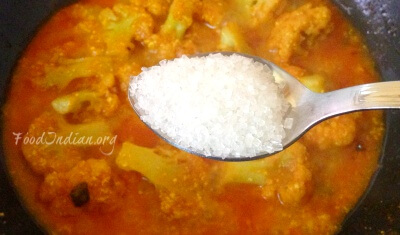 Add ghee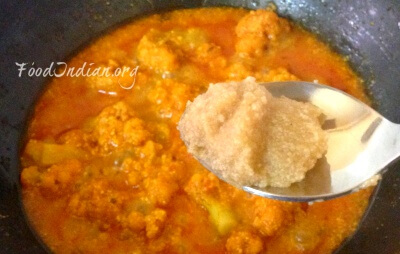 Add garam masala powder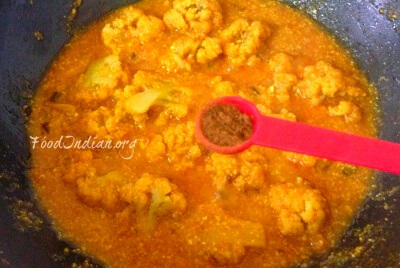 Tips : 
Serve hot with roti, paratha or plain rice.
To get more recipes via Email , Subscribe to our Newsletter . Also follow us on Youtube .