Dal Palak or Spinach Dal is a very simple and delicious recipe, and also a good source of protein and fibre. This recipe contains rich dal and healthy palak or spinach. You can also make this dish with assorted dal or lentils. Serve this healthy wholesome meal with roti or rice. You can also search for many more Dal Recipes or Vegetarian Recipes.
Image : Dal Palak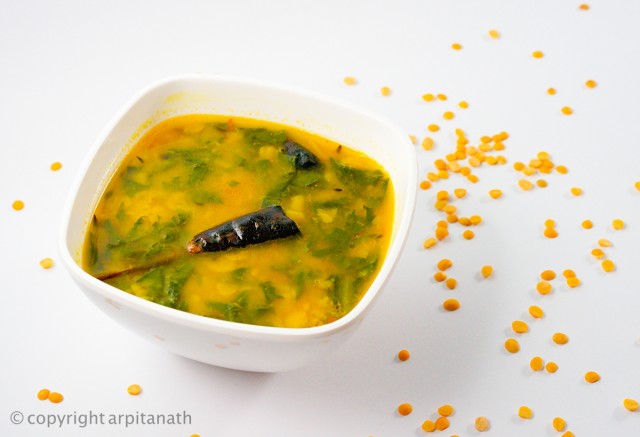 Important :
Preparation Time : 10 minutes
Cooking Time : 30 minutes
Total Time : 40 minutes
Serve For : 2-3
Ingredients :
Tuval Dal or Pigeon Pea (1/2 cup)
Spinach or Palak (1 cup) /roughly chopped
Water (2-3 cups)
Salt (to taste)
Turmeric Powder (1/2 tsp + 1/4 tsp)
Ghee or Clarified Butter (1 tbsp + 1/2 tsp)
Dried Red Chilli (1)
Cumin Seeds (1/4 tsp)
Asafoetida or Hing (1 pinch)
Tomato (1 medium size) /finely chopped
Ginger (1/2 tsp) /grated
Garam Masala Powder (1/4 tsp)
Sugar (1/2 tsp)
Tips :
Serve with roti or steamed rice.
Recipe Video : 
To get more recipes via Email , Subscribe to our Newsletter . Also follow us on Facebook .