Cookie is originally an American baked food . It was invented in the United States but gradually became very popular all over the world. Today we are going to make a very easy to cook 1 minute Choco Nut Cookie recipe which has a delicious flavor and chewy texture. You can find the picture of the final product in the image below .
Image : Choco Nut Cookies Recipe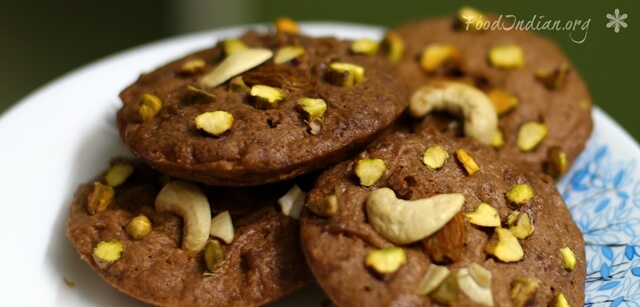 Important:
Makes – 4 cookies
Preparation Time- 2 minutes
Baking Time- 1 minute
Total Time- 3 minutes
Ingredients:
All purpose Flour [Maida] (5 tbsp)
Powdered Sugar (4 tbsp)/ granulated sugar powder
Cocoa Powder (2 tsp)
Butter (1 tbsp)
Milk (4 tbsp)
Vanilla essence (¼ tsp)
Pistachios (1 tsp)/finely chopped
Cashew nut (4)
Raisin (4)
---
Direction:
Add all purpose flour, powdered sugar, cocoa powder, butter, milk and vanilla essence in a mixing bowl and mix them very well to make a soft dough.
Now take a microwave safe bowl and grease it slightly with butter.
Put a small quantity of the cookie mixture in the bowl. Sprinkle the chopped pistachios and put some cashew and raisin over it.
Now put the bowl into the microwave and bake it for 1 minute in 800 watts .
After its done remove it from microwave and let it cool down for a few minutes.
Invert the cookie into a plate and serve .
---
Tips: 
Never bake the cookies for more than a minute or otherwise it will burn .
It remains soft when you remove it from the microwave, but gets hard when it cools down.
It has a chewy texture.
You can also add chocolate chips as topping.
Do not microwave the cookies on a plate. Make sure you are making them in a bowl so it takes the shape of the container in which it is cooked .
Hope you liked the tutorial. To get the latest cookie recipes , Subscribe to our Newsletter and Follow us on Youtube .