Kidney Beans, also known as Rajma, is a well-known pulse that is extensively used all over the world in the preparation of variety of dishes, particularly in rice, curries, salads and toppings. It not only tastes good, but very healthy also. If you are tired of convincing your kids to eat Rajma curry, you can definitely try with this Mayonnaise dressing Salad, they will love it for sure. This salad is sure to impress your guests and its easy to make too.
Image :  Kidney Beans Salad with Mayonnaise Dressing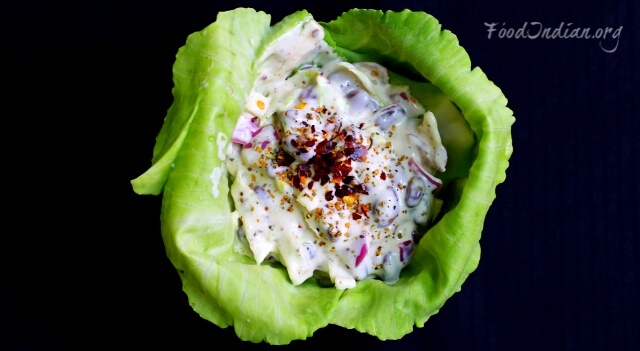 Important :
Preparation Time : 5 minutes
Making Time : 5 minutes
Total Time : 10 minutes
Serve for : 2
Ingredients :
Kidney Beans or Rajma (1 cup) /boiled
Mayonnaise (3 tbsp)
Cabbage (1/2 cup) /cut into strips
Onion (2 tbsp) /chopped
Oregano (1/4 tsp)
Chilli flakes (1/2 tsp)
Black Pepper Powder ( 1/8 tsp)
Salt (1/8 tsp or to taste)
---
Direction :
Boil the kidney beans, as they become properly tender and soft.
Now take a bowl and add mayonnaise and onion, mix them with a spoon.
Add the boiled kidney beans and coats well with the mayo dressing.
Then add salt , pepper, chilli flakes and the dried herb oregano. Mix all the ingredients well.
Now add the cabbages and mix with the dressing.
Take a serving plate and serve your salad, sprinkle some oregano and chilli flacks for some extra flavour.
---
Images :
Add Mayonnaise in a bowl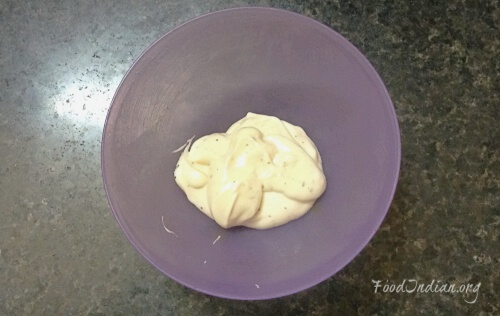 Add Onion and mix them well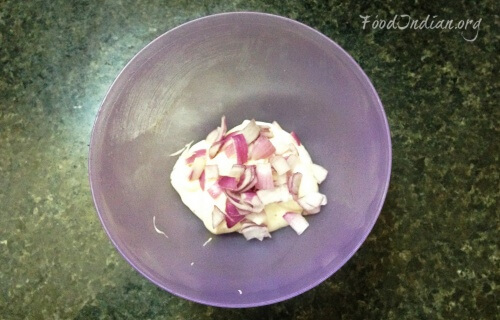 Add Kidney beans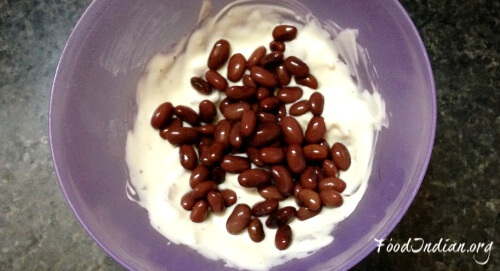 Add Salt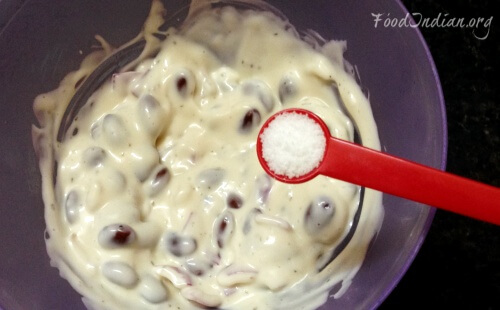 Add Oregano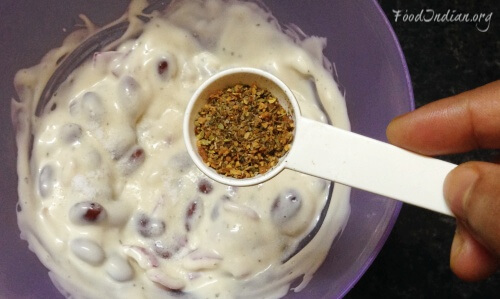 Add Chilli flakes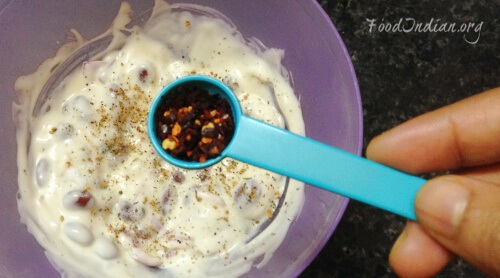 Add Black Pepper Powder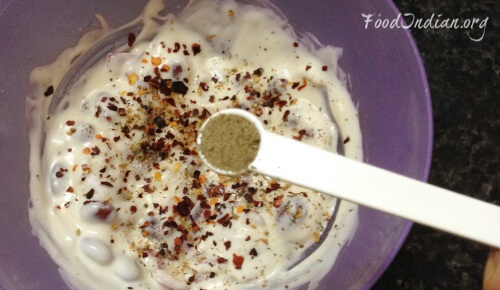 Add Cabbage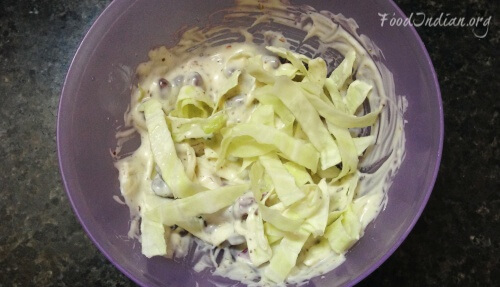 Mix all the ingredients very well and serve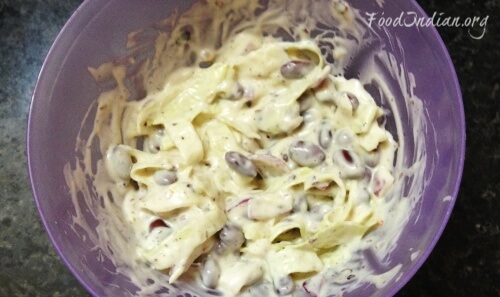 Tips :
For boiling the kidney beans, soak them in cold water for few hours or over night, then boil them in pressure cooker. It takes a quite long time to boil, so you have to be very sure that for making salad , kidney beans must have to be tender and soft.
You can serve this salad for your guests or your family or children, they will compliment you for sure.
Here I am using small kidney beans. For making salad small kidney beans are ideal and makes tastier than bigger ones.
To get more recipes via Email , Subscribe to our Newsletter . Also follow us on Youtube .