Chocolate Brownies are undoubtedly everybody's favourite, and if we paired them with delicious Walnuts, it adds more dimension and flavour. We can make them within a few minutes with the ingredients which are easily available at our kitchen. These Brownies are perfect for your tea parties and can also be served as dessert.
Image : Chocolate Walnut Brownie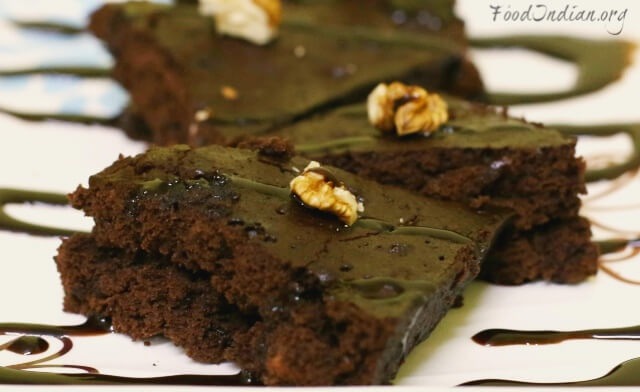 Important :
Preparation Time : 15 minutes
Cooking Time : 5 minutes
Total Time : 20 minutes
Makes : 10 pieces
Ingredients :
Cocoa Powder (4 tbsp)
All purpose flour or Maida (4 tbsp)
Walnut (2 tbsp) /roughly chopped
Baking Powder (1/4 tsp)
Sugar (6 tbsp) /granulated
Butter (2 tbsp) /melted
Egg (1)
Milk (6 tbsp)
Vanilla Essence (1/8 tsp)
---
Direction :
Take a bowl and add all the dry ingredients one by one , such as, all purpose flour, cocoa powder and baking powder and mix them very well.
Now add sugar and mix with other ingredients.
When the dry ingredients are mixed well, add the wet ingredients into the mixture.
Add melted butter, one egg, vanilla essence and milk, then whisk all the ingredients for 1 minute until they become smooth and lumps free.
Now take a microwave proof bowl and grease with a little butter.
Put the mixture into the bowl.
Now put the bowl into microwave and bake for 5 minutes in 800 watts.
When done take the brownie out from microwave and check with a toothpick. If it outs clean, your brownie is ready to serve.
Take a plate and place your brownie over it.
Cut them and garnish with chopped walnuts and Chocolate sauce.
---
Images :
Mix all purpose flour, cocoa powder and baking powder together

Add sugar and mix well

Add melted butter and egg

Add vanilla essence and milk

Mix all the ingredients then add walnut and again give a stir

Pour the batter into a microwave proof bowl

Put the bowl into microwave and bake for 5 minutes in 800 watts
After its done, flip over a plate and serve with chopped walnut and chocolate sauce

Tips :
Do not use powdered sugar for this brownie, or the texture will change.
Do not bake them for more than 5 minutes, otherwise it will burn .
To get more recipes via Email , Subscribe to our Newsletter . Also follow us on Youtube .