Cookie is originally an American baked food . It was invented in the United States but gradually became very popular all over the world. Today we are going to make a very easy to cook 1 minute Choco Nut Cookie recipe which has a delicious flavor and chewy texture. You can find the picture of the final product in the image below .
Image : Choco Nut Cookies Recipe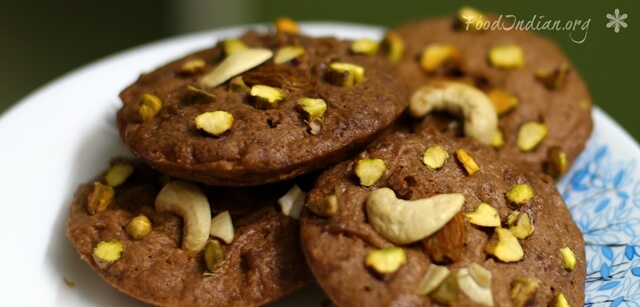 Important:
Makes – 4 cookies
Preparation Time- 2 minutes
Baking Time- 1 minute
Total Time- 3 minutes
Ingredients:
All purpose Flour [Maida] (5 tbsp)
Powdered Sugar (4 tbsp)/ granulated sugar powder
Cocoa Powder (2 tsp)
Butter (1 tbsp)
Milk (4 tbsp)
Vanilla essence (¼ tsp)
Pistachios (1 tsp)/finely chopped
Cashew nut (4)
Raisin (4)
Tips: 
Never bake the cookies for more than a minute or otherwise it will burn .
It remains soft when you remove it from the microwave, but gets hard when it cools down.
It has a chewy texture.
You can also add chocolate chips as topping.
Do not microwave the cookies on a plate. Make sure you are making them in a bowl so it takes the shape of the container in which it is cooked .
Hope you liked the tutorial. To get the latest cookie recipes , Subscribe to our Newsletter and Follow us on Facebook .