Semolina Halwa is a very popular easy to make sweet dish in India. It has a mouthwatering test and texture. Its one of my personal favorite sweet dish. Indian kitchens are incomplete without Suji ka Halwa. Today I am giving you my own recipe of making this delicious dish.
Image : Suji ka Halwa – Semolina Halwa Preparation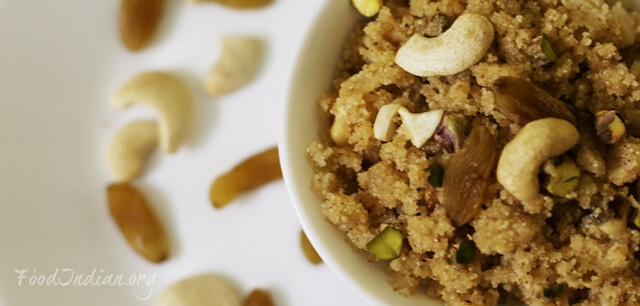 Important:
Serve for- 2
Preparation Time- 2 minutes
Cooking Time- 20 minutes
Total Time- 22 minutes
Ingredients:
Semolina [Suji] (½ cup)
Sugar (4 tbsp)
Milk (1½ cups)
Clarified Butter [Ghee] (1 tbsp)
Green Cardamom [Elaichi] (2 pinch)/finely crushed
Mixture of Cashew, Almond, Pistachios (1 tbsp)/to garnish
Raisin /for garnishing
---
Direction:
Heat the pan on a medium heat. When it gets hot add Ghee [clarified butter]. 
Wait for the ghee to melt. When it melts add Suji [semolina] and mix very well. 
Roast the suji till it becomes golden brown on a low heat and stir it very frequently.
When the suji turns golden brown and gets a glossy texture and does not stick together that means it is fried enough.
Now add chopped dry fruits and fry them for another 3 to 4 minutes. 
Meanwhile take another pan and boil 1½ cups of milk. When it gets hot add sugar and stir very well. Cook it on a low flame. 
Now its time to add the milk mixture and crushed cardamon into the suji. While adding the mixture keep stirring the suji mixture for avoiding forming lumps in the halwa. 
Let the mixture boil on simmer and gets a creamy consistency.
Keep stirring your halwa continuously otherwise it may get burnt from the bottom.
Cook the mixture until it becomes thick and begins to come away from the edges.
Turn off the heat, put it on a serving bowl and garnish it with chopped dry fruits and raisin.
Now your halwa is ready to serve.
---
Tips:
Do not cook your Halwa on a very high flame, it will burn your dish.
If any lumps form make sure to break them with the back of the stirring spatula.