Malpua is a common dessert in Bengal and Orissa and is cooked in every household during poush sankranti or makar sankranti. Bengali sweets are the best in India. Even though Malpua is a generic Indian sweet which every region prepares differently, here is the Bengali version of it with the richness of dry fruits and the flavour of cardamom and saffron syrup. Malpua is an Indian sweet dish that is basically a sugar syrup soaked pancake prepared from a batter of flour, sooji and milk and it tastes best with Rabri. For more Indian Dessert search here .
Image : Malpua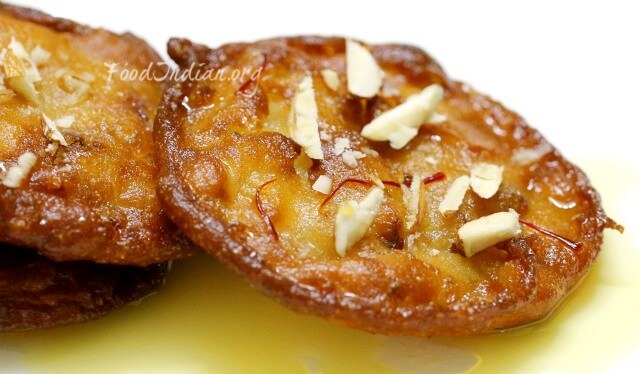 Important :
Preparation Time : 20 minutes
Cooking Time : 30 minutes
Total Time : 50 minutes
Makes : 8-10
Ingredients :
For Batter –
Plain Flour or Maida (1/2 cup)
Semolina or Sooji (1/2 cup)
Milk (1/2 cup)
Water (1/2 cup)
Baking Powder (1/8 tsp)
Sugar (2 tbsp)
Fennel Seeds or Saunf (1/2 tsp)
Cashew Nuts, Raisins, Almonds (2 tbsp) /chopped
Vegetable Oil or Ghee (for deep-frying)
For Sugar Syrup –
Water (1 cup)
Sugar (1/2 cup)
Cardamom (3)
Saffron (6-8 strands)
---
Direction :
Take plain flour, semolina, baking powder in a bowl and make a smooth mixture by adding milk and water. Now add sugar, fennel seeds and chopped dry fruits into the mixture and mix it well so that there are no lumps inside it. Put the mixture aside till you preparing for the sugar syrup.
To make the sugar syrup, take a heavy bottom pan and add 1 cup of water. Bring it to boil. Add 1/2 a cup of sugar and stir until the sugar dissolves completely into the water. Add Saffron strands and cardamom. Boil the syrup till you get of one thread consistency (thin consistency) . Keep aside to cool down.
In a pan, heat sufficient oil for deep-frying.
Pour a small ladle full of batter in the center of the pan without spreading it. Fry on medium heat. Cook one side then flip it over.
Use a slotted spoon to drain the Malpua and place it in the sugar syrup immediately. Fully immerse the Malpua in the sugar syrup and let it sit for half a minute.
Remove and serve hot.
---
Images : 
Mix all the ingredients mentioned for batter and make a smooth mixture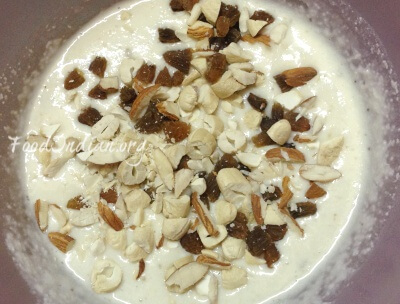 Prepare the sugar syrup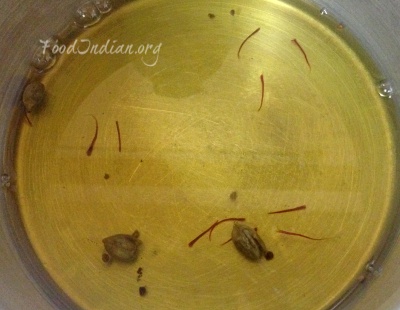 Take a ladle full of batter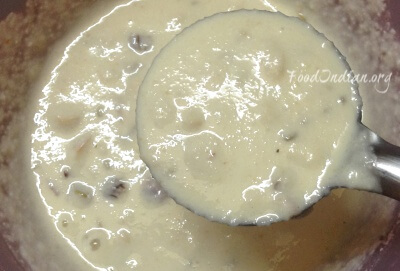 Pour in the pan without spreading it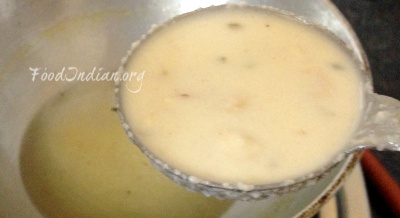 Fry one side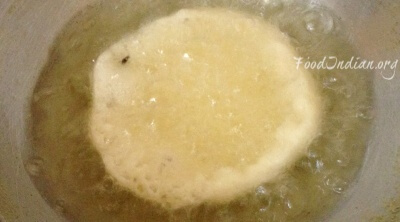 Then fry another side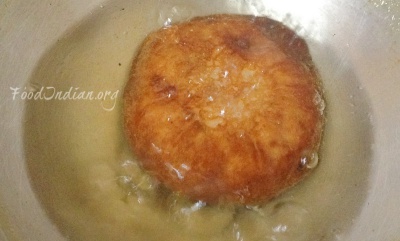 Immediately transfer into sugar syrup for 30 sec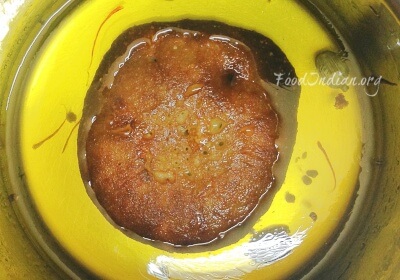 Tips : 
If more milk is required to make the malpua batter, do add more.
Serve hot with rabri.
To get more recipes via Email , Subscribe to our Newsletter . Also follow us on Youtube .