Semolina Halwa is a very popular easy to make sweet dish in India. It has a mouthwatering test and texture. Its one of my personal favorite sweet dish. Indian kitchens are incomplete without Suji ka Halwa. Today I am giving you my own recipe of making this delicious dish.
Image : Suji ka Halwa – Semolina Halwa Preparation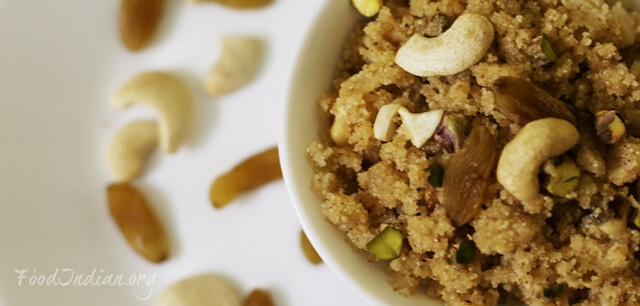 Important:
Serve for- 2
Preparation Time- 2 minutes
Cooking Time- 20 minutes
Total Time- 22 minutes
Ingredients:
Semolina [Suji] (½ cup)
Sugar (4 tbsp)
Milk (1½ cups)
Clarified Butter [Ghee] (1 tbsp)
Green Cardamom [Elaichi] (2 pinch)/finely crushed
Mixture of Cashew, Almond, Pistachios (1 tbsp)/to garnish
Raisin /for garnishing
Tips:
Do not cook your Halwa on a very high flame, it will burn your dish.
If any lumps form make sure to break them with the back of the stirring spatula.