Here is a simple yet delicious recipe, Egg Omelette Curry, very easy and quickly made. When I have to make something in a short span of time for lunch or dinner, this is the one which I usually make. It's a quite different recipe with egg and tastes really good.
Image : Egg Omelette Curry Bengali Style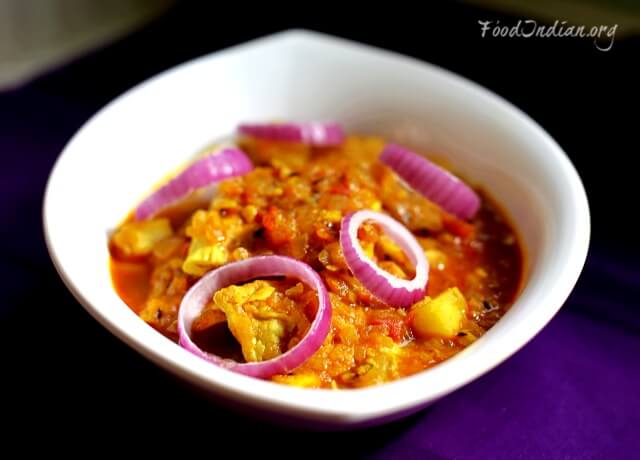 Important :
Preparation Time : 10 minutes
Cooking Time : 20 minutes
Total Time : 30 minutes
Serve for : 2 – 3
Ingredients :
Egg (3)
Onion (2 medium size) /chopped
Tomato (1 medium size) /chopped
Potato (1 medium size) /diced
Garlic (1 tbsp) /grated
Green Chilli (2) /chopped
Cumin (1/2 tsp) /for tempering
Cumin Powder (1 tsp)
Kashmiri Red Chilli Powder (1 tsp)
Garam Masala Powder (1/8 tsp)
Turmeric Powder (1/2 tsp)
Salt (to taste)
Sugar (1/2 tsp)
Vegetable Oil ( 2 tbsp)
---
Direction : 
To make Omelette
Break one egg into a bowl and beat finely . Add some salt, chopped onion and chopped green chilli and whisk again.
Now take a flat pan and heat a little oil. When heated, put the egg mixture and spread it evenly in a round shape.
When the omelette is half done, roll it from one side and then another side.
Flip it and cook the other side on a low flame.
Likewise, make another two omelettes.
When all three are done, put them into a plate, cut into three pieces and set them aside.
To make the Gravy
Heat oil in a pan and add cumin seeds.
Then add the potato cubes and fry them for few minutes on a medium heat.
Add the chopped onion, stir well.
Meanwhile, add salt and turmeric powder and cook for 2 minutes.
Then put the grated garlic and cook until the raw smell of garlic has gone.
Then add cumin powder and kashmiri red chilli powder, and cook them until all the spices cooked properly.
After that, add the chopped tomatoes and cook them for 5 minutes on a medium to high flame.
When everything has cooked evenly and leaving oil from the edges , add 3 cups of water.
Cook until the gravy becomes thick.
When almost done, add sugar and the Omelette pieces and cook for 3-4 minutes.
Lastly add Garam Masala Powder and put off the flame.
---
Images :
Beat the egg – Add salt, chopped onion and chilli – spread in a flat pan

When half-cooked, roll from one side – Then another side – flip and cook the other side

When done place into a plate and cut into pieces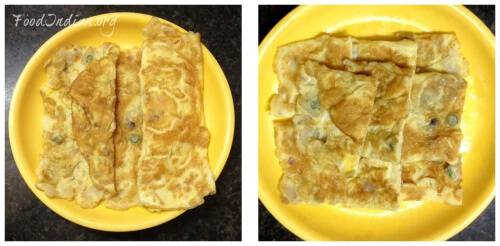 Add cumin seeds into heated oil – Add potato – add chopped onion

Add salt – Add turmeric powder – Add cumin powder

Add Garlic – Add Kasmiri red chilli powder – Add chopped tomatoes

Add 3 cups water – Add sugar – when the gravy becomes thick , add omelette pieces – lastly add Garam masala powder

Tips :
Do not cook the omelette for long time in the gravy, or they will become mushy.
Serve your dish with hot steamy rice or roti.
To get more recipes via Email , Subscribe to our Newsletter . Also follow us on Youtube .