Here is a simple yet delicious recipe, Egg Omelette Curry, very easy and quickly made. When I have to make something in a short span of time for lunch or dinner, this is the one which I usually make. It's a quite different recipe with egg and tastes really good.
Image : Egg Omelette Curry Bengali Style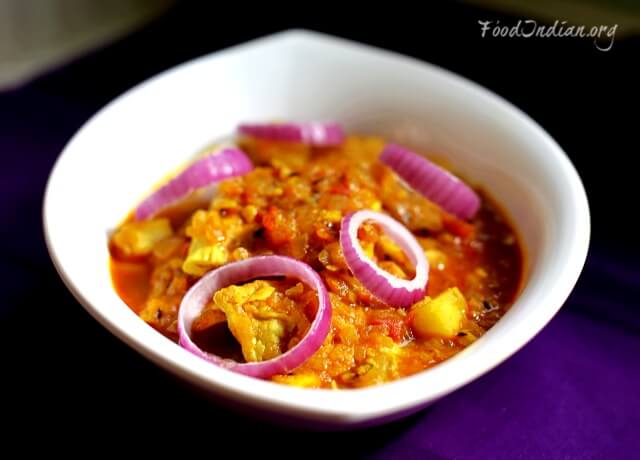 Important :
Preparation Time : 10 minutes
Cooking Time : 20 minutes
Total Time : 30 minutes
Serve for : 2 – 3
Ingredients :
Egg (3)
Onion (2 medium size) /chopped
Tomato (1 medium size) /chopped
Potato (1 medium size) /diced
Garlic (1 tbsp) /grated
Green Chilli (2) /chopped
Cumin (1/2 tsp) /for tempering
Cumin Powder (1 tsp)
Kashmiri Red Chilli Powder (1 tsp)
Garam Masala Powder (1/8 tsp)
Turmeric Powder (1/2 tsp)
Salt (to taste)
Sugar (1/2 tsp)
Vegetable Oil ( 2 tbsp)
Images :
Beat the egg – Add salt, chopped onion and chilli – spread in a flat pan

When half-cooked, roll from one side – Then another side – flip and cook the other side

When done place into a plate and cut into pieces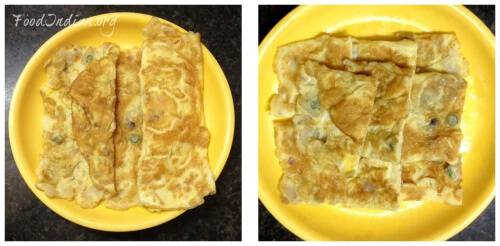 Add cumin seeds into heated oil – Add potato – add chopped onion

Add salt – Add turmeric powder – Add cumin powder

Add Garlic – Add Kasmiri red chilli powder – Add chopped tomatoes

Add 3 cups water – Add sugar – when the gravy becomes thick , add omelette pieces – lastly add Garam masala powder

Tips :
Do not cook the omelette for long time in the gravy, or they will become mushy.
Serve your dish with hot steamy rice or roti.
To get more recipes via Email , Subscribe to our Newsletter . Also follow us on Facebook .