Chocolate and coconut, both are my favourite, so I combined these two ingredients and made one delicious cake, Chocolate Coconut Cake. In this Christmas season, nothing would be better than to taste this yummy combo of sweet chocolate and crunchy coconut. Its bit of a different flavour, and recently won in a cake recipe contest organised by a popular cookery magazine Hangla Hensel .
Image : Chocolate Coconut Cake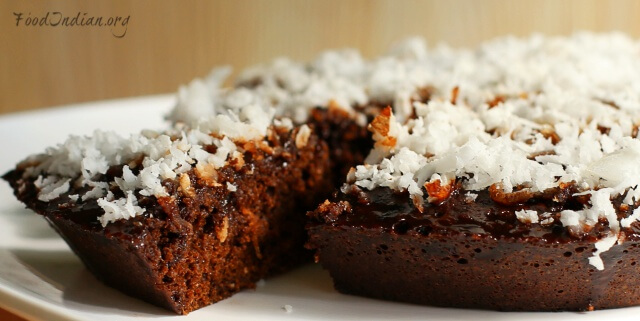 Important :
Preperation Time : 10 minutes
Cooking Time : 25 minutes
Total Time : 35 minutes
Serve For : 6
Ingredients :
Grated coconut (4 tbsp) / 2 tbsp for batter and 2 tbsp for garnishing
Plain Flour (4 tbsp)
Cocoa Powder (4 tbsp)
Powdered Sugar ( 8 tbsp)
Egg (2)
Melted Butter (2 tbsp)
Milk (2 tbsp)
Baking Powder (1 tbsp)
Chocolate Sauce (for garnishing)
Images :
Sieve all the dry ingredients, add the baking powder into the mixture and mix very well

Take another bowl and mix all the wet ingredients, such as, milk, butter and egg, whisk them finely

Add the wet ingredients into the dry ingredients and grated coconut, combine them evenly by beating for 5 minutes

Pour the mixture into the bowl and put into microwave, bake for 25 minutes in 180 watts

Place it on a plate and spread chocolate sauce over the cake and sprinkle grated coconut evenly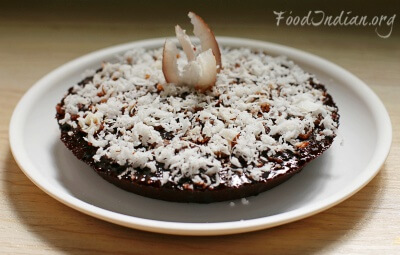 To get more recipes via Email , Subscribe to our Newsletter . Also follow us on Facebook .