Besan Ladoo is very popular in the Northern part of India. In each and every Indian festivals, specially like Diwali, Ganesh Chaturthi, Navratri etc. this is one of the must have sweet in every household. It's an easy and quick Diwali sweet recipe with no prior soaking or grinding and yet tastes delicious.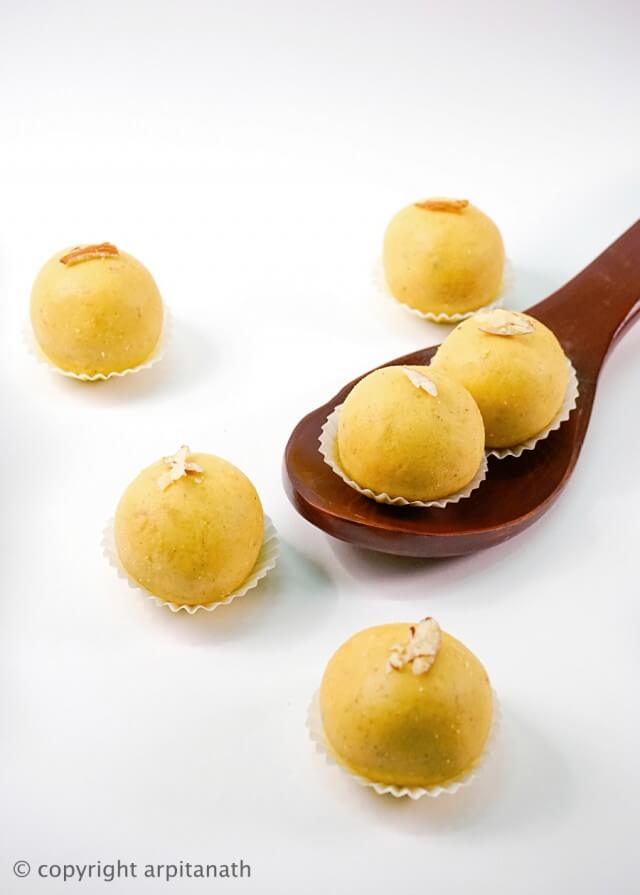 Important: 
Preparation Time : 10 minutes
Cooking Time : 20 minutes
Inactive : 40 minutes
Making Time : 10 minutes
Total Time : 1 hr 20 minutes
Makes : 20 ladoos
Ingredients: 
Besan or Chickpea Flour (4 cups)
Ghee or Clarified Butter (1 cup)
Powdered Sugar (2 cups)
Cardamom Powder (1/2 tsp)
Chopped Almonds (2 tbsp)
---
Direction:
At first, sieve besan and powdered sugar in two different bowls.
Heat ghee in a thick bottomed pan.
Add the sieved besan into ghee and start mixing them together. Remember to stir the mixture continuously while roasting.
Keep roasting besan on low flame until you start getting  nutty fragrance from the besan. Stir and mash the crumbles with the tip of a spatula.
Continue to roast till the besan changes its colour and starts releasing ghee from the sides. It will take around 15-20 minutes to roast the besan.
While the besan mixture is done, switch off the flame and place the mixture on a plate.
Let the mixture cool down completely, it will take around 40 minutes.
After 40 minutes, rub the mixture with your hand and you will feel that it's releasing little ghee on the top.
Now add cardamom powder, chopped almonds and powdered sugar into the besan mixture and start mixing everything with your hands.
Keep mixing it by rubbing with your fingers until it forms a smooth texture with which you can easily make ladoos.
Now, by taking small portion from the mixture, shape the ladoos one by one.
Let the ladoos set for 30 minutes.
---
Images:
Sieve besan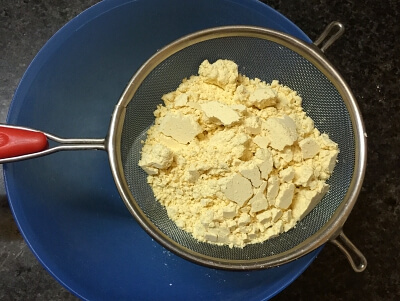 Into a large bowl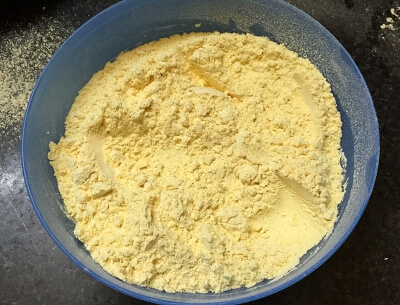 Sieve powdered sugar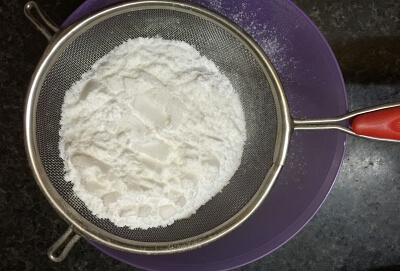 Into another bowl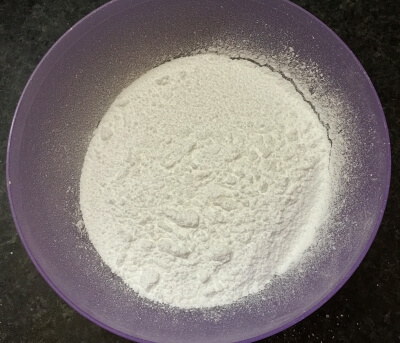 Take 1 cup ghee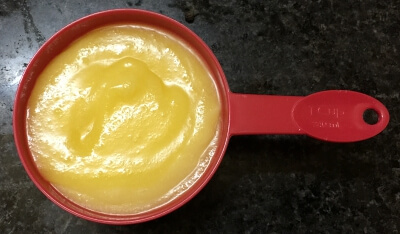 Add into a pan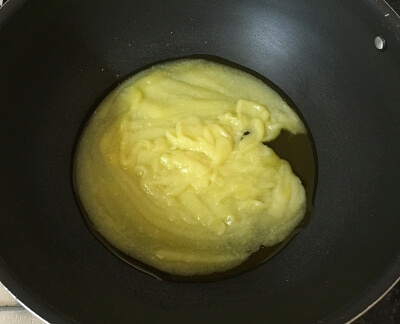 Add besan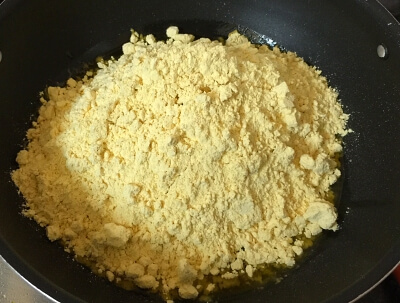 Mix well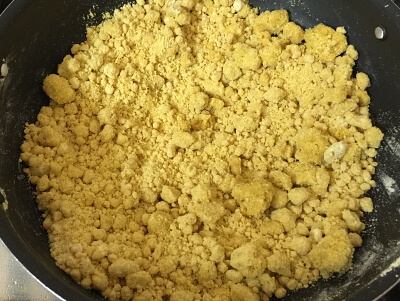 Mash the crumbles with spatula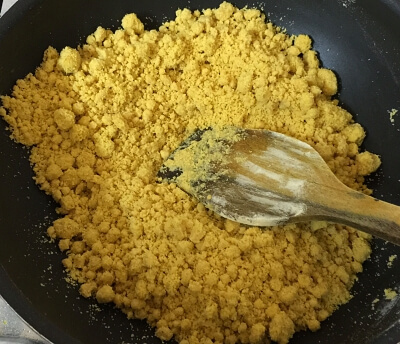 Keep roasting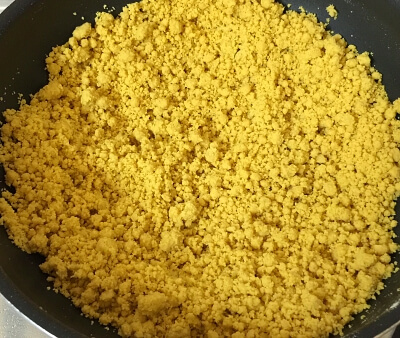 After 10 minutes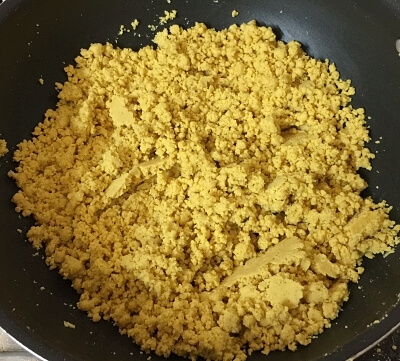 After 15 minutes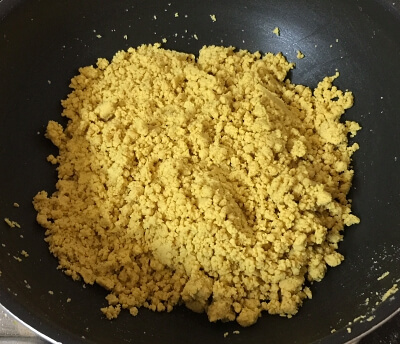 Place the mixture on a plate and cool it for 40 minutes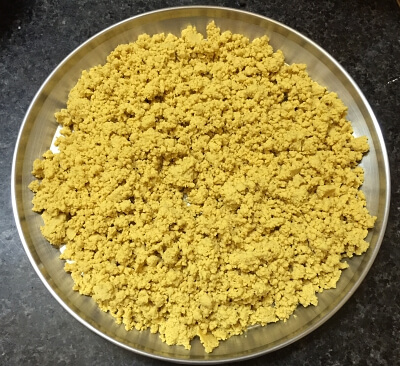 Rub the mixture with your finger, it will leave ghee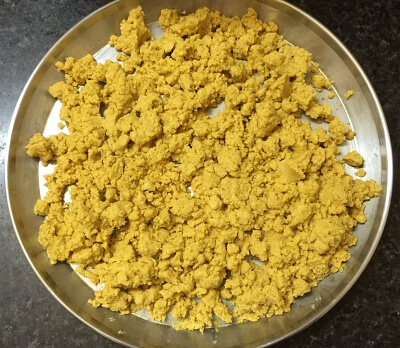 Add cardamom powder and chopped almonds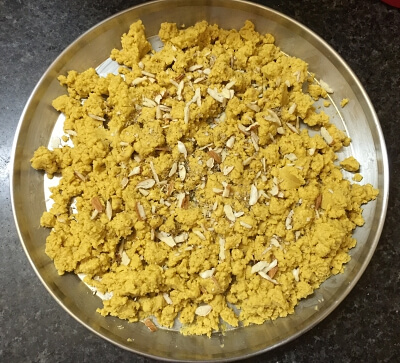 Add powdered sugar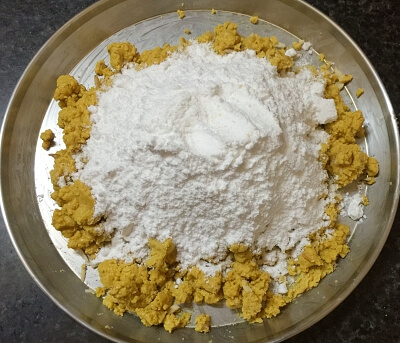 Mix everything well until form a ladoo mixture, it will take around 5 minutes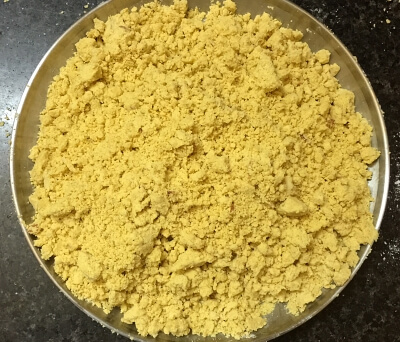 Take a small portion from the mixture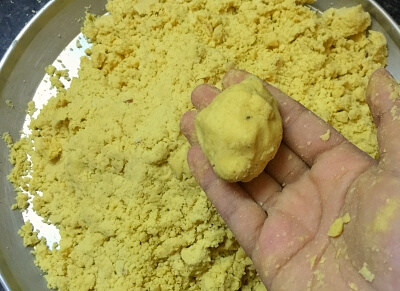 Shape the ladoo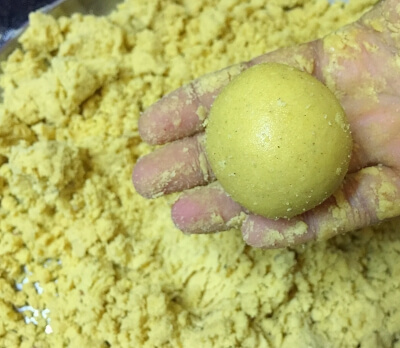 All the ladoos are ready to serve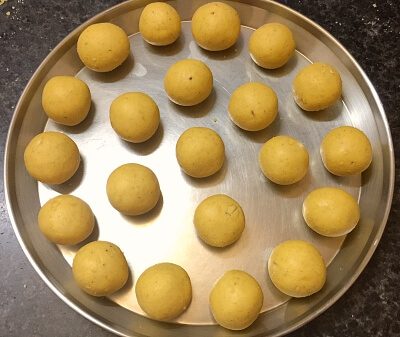 Tips:
Stir the mixture constantly while roasting the besan.
Add the powdered sugar into the mixture after it cools down completely or the sugar will melt and make the ladoos greasy.
Store in an airtight container for up to 20 days.
To get more recipes follow us on Youtube .