Chana Chaat is a very quick snack recipe to satisfy your sudden craving for street food kind of brunch. It's an oil free chaat that works as a great salad too. You can use either black chickpeas, green chana or kabuli chana to make this chaat. Here I have also used boiled potato to increase the taste of the chaat, but you can simply skip that step and can adjust the spices as per your taste.
Image : Chana Chaat Recipe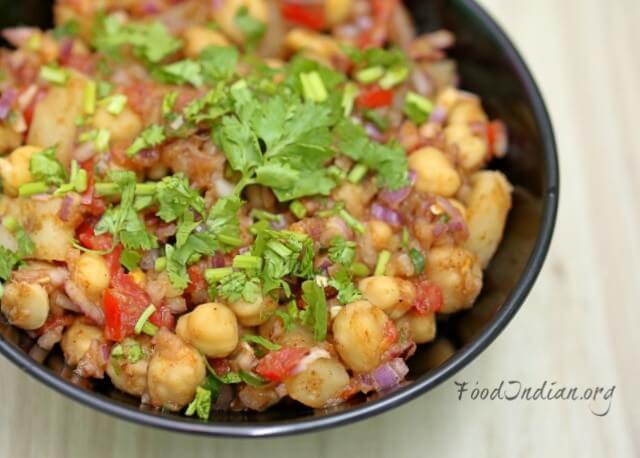 Important :
Preparation Time : 10 minutes
Making Time : 5 minutes
Total Time : 15 minutes
Serve For : 2
Ingredients :
Boiled White Chickpeas (1 cup)
Boiled Potato (1 medium size)
Onion (1 medium size) /finely chopped
Tomato (1 medium size) /finely chopped
Green Chilli (2) /finely chopped
Fresh Coriander Leaves (2 tbsp) /chopped
Roasted Cumin Powder (1/2 tsp)
Chaat Masala (1 tsp)
Red Chilli Powder (1/2 tsp)
Black Pepper Powder (1/2 tsp)
Dried Mango Powder or Amchur Powder (1 tsp)
Black Salt (to taste)
Lemon Juice (2 tsp)
---
Direction :
Soak the chickpeas for 8-9 hours.
Once they are soaked, drain water and pressure cook them for 6-7 minutes. [Here I have used canned boiled white chickpeas, you can buy from any supermarket.]
Boil the potato and cut into small cubes.
Now in a large bowl, take boiled chickpeas and boiled potato.
Add chopped onion, tomato, green chilli, salt and all the dry spices. Mix all the ingredients very well with a spatula.
Now add chopped coriander leaves and lemon juice into the chaat and give a good mix.
Serve your Chana Chaat fresh or chilled.
---
Images : 
Put boiled potato and boiled chickpeas into a large bowl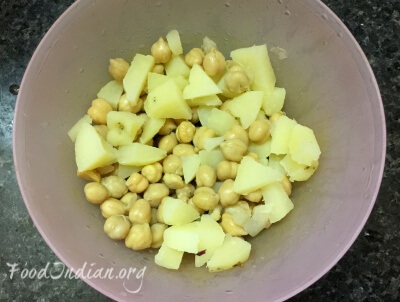 Add chopped onion and tomato
Add all the spices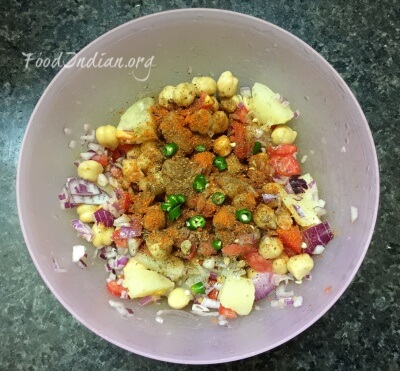 Add chopped coriander leaves and lemon juice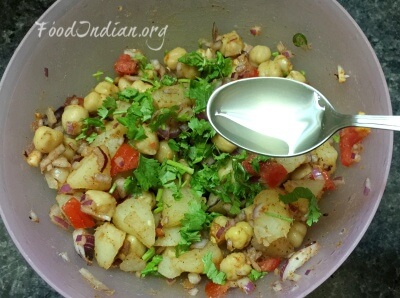 Mix well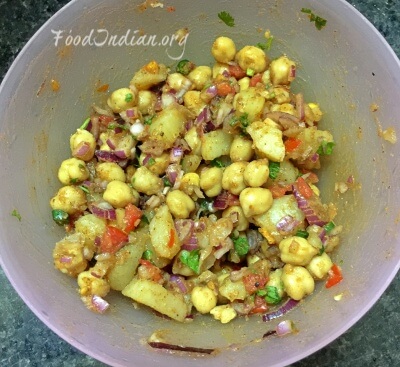 Tips : 
The spice powders, black salt, green chilies and lemon juice can be adjusted as per your taste preferences.
You can also add some crushed pani puri or papri into your chaat before serving.
To get more recipes via Email , Subscribe to our Newsletter . Also follow us on Youtube .