Rajma Masala or Kidney Beans Curry is a famous North Indian dish that is made very often in Punjabi households. This is the must have dish in every Punjabi family. In this recipe, kidney beans are cooked in thick tomato, onion base gravy with some spices. You will get this sabzi in all the dhabas or restaurants of Punjab. Here is a simple version of rajma masala that I often cook at home.
Image : Punjabi Rajma Masala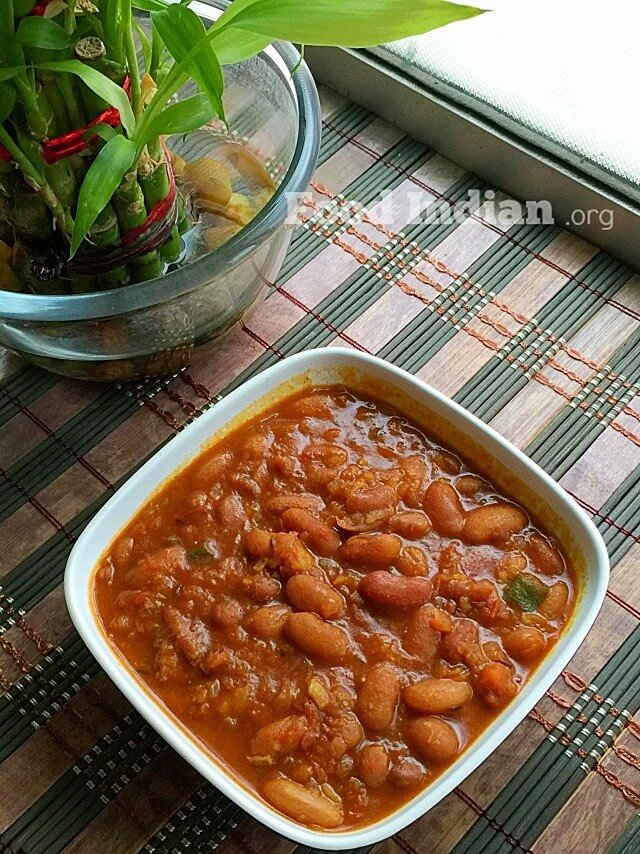 Important :
Preparation Time : 15 minutes
Inactive : 10 hrs.
Cooking Time : 50 minutes
Total Time : 11 hrs 5 minutes
Serve For : 4
Ingredients :
Rajma or Kidney Beans (1 cup) /any variety
Butter (2 tbsp+1 tbsp)
Olive Oil or Vegetable Oil (1 tbsp)
Cumin Seeds (1/4 tsp) /for tempering
Onion (2 medium size) /finely chopped
Tomato (2 medium size) /finely chopped
Garlic (3-4 medium cloves) /finely grated
Whole Green Chilli (1)
Coriander Powder (1 tsp)
Garam Masala Powder (1 tsp)
Turmeric Powder (1/2 tsp)
Red Chilli Powder (1 tsp)
Asafoetida or Hing (a pinch)
Salt (to taste)
Water (3 cups) /for pressure cooking
---
Direction :
Rinse and soak the rajma or kidney beans in enough water overnight or for 9-10 hours.
Next day, drain kidney beans and wash in fresh water and put into a pressure cooker.
Add 3 cups of water and pressure cook the rajma for about 15-20 minutes for 20-22 whistle (I did for 22 whistles, depends on variety of rajma).
When the pressure settles down on its own, open the lid, check if the rajma is cooked or not by pressing a bean. The rajma beans should be completely cooked. If they are not cooked completely, then pressure cook again adding some water if required for some more minutes.
Strain the boiled rajma and reserve the stock for later use. Set them aside.
Now heat 2 tbsp butter and 1 tbsp oil in a pan or kadai.
Temper with cumin seeds, let them crackle.
Add onion and cook until they become caramelized or light brown.
Then add grated garlic and chopped green chilli. Saute them for 2-3 minutes.
Add the chopped tomatoes into the pan and cook until the tomatoes become soft.
Now add the dry spices one by one. Add coriander powder, turmeric powder, garam masala powder, hing and red chilli powder into the kadai. Stir and saute the whole masala mixture till the fat starts leaving the masala so that all the flavour of spices blends well into our gravy.
When the gravy is done, add boiled rajma. Stir and mix with the gravy well.
Add 1.5 to 2 cups of stock, stir well.
Add salt and stir the whole curry mixture.
Simmer for 10-15 minutes or more till the curry thickens slightly. It should not be watery.
Mash a few rajma beans with the spoon. this helps to thicken the curry.
When the rajma masala has thickened and comes to the right consistency which is neither too thick nor thin, add 1 tbsp of butter (you can also add 2 tbsp of fresh cream instead of butter).
Stir & simmer rajma masala for 1 minute. Switch off the flame.
Your Punjabi Rajma Masala is ready to serve.
---
Images : 
Boil rajma for about 15-20 minutes for 20-22 whistles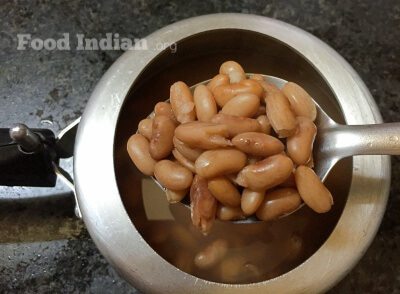 Strain and reserve the stock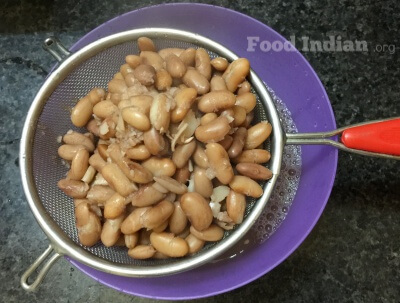 Add oil and butter in a kadai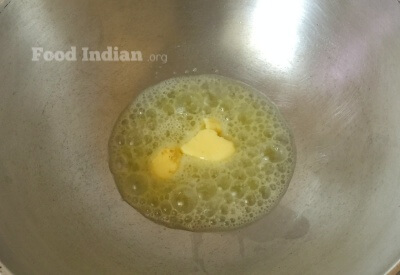 Add cumin seeds
Add chopped onion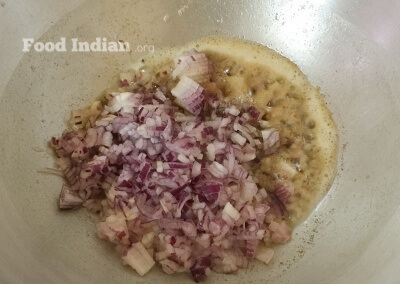 Add grated garlic and green chilli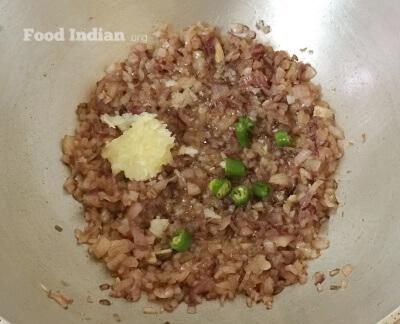 Add chopped tomatoes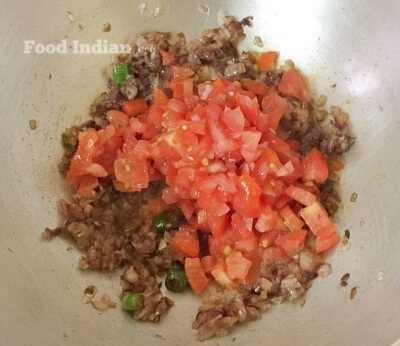 Add all the dry spices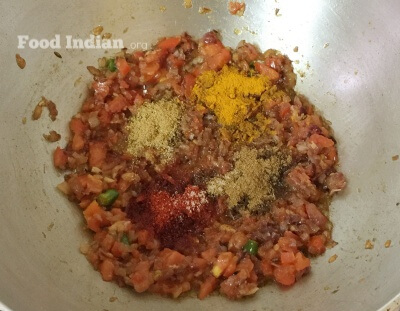 Add boiled rajma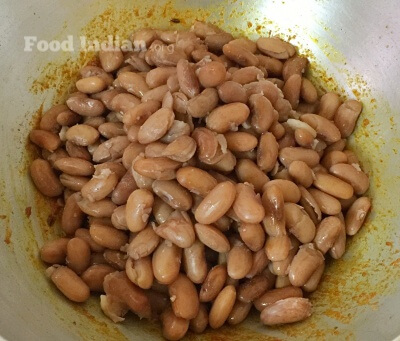 Mix well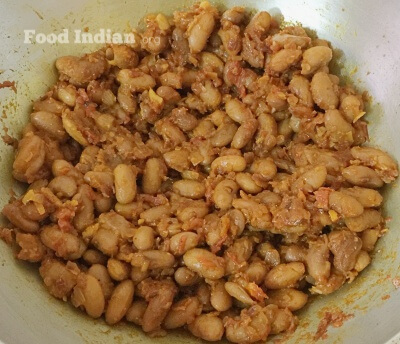 Add 2 cups of stock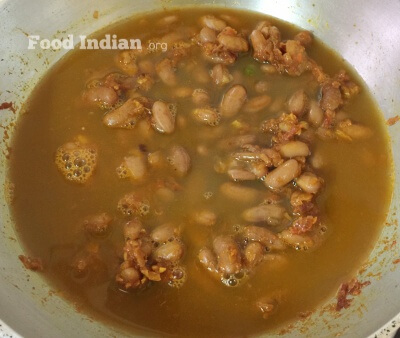 Cook for 10 minutes
Mash a few rajma beans with the spoon
Add butter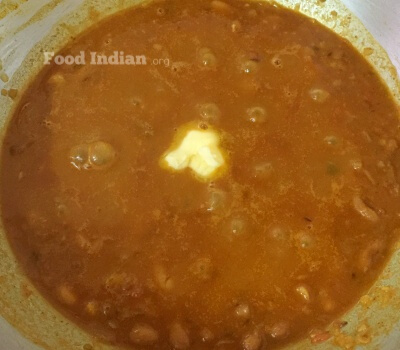 Your Rajma Masala is ready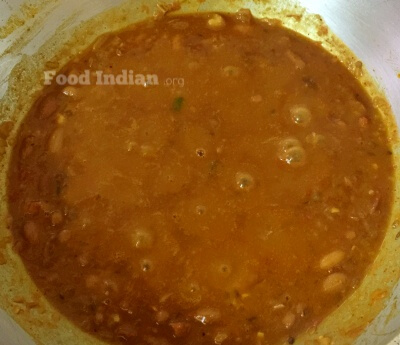 Tips : 
You can also use the canned kidney beans. In this case, just make the curry or sauce first and then add the rajma beans and water.
Serve with steamed rice, roti or naan.
To get more recipes via Email , Subscribe to our Newsletter . Also follow us on Youtube .